Every mum who is blessed with a little girl would know how adorable it is to dress them, to make beautiful braids on their hair and put all those colourful accessories and deck them up. When I was myself a young child, I used to love decorating my dolls, putting up different clothes on them, and making their hair in beautiful braids just like my mum did for me. It was one of my innermost desire to be a mum to a daughter someday and deck her up in beautiful clothes and accessories.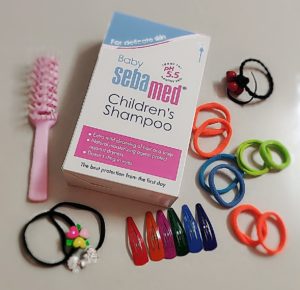 Almost 6 years ago when my daughter was born it was like a dream come true as I got a small little doll of my own and I started weaving in dreams of grooming her and decking her up. By God's grace, she was born with a head full of healthy and long hair that gradually kept on growing. After the initial tonsure of our daughter, I decided to let them grow into a thick shiny bunch. As and when I read Rapunzel story to her, she would love how long this character's hair was and she also agreed to have long hair.
Over a period of time her hair kept on growing and I faced challenges of maintaining their beauty and health. With time and patience, I tried a lot of things to keep her hair healthy and shiny. Quite a lot of research done helped me understand that our skin has a pH value of 5.5 and the skincare products we use should also be of the same pH value for maintaining good healthy skin and hair. Thus, we chose Sebamed Children's shampoo as a key product for maintaining our daughters' lovely tresses. It's one of the leading German brands for skin care and all the products by them are recommended by dermatologist around the world. The best part is all the products by Sebamed are of pH value of 5.5. Having a perfect pH value of 5.5 in baby products means it leads to soft and smooth skin, aids in renewal and imparts a healthy glow to the skin and guards from skin infections as well. We chose Sebamed for these qualities only and are happy that they are dermatologically tested and can be used for sensitive skin of babies too. Last but not least the products by Sebamed are made in such a way that they do not lose pH level with time. This amazing brand assures of sustainability of the pH value 5.5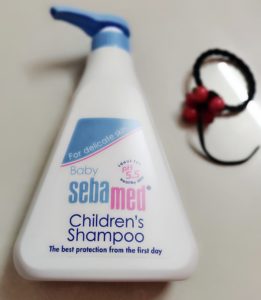 We have been using Sebamed children shampoo for quite some time now and are quite happy with it. It's extra mild in nature and gently cleanses the soft and delicate hair of children by maintaining the pH level. Optimum pH level helps in strengthening the scalp that leads to healthy hair growth as well. Since it is made using no-tear formula, we have been using it for our newborn son as well. And trust me we simply have loved how beautifully hair smells after using this sugar-based mild cleanser. Before using it on your child you just need to wet the hair and take a sufficient amount of it in hand and gently rub in the hair and on roots as well.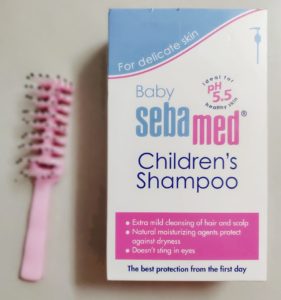 After seeing the initial results of this shampoo, we never felt the need to shift to any other shampoo as it helps in cleaning Ira's hair from deep within and the perfect level of pH helps in keeping her hair healthy and shining. They smell awesome and feel very soft to touch. Aside from having this perfect hair shampoo in her daily hair care routine, we have also been following a few other tips that you may find helpful. Read on to know more.
Following a daily hair care routine helped me a lot in this journey of grooming my little girls' hair. Here are a few tips and tricks that I have followed for my daughter.
1)Keep the scalp moisturised: – In order to maintain the quality of your child's hair it's important to keep them nourished and moisturized. Regular oil application ensures that the hair is moisturized and the scalp is getting enough nutrition for healthy hair growth. Regular oiling helps in having longer and thicker hair.
2)Regular hair trimming: – We love Ira's long hair so we don't go for haircutting that often but yes as a routine we follow trimming session every once in a while, to keep the quality of hair intact and help them grow further.
3)Shampooing: – My daughter has very long hair since her early childhood days and I have always stuck to twice a week washing routine to date. I strongly feel that the child's hair growth depends on many factors and washing is one important one. Always go for shampoos that are mild and do not sting your child's eyes. Basis our personal experience skin has a pH value of 5.5 and thus we found Sebamed to be the best-suited shampoo as it's also made keeping the actual pH value of skin in mind. Hence, it's absolutely perfect for a child's hair and cleanses the hair from deep within.  On top of it, it's free of chemicals as well. Thus, it has been our go-to option since the birth of my daughter and now with my son as well. You can find out more about this shampoo on the brand's website here
4)Hairstyling & detangling session: – I am sure all the mums love to style their girl's hair in as many ways as possible and that leads to tangling of hair. Having to deal with tangles of your child can be a tearful battle for most parents and kids. Especially if your child has long hair it can get badly painful. It's better to encourage your child to comb their own hair after washing when the hair is still wet to help them untangle. Keeping hair tied in a pony or braids is a good way of keeping tangles to a minimum. Be gentle to avoid breakage. If your child has a bad tangle problem then use natural oils like coconut oil, argan oil, and shea butter as it helps in detangling and also lubricates the hair before styling.
5)Use a strong wide-toothed comb: – Using a wide-toothed comb will help in avoiding hair breakage and it also promotes shine.
6)Hair accessories: – I am sure having a girl is a bonus as you can style their hair with numerous pretty looking hair accessories. Avoid hair accessories that are sharp as it can harm your child's scalp and damaged hair as well. These types of accessories need to be avoided.Hope you find the post and these tips useful. For all those parents whose daughters have long hair and for those also who want to let their daughters grow long hair. Please be consistent in the hair care routine and follow proper steps to ensure the child has healthy and shining hair even if they are short in length. And yes, do ensure to use a mild shampoo with a perfect level of pH value for healthy and shining hair. Being a mum of two myself I would also advise on nourishing your child from within as well by giving a healthy and nutritious diet. Do share with your hair care story and tips if any.
For more reviews click here
If you are a brand and would like to see your products reviewed, please send an email on lifethrumyeyes11@gmail.com or you can also connect with me by clicking on any of these on  Facebook | Twitter | Instagram.
Picture courtesy- Lifethrumyeyes
Copyright Notice- Unauthorized use and/or duplication of this material without express and written permission from this site's author (owner) is strictly prohibited. Excerpts and links may be used, provided that full and clear credit is given to Rakhi Parsai (Lifethrumyeyes) with appropriate and specific direction to the original content.