Back in 2013 when I had become a mother for the first time my major worry used to be doing the right thing for my daughter. Giving her perfect upbringing and perfect development. Just like a new parent I was worried about what is best for my child and what is not. In those days little did I know about the importance of toys and the role they play in the overall development of the child. With the passage of time and amidst my experiments with parenting, I learned that toys form an essential part of child's early years of life, especially wooden toys. They are no more a mere source of entertainment but, they serve multiple purposes in the children's overall development. In order to find a perfect toy for my daughter, I began my search for a toy which solves multiple purposes. From being safe to helping develop sensory, motor, language, cognitive and creative skills. I wanted a toy which could retain my daughter's attention for the long time since she is an explorer by nature and want's to play with multiple things and explore many toys at one time.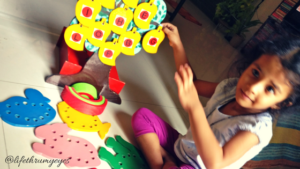 Considering the fact that kids born in today's generation are ultra smart and have a mind of their own. Gone are the days when we were born back in 80's when one toy was shared amongst all the siblings. Toy for us meant playing with utensils in the kitchen or making any random thing available in our house as our toy. With the passage of time and changing generations, kids are born with silver spoon and a special need to be taken care of. Parents like us have become paranoid about doing best for their child and in between, we struggle to find the perfect balance and perfect toy to keep the child engaged. With lack of awareness as new parents, we follow the trend blindly without understanding the repercussions of what we hand over to our precious kids.
Being a mum I was always cautious about what my child plays with. I wanted to give her toys that are not just for entertainment but also learning. Back in the year 2015 when I was exploring toys as a segment for my work I came across the world of wooden toys and the promises they have to offer. In my efforts to give gadget free parenting to my daughter we introduced one of the wooden toys which were not very easily available back then. However, recently I was looking up to buy some wooden play sets for my daughter and came across Skola, an interesting brand of wooden toys.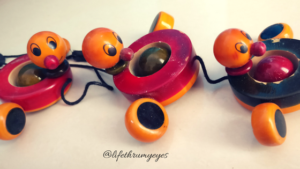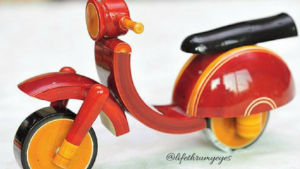 From enhancing observational capacity to stimulating creativity, physical development to mental development these wooden toys do it all. It's a well-known fact that toys are a major part of the development of a child. However, we cannot ignore the rising issue, whether the toys are safe for your child? Parents today have become all the more cautious about what they give to their children since kids put everything in their mouth giving grief to their parents. Toys can at times be dangerous to kid's health or life threatening as well for several reasons. Plastic on the toys can be causing harm to your child every time it comes in contact with the body. Or for that matter, the small pieces of these toys might just go inside and cause major harm. While my search to find a perfect toy for my little one was on, I came across various facets of toys and the industry as a whole. Since I am a great fan of wooden toys myself and having bought so many previously today I would be focusing on key things related to this innovation packed in bright colors for early education.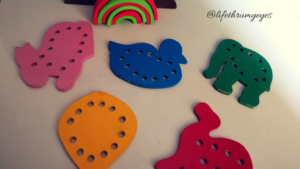 There are various companies developing infinite toys every year. Most of these toys are intricately designed with plastic pieces and have a particular purpose as well. While these toys may play a role in child's education but not necessarily be of educational value in the true sense. On the contrary, I found wooden toys to be offering lot more than the other trendy toys available in the market. Here are few benefits of wooden toys that I found are worth exploring.
Benefits of wooden toys
Environment-Friendly & Safe To Use 
They are quite environmentally friendly and safe as they are made up of sustainable woods. Most wooden toys are made from natural materials and are often recycled wood, which means that they are much safer and mild on the environment than the plastic version.
Leads to Child Development
Wooden toys are bright in colors, attractive to those young eyes, and helps in creative & imaginative play. The natural textures of wooden toys stimulate the child's senses as they invite children to touch, feel and explore. Many educational wooden toys build critical lateral thinking and problem-solving skills and help build fine motor skills. They help in achieving the milestones in the much better manner by boosting fine motor, tactile, coordination, problem-solving, reasoning, communication, and real life skills.
Safety and health benefits
 I have been buying wooden toys for a long time now and have found them to be absolutely safe for children. Usually, traditional toys are made by artisans and craftsmen. Since they are specially designed for kids they don't have sharp edges or pointed corners. This ensures that the child doesn't get hurt.
All natural colors are used to paint these toys making them completely safe and non-toxic. Safety is all the more crucial as kids at young age especially babies tend to put everything in their mouth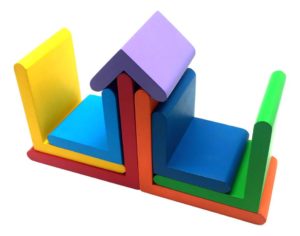 Bright and beautiful
Wooden toys are very bright and aesthetically appealing. Due to such bright colors, they add positivity in the environment. Even if they are made up of plain wood they look visually appealing. The best thing is they can be sitting out in your living room but still will gel well with the general room decor. You won't have to hide them when a sudden guest arrives.
Quite companion
 Unlike other plastic and noisy versions available in the market wooden toys are quite companion of your child. Not only they save your home from toxic chemicals but they also save your house from loud noise. Children cannot accidentally leave a wooden toy running or have to listen to incessant beeps and boops as they play. Instead, you can focus on the sound of your children's voices and laughter as they learn and interact with their wooden toys. When your children go to sleep, the toys are asleep and quiet too.I personally found the environment around natural toys to be more natural and calm in comparison to a room full of battery operated toys.
ALSO, READ– Ways to make your child brilliant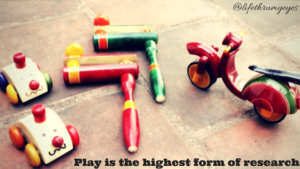 Keeping the benefits in mind we also need to ensure that we choose age appropriate and well-thought toys for our children. Though wooden toys are usually safe and don't cause any harm. However, with small babies and toddlers, it's better to be safer than sorry. It is important to buy age-appropriate toys for kids throughout their lifespan. Children learn new skills and show different interests during different stages of development. Hence it is all the more important to find an age-appropriate toy means to find a toy that is a good match for their age, interest and the skills they are learning.  It is also important for safety when children are young, so they are not exposed to toys that are too small and could result in a choking hazard. Here are few tips on choosing the right toy for your child.
Child's interests and liking- Take your child's interest into consideration and try to find out what attracts your child. Infants and toddlers are constantly learning about the world around them by means of their senses. Little older kids might like toys as per their growing age and lead to learning a different skill set altogether.
Durability- Wooden toys are most durable so it would be better if you buy them for your child. Plastic toys are not durable because they break, crack, splinter, shatter and fall apart which a child might swallow or put in mouth accidentally.
Value for money-Value for money is not just about monetary value but also the play value. Toys that are battery operated may require changing batteries to be changed every now and then. So here is where I feel that wooden toys have an upper hand.
Educational- When we talk about educational toys it's not always about teaching something right after birth. But at times educational toys also means choosing toys to help kids who are not good with some aspects. Hence as per the age and requirements of your child, you could choose toys leading to various types forms of developmental stages from cognitive, fine motor, sensory to tactile.
Read labels. Buy things that can be washed and that are flame-retardant or resistant.
Avoid toys with sharp edges- Choose toys for children that will entertain them without posing a health hazard. You should look for toys that do not have sharp edges as they can easily hurt

Avoid toys that have small parts to prevent choking. To prevent choking, make sure that toys and parts are larger than your child's mouth if your child is 3 or younger. Soft baby toys should be large enough that they can't be swallowed even when they are squashed down.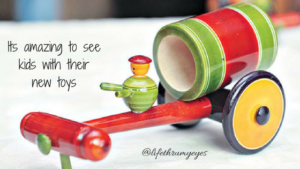 Unlike normal toys, wooden toys are one commodity which was not easily available until sometime back. In fact, when we wanted to buy something for our daughter two years back we had to look up online for vendors who could help with the same. I remember buying toys from manufacturers directly and also ordering to a vendor in channapatna in Tamil Nadu. I am and have been a keen believer in the value that comes along with wooden toys in terms of money and education. There is immense learning that these toys have to offer. Times have changed and with brands like Skola buying wooden toys is just a click away. I am blessed to have found a place wherein I can buy anytime and get it delivered anywhere. They are available online and can easily be purchased from FirstCry Or Amazon(Check out the collection below). Follow them on Facebook to know more about the latest products and innovation by Skola.

Last but not least give the toys to your children enthusiastically.Sit down with your child so you can play with the new toy together. It's important to get down on your knees with your children to make them understand that their toy and their world is very interesting. By choosing toys that are age-appropriate, you will be in a better position to help support the lightning-fast development of your child's brain and step up their learning and development.
I hope you have found this article and tips helpful. Take them into account when next choosing a toy for your child. Do share with us your thoughts on wooden toys. We would love to hear from you.
Happy Parenting!