Well, how can one forget the growing and beautiful waistline as women progress through their pregnancy? It's such a beautiful reminder of the life that is growing within you. It's nothing but magical how such a small body can accommodate a baby within. As they say, every pregnancy and every woman are different and the way their body grows is different too. Some women just pop out in front and others put weight all over. One actually doesn't know how the body is going to respond or grow until pregnancy happens.
Gone are the days when women used to wrap themselves in bulky clothes with the onset of pregnancy. I still remember vividly the day my favorite jeans stopped buttoning when I was about six or seven months pregnant. Today the time has come when women love to flaunt their bump and showcase perfectly fitting outfits in the best of possible manner. The maternity wears available today not only offers comfort but super sleek look as well. All one needs to have is awareness about the latest trends and fashion so that the clothes can be worn in your favor.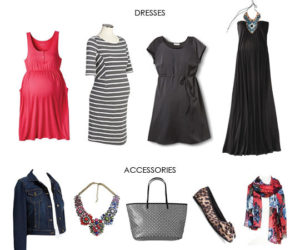 Are you pregnant and looking for the perfect maternity outfit for yourself? Pregnancy is all about comfort and to look good and feel good. Make sure to carefully select the clothes and flaunt your baby bump in the most stylish and careful ways.
Here are some amazing ways of buying and dressing your bump.
1)Comfort is the key-The most important thing to be considered is comfort. Don't wear anything which you find too tight or uncomfortable. We must not forget that pregnant women must wear comfortable clothes above all else. An expectant woman is usually uncomfortable in a thousand ways during pregnancy. At least your comfortable pregnant apparel should make you feel at peace. You will eventual start putting on weight from the second trimester, so you may need plus size maternity clothes. To accommodate your expanding figure, you need the best maternity clothes that will clothe you till the pregnancy lasts.
2)Check out the colourful dresses-I still remember the time from my first pregnancy when I always preferred wearing dresses. They offer utmost comfort. You can opt for maxi dresses, knee length, calf length or even wrap around dresses. Go ahead and style your bump with colourful flowy dress and let your maternity fashion be on point.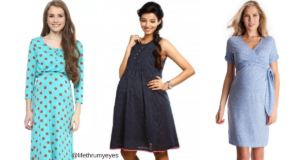 3)Trendy maternity western wear-I have seen a lot of women giving importance to only comfort and overlook style during pregnancy. It's totally alright to go for comfort but what's the harm in adding some style to your maternity wardrobe. Try wearing beautiful tunics and tops as they are most comfortable and look trendy as well. You could pair them with maternity skirts or jeans and be good for a great casual day out.  While you are wearing jeans do keep in mind that the waistline should be loose and comfortable. It would be good to stack away your routine jeans for next nine months and shop for some cool maternity jeans. You could pair these jeans with lovely graphic t-shirts and sneakers for a picture-perfect look.
4)Choose the color wisely-It can get quite hard, in general, to choose the perfectly fitting outfit for all occasions or on daily basis as well. And when you are pregnant it becomes all the more difficult as your belly is growing at a regular speed. This is when you look for a perfectly fitting and comfortable outfit. But did you know the color you wear during pregnancy has a big role as well to play? As they say, dark colors make you look slimmer. So, you should go for monochromatic ensembles in shades including black, maroon, navy blue and darker shades of purple.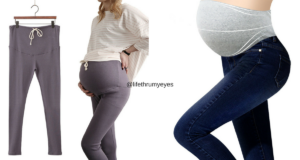 5)Choose soft fabrics- Well, comfort is the most crucial during pregnancy and hence you should choose the fabric that is soft on the skin. Soft flowing fabrics like georgette, cotton blends, chiffon, and crepe can easily hide the growing bulge and give you utmost comfort as well. Try pairing comfortable tops with dark toned jeans for a stunning look. To make your legs appear a little longer you could wear straight fitting pants that ends a couple of inches above the ground level.
Also, read- Mamacouture one-stop destination for all your maternity and nursing needs
6)Indian ethnics- In case you like to wear ethnic clothes more than the trendy western outfits, try wearing beautiful kurtas offered by Mamacouture teamed with dark coloured maternity leggings or churidars for a voguish look. It's advisable to avoid fabrics that fit or hug your body to closely and make you look bulky.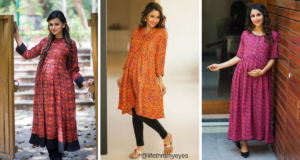 7)Nursing a newborn- Pregnancy clothes are not only meant for those precious nine months of your life. But they come in handy beyond nine months too. Post-partum women need clothes that can be used for nursing needs as well. You could buy nursing maternity tops or dresses that have hidden openings that let you nurse your baby without the feeling of overexposing. There is an amazing collection of nursing clothing available at Mamacouture. Check it out and make the wise shopping choices while you are out there on pregnancy shopping spree.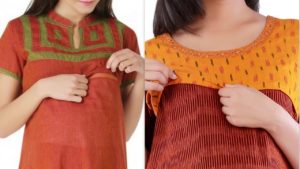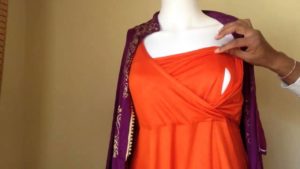 The key to looking fabulous and dressing during pregnancy is to love your new and growing body and to be confident. A dash of make-up and a trendy haircut can work wonders to complete that perfect look. The new-found motherhood and the natural glow will complete your stunning look. Last but not least always wear clothes that are comfortable for you and makes you happy and confident in any and every situation.
Do share with us your ideas of pregnancy dressing. What is that you did to add style and fashion to your maternity wardrobe. Awaiting some lovely comments from beautiful people reading this post.
Happy parenting!
For more on parenting read click here
Picture courtesy-  world wide web.
Follow us on Facebook | Instagram | Twitter
Copyright Notice- Unauthorized use and/or duplication of this material without express and written permission from this site's author (owner) is strictly prohibited. Excerpts and links may be used, provided that full and clear credit is given to Rakhi Parsai (Lifethrumyeyes) with appropriate and specific direction to the original content.
Love Deeply. Give Freely. Laugh Often