Gender equality has been a strong jargon used by people in our society. Many people have tried to ignite conversations and try to bring much-needed change and break gender stereotype. However, little did they realize that the change comes in from deep within from nourishing the kids at home who are going to be the pillars of the next generation. Gender stereotyping has been deeply rooted in our lives. Even if we try to avoid it, we end up unconsciously categorizing people according to their interests, likings and even gender.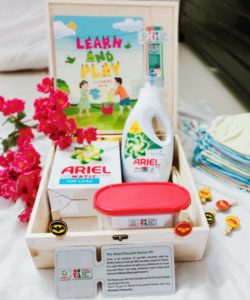 Cleaning the house, cooking at home, washing laundry, buying vegetables, raising kids and many similar things have been stereotyped in our society. These chores have been labelled as things to be done by women. It's the women who are invariably expected to contribute to a major chunk of household chores. Daughters are raised with one aim in mind that they have to be future daughter-in-law, wife and a mother hence they should know all the house chores. And sons are taught to just go out and earn and leave rest on the female counterpart. Not all families are alike as I am a live example of an upbringing wherein, we siblings were raised equally.
I still remember the time from my childhood when my father was an active contributor at home in managing the daily chores. From helping my mum in cooking, cleaning the house to managing the laundry. With this kind of environment and upbringing at home, I always wanted to marry a person with the same kind of attitude towards life and day to day chores at home. Someone who wouldn't categorize the work to be a woman's job or a man's forte.
With God's grace and my good luck, I am today happily married to the man who strongly believes in gender equality and doesn't compartmentalize the work as a women's job or a man's job. He supports me completely and also shares the domestic load at home. From washing up the laundry to folding and stacking clothes back in the wardrobes he does it all. It gives me immense happiness as he is setting the right example for our kids to follow at home and in future in their respective lives as well.
Times has come when women need to bring in this much-needed change so that they raise responsible sons for they are going to be the husbands of tomorrow. These husbands of tomorrow need to be better prepared to shoulder the responsibilities at home and sharetheload.
Recently a household name Ariel launched a wonderful campaign trying to break the stereotype and create awareness around gender equality. It's a beautiful campaign trying to help curb this inequality that exists in households and change people's mentality. Sharetheload campaign by Ariel encourages men to be equal partners when it comes to managing responsibilities at home.
With this campaign, the brand has urged the mothers to bring in the much-needed change by raising the sons in a way that they grow up to be sensitive towards the household responsibilities and the need to #sharetheload. Mothers are the best changemakers and have it in them to create an equal tomorrow.  Raising sons and daughters equally and imparting the same values will go a long way in creating a better future. One that is free from prejudices.
Check out this beautiful video that has struck a chord with people across the world and has got much-needed appreciation.
I a mother of both a daughter and a son take a pledge today to raise both my kids equally. To ensure that my son knows every single household work that my daughter would know. Let's keep the torch up and shining and bring the much-needed change by raising our son's correct.
While it's heartening to note that men everywhere are pitching in more on the domestic front, it is interesting to see how Ariel is working on making a difference with this meaningful campaign. Now that
#sharetheloadcampaign #ariel #arielsharetheloadcampaign #arielcampaign #blogadda
Picture courtesy- Lifethrumyeyes
For more on musings click here 
If you are a brand and would like to see your products reviewed, please send an email on lifethrumyeyes11@gmail.com or you can also connect with me by clicking on any of these on  Facebook | Twitter | Instagram.
Copyright Notice- Unauthorized use and/or duplication of this material without express and written permission from this site's author (owner) is strictly prohibited. Excerpts and links may be used, provided that full and clear credit is given to Rakhi Parsai (Lifethrumyeyes) with appropriate and specific direction to the original content.