Back in the year 2012 with shaking hands I had taken a home pregnancy tests and was stunned for a moment to see those two pink lines. I couldn't believe what I was seeing so I had quickly closed my eyes to open again and find the pink lines intact. Yes, that was the first time I had taken a pregnancy test and down the line 9 months of a beautiful pregnancy phase, I had become #Firsttimemom. I was living and breathing motherhood with my daughter every single day. The feeling of ensuring best of everything had hit me hard. And it's been 5 years since my first-time motherhood and a month back I am yet again blessed with a baby to live up the experience and all the learnings of motherhood.
Well, motherhood is an experience that no mother can forget especially for the first time in her life. From waking up in the middle of the night to ensuring that the baby is breathing safely, changing infinite diapers, cleaning tons of nappies, feeding the baby, burping and repeating the whole cycle yet again. A mother happily does all this and more for her child without a line of tiredness on her face.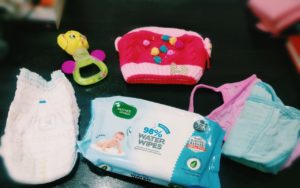 Having blessed with motherhood yet again I am all the more prepared to experience every single thing that I lived with my daughter and much more. Now that I am an experienced mum I have been looking at few aspects of baby care more carefully with my second child. Choosing the right kind of diapers, feeding bottle, clothing to all other baby essentials, I am more proactive in finding what's suits best to my baby. Recently I was introduced to Mother Sparsh, who is one of the leading baby care brands for wipes in India. Since we are using disposable diapers for our child we needed good quality wipes and I came across these wonderful #firstwaterwipes by Mother Sparsh. I was all the more delighted to use them as they are the first water wipes in India that are 98% water based, Parabens & alcohol-free, hypoallergenic, and has a balanced PH. Let's deep dive into my first-time experience with these wonderfully packed first water wipes of India by leading baby care brand Mother Sparsh.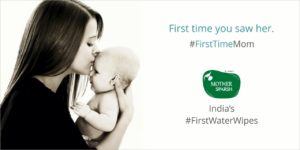 Packaging- Packing is super awesome and compact that makes it travel-friendly too. It comes in a blue and white colored thick packet which is sealed well. The stick on to remove the wipes from the packet is of very good quality and doesn't come off easily after constant use. It stays in place properly. Though would love if the brand can also introduce a flip cap to open and close.
Key features-
98% Water Wipes
Parabens & Alcohol-free
Hypoallergenic & pH balanced
Clinically proven for preventing diaper rashes
Skin friendly plant-based fabric
Can be used right from birth
100% Biodegradable
Made up of soft cotton fabric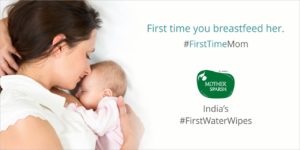 Wipes Quality- The presence of 98% pure water & natural skin-friendly plant fabric makes Mother Sparsh baby water wipes as good as cotton and velvet. The skin-friendly plant-based natural fabric is velvet soft, cleans well and provides very safe and effective cleansing.
Pricing- Pack of 80 wipes is priced at INR 175
How to use- You need to peel off the front label slowly, take out the required number of wipes and reseal the label to avoid any moisture loss and for keeping it safe and hygienic.
Where to Buy- You could buy them from Amazon or FirstCry
Overall take- These first-time water wipes are an absolute delight to use on the baby. Since its 98% water based it leaves the skin quite clean and it stays hydrated and supple for a long time. The best thing is they do not leave any foam like liquid on babies' skin unlike other brands available in the market. Since it is hypoallergenic it doesn't cause any irritation on the skin which is one of the main concerns of a mother while choosing a skincare product for her child.  Considering the harm caused to the environment Mother Sparsh has made these wipes 100% biodegradable. We simply loved using these water wipes as it can be used to clean the baby overall from head to toe (avoid use on the face, advisable to clean the face with clear water only). It's like one stop solution for all the cleanliness needs of the baby. They are quite handy and easy to carry along while you are outdoors. One wipe is sufficient to clean the baby after poop usually unless the baby has dirtied the diaper a lot. Since they are water-based wipes the amount of water content in one wipe is quite sufficient to in fact dry-clean your baby on the go as well.
Keeping the soft and delicate skin of the baby in mind it's always advisable to use products that suit them and doesn't cause any harm. Always go for products that are close to the environment and are made chemical free. Hope you liked reading my first-time experience with these amazingly crafted first water wipes by Mother Sparsh. Stay tuned for more amazing stuff coming from the brand your way.
#FirstTimeMom sponsored by Mother Sparsh India's First water wipes.
Picture courtesy- Mother Sparsh
For more on parenting stay tuned with us on Lifethrumyeyes here!
Follow us on Facebook | Instagram | Twitter
Copyright Notice- Unauthorized use and/or duplication of this material without express and written permission from this site's author (owner) is strictly prohibited. Excerpts and links may be used, provided that full and clear credit is given to Rakhi Parsai (Lifethrumyeyes) with appropriate and specific direction to the original content.