I remember my mother's prayers and they have always followed me. They have clung to me all my life. — Abraham Lincoln
Every year as Mother's Day approaches, I feel a little nostalgic. There comes the beautiful face of my mother, she's gone 8 years this year, and for some reason, it always hits me kind of hard. Perhaps my deep grief stems from the number of years it has been since she has passed. 8 years is a long time and in 2 years from now, it would be a like decade of her being absent from our lives.
In all these 8 years I have longed so deeply, needing her maternal wisdom as I navigated through various events of my life.I missed her presence at the birthdays, post graduation, family gatherings, marriage and the most important the moment when a mother in me was born. I have missed giving her my first salary, spoiling her with unlimited gifts and things she liked.
But as I reflect back on the years she has gone by, I realise I did have her with me in quiet conversation with her, my writing and in a way I mother my daughter today. Although she passed in the year 2009, she still sits gently in my heart and continues to influence my life with her wisdom and love. She is the belief that I carry in my heart and she is the soul reason behind me taking up writing as I found the words to my emotions.
I often hear people say " you are just like your mother" I have heard this for as long as I can remember. When I dress up in a saree many people say that I remind them of her. My entire being re-lives at this compliment that I am like my mother. But the truth is I am really like my mother. I look like her, little on the chubby side and I am strong like her. I am flawed but accepting of those imperfections because she showed me that it was okay to be less than perfect. When I make some traditional delicacy and if it works I feel my mother has just used her magic wand to make the dish tasty. All this while that I have been grieving I have tried to be dignified, loving, stoic, But most of all I have tried to be positive and strong just like she would have wanted me to be. More than my looks, I believe I am most like my mother in how I deal with the valleys of life. And that makes me proud.
I am sure she realised that she had immense responsibility on her shoulders when she decided to take up on this gig called Motherhood. I am sure she understood that the way she lives, we siblings will grow to see like through her eyes. From her, I learned to express love, frustration and anger. I learned how much a mother should be tolerating and to draw the line where required. I learned from her to love my daughter and be a protective tigress when the time comes. I learned from her about various traditions and how to make them special. She taught me resilience and how to stand tall when life was less than perfect. She was not perfect and she showed me that it was okay too.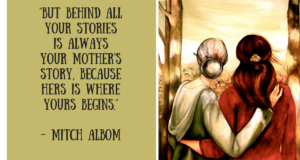 Today on Mothers Day I am so incredibly thankful for the fact that I am like my mother. I honour and celebrate her by living the values and lessons taught by her and extending same unconditional support and love to my family and loved ones. With this, I would like to urge everyone who is reading this to thank your own mother for all that she has done to shape you the way you are today. Whether she is living or not take the time to reflect on your life and say a silent thank you to her for being there for you.
And finally, if you are a mother who is reading this posts by me. Then think about the life you are reflecting in your own child's eyes. Are you teaching them about love, happiness and gratitude? Are you showing them that they are beautiful and worthy of all the joy's life has to offer them? If not then this mother's day take an oath to give your child a life full of happiness, gratitude and love.
I find utmost happiness in putting this posts up on my site today with my daughter peacefully sleeping in my lap and giving me all the inspiration required to be a good mother to her and to love her till eternity.