Nothing's sweeter than nuzzling your little baby's birthday suit. Well, a baby's skin is a work in progress and continues to develop for a long time after the birth as well. They are prone to rashes and can get red patches very easily. Thus, effective skin care is utmost important. Using the right kind of product for your child can easily ensure that the child's birth suit (sensitive skin) is always soft and protected.
My first born had very sensitive skin and she always used to suffer from red patches on the skin as soon as we changed the products for her or if we used not so known kind of products for her. Since she was our first child, we weren't aware of many things about childcare. However, now that we are blessed with parenthood for the second time around, we are vigilant about the products that we use and ensure healthy skin care of our child.

We started using first time 98% water wipes by Mother Sparsh for our son after his birth and loved the feel and how beautifully it keeps the skin moisturized for a long time. Recently when I also got to know that Mother Sparsh has launched its premium 99% water wipes and we tried them as well. I must say these wipes are indeed a premium version of the wipes launched earlier. Loved the packaging which is quite thick and easy to carry along as well. Read on to know more about Mother Sparsh 99% premium water wipes.
BUZZ on New launch water wipes by Mother Sparsh: #UnscentedWaterWipes
#MedicalGradeFabric #SuperThickwaterWipes
Packaging- Packing is super awesome and compact that makes it travel-friendly too. It comes in a blue and white colored thick packet which is sealed well. The lid top is quite sturdy and has a stick on inside to remove the wipes from the packet. In the wipes launched earlier, everything was amazing except the lid cap which I really missed. However, I am very happy to see in these premium wipes they have launched the lid top with a stick on inside to remove the wipes easily and reseal them.

Key features-
Unscented – One of the most important features is that they have no fragrance at all. They are unscented 99% water wipes. As it doesn't have any fragrance, they become perfect for use on the sensitive skin of neonates as well. These are indeed premium baby wipes launched by Mother Sparsh.
Sensitive Skin friendly – Since it is made up of pulp derived from plant and 99% water, they prove to be absolutely beneficial for neonates & kids with sensitive skin as well.

Thickness – These wipes are made of extra thick fabric. It's almost 3 times thicker than ordinary wipes available. They are made up of thick medical grade fabric which makes them perfect for hand and mouth cleaning as well.
Moisture lock lid – The lid on the top is sturdy and helps in retaining the moisture of the wipes for a longer duration.
Environment-friendly- Understanding the importance of keeping the environment safe these wipes are made naturally and are also 100% biodegradable.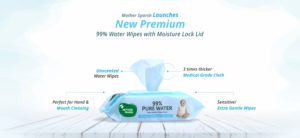 Wipes Quality- These newly formulated premium wipes with 99% water are specially made for extra sensitive skin of newborns. Since they are free from parabens, alcohol, sulphates, fragrances and any other chemicals which make them safest option to clean delicate skin of Neonate. The wipes are extra thick.
Pricing- Pack of 72 wipes is priced at INR 299
How to use- The pack of 72 wipes has got a lid cap you just need to open it slowly, pull the resealable sticker and take out a wipe and close back the lid to ensure moisture retention in wipes for a longer duration.
Also, read- My first-time experience with 98% water wipes by Mother Sparsh
My overall take- In my opinion these are amazing wipes launched by Mother Sparsh. I have been using the other 98% water wipes by Mother Sparsh for quite some time and when I got the chance to use these newly formulated 99% water wipes, I was quite happy and satisfied. They are indeed amazing and good for the sensitive skin of the child and even for neonates. Since they are dermatologically tested and contains the goodness of pure water that makes them perfect for cleaning the baby's face, hand and overall body. This helps me in cleaning my baby overall using Mother Sparsh 99% water wipes. What I loved the most is that they are environment-friendly as well and can be trashed easily after use.
A newborn baby has very delicate, fragile and sensitive skin, and it requires a lot of care to get that buttery, soft, feathery feel and touch. It absorbs and leaves water quickly, thus being prone to dryness, and irritation. In the initial few months, the skin of the child is not dreamlike but with little care and using proper products one can ensure your little munchkin's skin remains soft and feathery. Choose baby products that are pH balanced, parabens and alcohol-free and also free from other chemicals. Go ahead and order your first pack of Mother Sparsh 99% water wipes and enjoy how they are one stop solution for all your child's cleaning needs. They are no doubt one of the most awaited launch in the unscented baby wipes segment.
#NewLaunch #MotherSparsh #UnscentedWipes #MedicalGradeCloth #SensitiveBabyWipes
Picture courtesy- Mother Sparsh
For more on parenting stay tuned with us on Lifethrumyeyes here!
Follow us on Facebook | Instagram | Twitter
Copyright Notice- Unauthorized use and/or duplication of this material without express and written permission from this site's author (owner) is strictly prohibited. Excerpts and links may be used, provided that full and clear credit is given to Rakhi Parsai (Lifethrumyeyes) with appropriate and specific direction to the original content.