Childhood. I always wonder what is that is most appealing about being a child. Is it the cuteness and chubbiness or it's the openness to loving and being loved by others around? I feel it's beyond all this, in my view, children are beautiful because they have something that we adults seem to have lost- the quality of innocence. Children are God's gift! And childhood is all about innocence and liveliness. It is about happiness and freedom. With Children's day just around the corner, we are again reminded of the reasons why this day came into existence. It's the love of Pandit Jawahar Lal Nehru's for children that marked his birthday as Children's day in India. He believed that children have innocent heart and they win the hearts of everyone with their innocence and angelic smile. He wished that his birthday would be celebrated as the Children's day. Hence, after his death, we offer him tribute by celebrating 14th November as Children's day.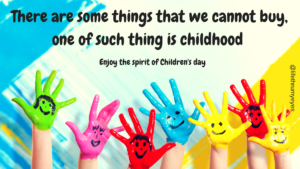 This year we wish to celebrate the innocence of childhood along with our 5-year-old daughter who always keeps us busy and smiling with her innocent questions and observations. All these years we couldn't do much with her as she was quite young to understand the true meaning of the day. To make her aware of the occasion we have already started sharing the details with her. And she is now quite thrilled for the upcoming celebrations that her school has planned. When asked, on how she would like to celebrate the day with us, her first answer was I want a big chocolate.😊 Well, chocolate and celebrations go hand in hand I guess. Well, aside from the celebrations planned at school we have few things planned for her to celebrate with us and make her day a memorable one.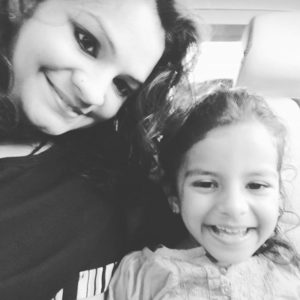 We had not planned things especially for the day as year around she gets special treatment considering she is our first born and is very dear to us. We have one thing in mind for the day and that is being with her and spending every moment with her and do things that she likes the most (Without putting any control on her). In fact, we just decided on letting her be herself and do everything that her heart desires. Few things that she loves doing are listed down below and we will just ensure she has everything that lets her have fun to the extremes.
1) Tickling her taste buds with some chocolates- She is a great fan of chocolates and can eat them in any and every form if we don't control her. Upon asking what does she want on Children's day, her quick response was a chocolate so we have promised her for a big Cadbury Silk as that's her favorite one. With such a simple promise we could see the joy on this little princess's face as that was priceless.
2) Bringing out the creativity of our doll- Our daughter is a creative person and loves to create beautiful things. Her favorite is playdough and always asks for more and more colors to play with. So, we have decided to gift her a beautiful play dough set with glitters as that is what she has been asking for.
3) Bringing out the little chef in making- She loves to help me in the kitchen in small and big activities and cooking seems to be a favorite of this little wonder. She loves making chapatis and sandwiches for us. Well, for this special day we have decided to make some beautifully shaped chocolates with her. I am sure this is going to add to the joy on her face.
4) Treating her with goodies- She simply is a huge fan of Doraemon and anything that signifies her favorite cartoon will bring a huge smile to her angelic face. So yes, we will take her to buy Doraemon merchandise of her choice. She prefers a soft toy.😊 And yes, we will give her extended hours of television access to watch her favorite cartoon shows.
5) An evening full of play- There is a particular play zone near our locality that is our daughters favorite and she loves to let her hair down and play till she loses all her energy. We shall take her to spend some quality time in the play area.
6) Treating her to dinner at her favorite place-She is not a fan of outside food and prefers food cooked by me but yes there is a particular place she likes to go for various reasons, one being that she gets a toy there in return of eating. So, we intend to give her this simple joy of getting a toy.
7) Surprise Gift- Last but not least, she has been wanting to get a dollhouse for a very long time and we like typical parents were waiting for the perfect time and occasion to gift her the same. Well, so this is going to be our surprise gift for her before closing the day on a happy note and beautiful memories.
So far, the demands made by our daughter are enjoyable and quite innocent (just like her) and have not reached our heights. So, we are on a good stand.
Children only see the world through genuine and pure love. They are so innocent that their lovely smiles warm up our hearts. I truly believe that there is always a child in each one of us. So, let us learn to share our genuineness and smiles with everyone. This Children's day I would like to urge all the parents to celebrate the innocence of your child and enjoy to the fullest. They won't be this young forever. Look closely at this life that you have created and brought in this world. Learn from them how delightful and simple life is meant to be. It's just an instant of time, but once this truth is fully grasped, it lasts forever.
Also, Read- Childhood of 80's and 90's
Do you get such innocent demands at home, which one was the cutest and innocent one that you couldn't decline? Share your story with us in the comment section below.
Happy Children's day to all the kids out there! Let's be kind and loving towards them and stares and timeouts can wait for few days. 😊  #CadburyDairyMIlk #ChildrensDay #KuchMeethaHoJaaye
For more on motherhood & parenting, follow along with Rakhi on Facebook | Instagram | Twitter
Love Deeply. Give Freely. Laugh Often.