Blogging, it has been one journey which has given me so many opportunities to connect with amazing and inspirational women. They have touched my life in so many ways and taught me beautiful lessons of life. Today I will be sharing motherhood journey of a wonderful mom and a fellow blogger who has been a true inspiration. Meet Vasantha Vivek who blogs on My Sweet Nothings.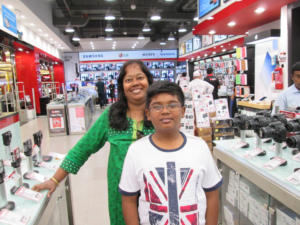 Vasantha loves to call herself as a happy woman, daughter, sister, wife, mother, teacher, friend, mentor, seeker, lover. She's from Kovilpatti, a small town of Southern Tamil Nadu of India. She was a teacher by profession. She worked as a professor at an Engineering College for nearly 15 years. She has learned a lot as a teacher. She hopes that she had inspired some hearts during that period.  Teaching is her passion Reading is her love. Cooking is her heart. She enjoys reading and writing very much. She starts & ends her days with reading. She blogs @ "My Sweet Nothings". She's also guest authoring in various sites like Indian Moms Connect, Monsoon Breeze, Parentous, Women's Web, mycity4kids & World of Moms.
Growing up, what were your thoughts on becoming a mother one day? How did your upbringing influence those thoughts?
I always adore my mom for her patience, unconditional love and being positive always. And from my childhood, I dreamt to be a mother like her. But I confess that I failed for being impatient as a mother. Earlier I had yelled at my son and at my family, many times. But after becoming an ISHA member, I learned the art of patience and being cool at difficult situations too.
Is there anything you wish you had done differently before getting married or becoming a mother?
I loved to do my post-graduation and my research before my marriage. I managed to do my PG only after giving birth to my son. Still in the process of completing my research work.
What were your first thoughts when you saw your baby?
I had a cocktail of emotions as happy, scared, worried, excited and thrilled.
What was a unique thing about your kids/kid as a baby?
I felt his lovely smile was unique as a newborn.
How has imagining motherhood been different from the reality of motherhood?
Yes. Both are really different. I struggled to balance my work and family during my early days of motherhood. And I'm grateful to my mom for bringing up my son for the first four years. I learned a lot from my family, friends, society, and net on solving childhood problems. Now I take the responsibility of raising my son as a loving, kind and respectful man.
What's your favorite part of each stage of your child growing up – infant, toddler, child, teen etc?
As infant – his naughtiness and lovely smile. As toddler – his sweet blabbering, his walking around my street to receive me from work. As child – his untiring questions and our bedtime story sessions. As teen – learning patience, unconditional love and compassion from him.
What has given you the most joy as a mother? What has been the hardest part?
I always feel happy on hearing the positive feedback from his school teachers. The hardest part is avoiding our own mistakes and being a role model for my son.
What is the one thing you would have liked to do differently as a mum?
I would love to give only healthy food to my son and family. In fact, I always research to make healthy dishes with fewer ingredients.
What advice would you give to other mums to be? The most important thing you feel they need to know.
Motherhood is an awesome journey where your destination is not so important but the whole journey is. So enjoy every aspect of being a mother.
Anyone special you would like to thank for helping you through parenthood?
My Hubby – For being my friend on all our hurdles and toughest journey so far.
My Mom – For inspiring me to celebrate my life and for being my support always.
My family – For all encouragements and moral support provided when I needed them the most.
Also, Read- Mum Blogger Kuhoo Gupta share her motherhood journey here.
Vasantha has been a true inspiration to many and have been featured on various wonderful websites like The Times of Amma, Stories of Motherhood and Smart Indian Women.
Follow her journey on her blog