What makes mothers so special? When we women embrace motherhood, we see the world through a different lens. Motherhood is the most creative phase where you are looking for a new beginning, thinking afresh, willing to take on the next phase in life with little inhibition, and most importantly, making conscious amends to your lifestyle.Suddenly you start realising how your own mother used to burn the midnight oil to just give you that warm cup of coffee on your desk. Up until then, you hadn't realised that she was awake. There is a known saying that there are three kinds of human beings in this world, man, woman and a mother. She becomes your friend, confidant, teacher, nagger and a boss, a complete multi-tasker, mothers have the capacity to be everywhere at once.
While mothering may be tough at times, it comes with its own very special rewards. From the first kicks in the womb to perfect little toes at birth, your child is a part of you for nine months.Even the hard times of motherhood, such as a tantrum, may be followed by giant hugs and sticky, slobbery kisses that make everything better again. Your child is a part of you, and when you enter motherhood, you will never be the same again – nor will you ever want to be.
Today with this feature I am going to talk about mommy blogger Richa Choudhary a.k.a AllThatsmom. A Java Developer by profession she started blogging journey when teaching and playing with her little one appealed her more than the corporate life, it was then when she started looking for other opportunities and started this Blog called ALLThatsMom. She firmly believes that running behind her toddler is her cardio and she can always be found snuggling with her little one or curating activities Montessori learning. This blog is a creative outlet for Richa and an attempt to share her crazy journey with all the beautiful people out there. She aims to make this blog as the best Indian Parenting Blog, a one-stop destination for all needs right from Pregnancy to Teens.Everything about kids health, food, education, parenting, activities and in between.
1. Growing up, what were your thoughts on becoming a mother one day? How did your upbringing influence those thoughts?
I have seen my mother handling four of us together and I thought she is a super ninja, she was very strict with us but loved us to the core. I always thought I will never be a strict mother but I guess you need to put some discipline in your kid's life sometime. So my upbringing has influenced my parenting a lot.
2. Is there anything you wish you had done differently before getting married or becoming a mother?
I wish I had given more time before planning the baby, sometimes I feel I am too immature and I am not a good mom or the best mom in the world, sometimes I feel I don't have the maturity to handle him.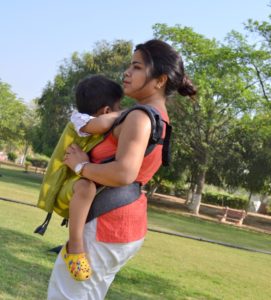 3. What were your first thoughts when you saw your baby?
The feeling of belongingness, the feeling that I created something which belongs to me.I felt very possessive and decided then and there to take utmost care and bring him up with loads of love and affection.
4. What was a unique thing about your kids/kid as a baby?
He never cried whenever I left him for office but never left me for a second when I came back, I could never understand where did he learn this but he was always like that.
 
5. How has imagining motherhood been different from the reality of motherhood?
I thought motherhood was only about love and affection, but it is a lifetime commitment, a sacrifice which you make every day and you love making it! Being a mother is the best feeling in this world.
6. What's your favourite part of each stage of your child growing up – infant, toddler, child, teen etc?
The best part is now when I spend 24 hours with him and he speaks around 10,000 words till breakfast, he is a chatterbox and we chit chat the entire day about everything in this world, curating activities, learning things etc.
 
7. What has given you the most joy as a mother? What has been the hardest part?
When I see him doing his day to day activities, respecting his elders, loving everyone I feel joy in these little things in life. The hardest part is to convince him or channelise his energy into the right direction, I feel being a mother is easy but parenting is tough.
8. What is the one thing you would have liked to do differently as a mum?
I sometimes lose my patience and then I need some alone time to calm myself down. So I just want to be more relaxed and let things go on their own.
9. What advice would you give to other mums to be? The most important thing you feel they need to know.
Being mother is all about showing love and being patient. We need to stop comparing our kids to others, every child is unique so just know all the good and bad about your child. Work on their bad and appreciate their good, that's what we should do as parents.
10. Anyone special you would like to thank for helping you through parenthood?
I would love to thank:
Mom: For teaching me motherhood since childhood, her sacrifice were so big that I find mine too small.
Husband: he is the most patient guy I have met in my life, I am blessed to have him. He will bear all my anger and frustrations when he is back from office. He also supported my decision to start blogging as a career, stay at home with my baby and leave my corporate life.
Mother-in-Law: She is the one who supported me during the first two years of being a mom and a career woman, I could not handle and juggle between the two and she came down to stay with us and take care of my little boy when he was just six months. I owe my entire life to her for doing that.
Get to know more about Richa on her Blog| Facebook|Twitter|Instagram|Pinterest
Coming up next, Alpana Deo a mommy blogger sharing her motherhood journey with us from Mother Gurukul.