A couple of years ago, on my way to drop my daughter to daycare for the first time, I realised my heart was beating faster than usual. I had a weird fear tugging at my heart. I felt something very precious is being taken away from me. There was something so different about being called Mumma by my daughter that day. I knew she wasn't happy going to the daycare and staying away from her mum. I also know it was the most natural thing as she was just 15 months old then. The look in her eyes that day tore my heart completely and I realised that maybe this is what they call as motherhood. When it got difficult to let my heart walk out of my body, I knew I was deep in this thing called "Motherhood".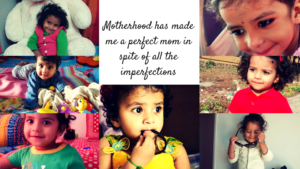 Today it is over 5 years into this joyful ride called motherhood. It's been rewarding, exhausting, joyful, challenging, messy and wonderfully incredible. It's been a true roller coaster of emotions for me. It may sound like the most difficult thing to do on earth from the outside but it is totally worth it. I always had the maternal instinct in me and planning a baby and excepting motherhood was the most natural thing to do after we were one year into the marriage. But, I was in for heaps of surprises the day I became a mother. Something that seemed natural to me earlier turned out to be a very serious affair which was accompanied with lots of sacrifices and changes. Some good and some bad. Changes that made me a perfect mom in spite of all the imperfections I had. I've always been grateful for my daughter, but suddenly, and with some perspective, I began to see how many tangible gifts she has given me and how many ways I am better because I am her mother. Sharing few lessons of love and compassion.
Patience- This was never my forte. I was always the kind of person who was restless for everything. Who wanted to get things done with the blink of an eye? However, motherhood has taught me to be patient.
Kindness- When I look at my daughter I see a sweet, innocent, little girl, which makes me want to protect her from everything and everyone and all other terrible things in the world. I get worried when I see bullying around and I want to protect her. Her presence has taught me to be compassionate, patient, and empathetic towards other when I interact with them even if they are hurting anyone intentionally. I want to lead by example for my daughter and give her values which will make her kind and be caring towards others too. Even the smallest gestures and good manners go a long way, and I know she picks up on everything that I and my husband do as parents.
Friendships: With the birth of my daughter I had to prioritize my life and give up on social plans and parties, parlor visits, picnics, and meetups. Some may see this is a huge sacrifice but I feel very happy as now I am a better friend to others and I have good friends who understand me and I understand them better. Relations have found new meanings.
Being a full-time mother- I couldn't have asked life to get any better. Being a working professional for over 10 years it wasn't an easy decision to take. But I wanted to ensure that I give my daughter the gift of time and my presence as that will stay with her forever. And the day I took this decision to quit my job I have found myself to be more at peace with my inner self. I take joy in small things that she does, her smile, her words, her saying Mumma for every small thing. Her dependence on me is so lovable.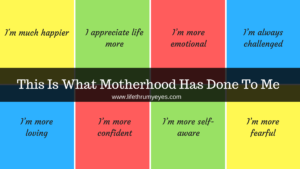 Responsibility- Bearing a child within and giving birth is not enough to be called a mother. Much larger responsibility lies with us after we give birth. I realised this since the day my daughter started understanding things much better. For her, every word that I say is etched in stone. She would do anything for whatever I say as she values me. This is when I realised my responsibility just got bigger. I have to be the person she looks up to and takes life's various lessons from. I am not perfect but for her, I wanted to be a perfect example. Thus, making me more responsible. There are constantly little eyes watching. Taking it all in and learning from me through my actions. I want to raise her right and this requires so much focus on doing right.
Being Brave-I used to get scared of small-small things in life. The fear of losing someone was the greatest as I lost my mom when I needed her the most, but after becoming a mother I realised I need to scare the monsters of my own closet and be brave for my daughter. It has not become my instinct to put my fears aside and be brave for her
Appreciation- Before being a mother I never appreciated whatever time, I got for myself outside of my profession. I took the time I had for granted and then later on once I became a mother it came back to bite me. I used to love watching a movie and read book endlessly but I never appreciated the luxury that I had. But today I appreciate small-small things of my life. From getting 10 mins to read while traveling somewhere to get to watch my favorite movie all alone.
Stability- Before I became pregnant, I lived the fast and frantic life revered by our generation. I was a workaholic and loved working full time till late in the night, and, for the most part, enjoyed my life at that pace. In retrospect, I must add, I didn't know any better. Motherhood slowed me down a lot and I learned to enjoy small things about my daughter and things that life has to offer.
There are many other some minor and some major changes that motherhood has bestowed me with. However, I have embraced the changes gracefully and am living a wonderful life with my daughter who has been the biggest and best change for me.
Also, Read- I am not a perfect mother and will never be but how I am perfect for my daughter
I am very happy today to say that motherhood has made me a better person as it makes me think deeper, love harder, experience life in a much different way altogether. I was always very steadfast in my belief and values and now I have room for more perspective in life. I find myself more compassionate and look at situations more differently. I continue to embrace all my hobbies and my daughter is a major part of that all. She is my favorite subject for my photography. I love bringing her in the kitchen with me to cook, and I love taking her places and seeing her reaction to the world around him. It is pretty awesome.
Seasons of life will change. Motherhood is where I now stand and loving it. Regardless of the trials and tribulations faced in this journey so far, I know it has all made me a better person.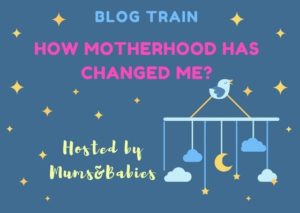 This post is a part of the blog train started by Pooja Kawatra of Mums & Babies. Pooja has networked to bring together 41 moms across the GLOBE.
Thank you, Shalu Sharma, for introducing me. Shalu, a mother of twin daughters Saisha & Shriya is an educationist, an early learning, and education specialist and a blogger. When she is not writing, she likes to sing, dance and try her hands on doing craft projects to cooking. Currently, she is utilizing her knowledge in spreading awareness in learning disabilities and helping special need children. You can check out her posts here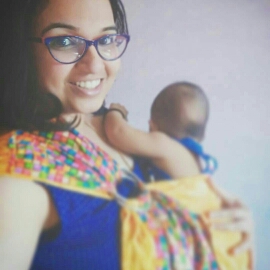 I now let the train pass from my station and reach yet another wonderful place on Vaishali's blog Vaishali is a high school teacher by profession; amma to baby V and now a WAHM, making the world a better place, starting with her tiny human. She follows gentle parenting and attachment parenting; and blogs about the things she is most passionate about – early learning and Montessori, parenting tips and raising a reader.
If you like this article, please share it! Your clicks keep us alive!
Love Deeply. Give Freely. Laugh Often.
For more on motherhood, follow along with Rakhi on Facebook | Instagram | Twitter