In today's age, the woman is flying high and following their passion and dreams. Chef Meghna is one such woman who chose her passion over the high paying corporate job and went on to achieve many accolades along the way. She has an interesting journey of becoming a BANKER TO BAKER. She was a banker for 12 years and then her passion towards culinary world pulled her back to achieve what she always wanted to get in life – "TO BECOME A CHEF"
Read on to know more about chef Meghna and her life as a mother and chef. Get to know more about her journey of being a baker from being a banker.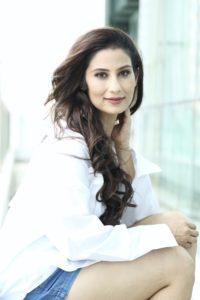 Tell us more about yourself? Aside from being a mother, we would like to know about Meghna overall?
I wasn't a brilliant student however, studies were a priority of my life. Though born with a silver spoon, due to financial downturns, most of my high school/college life went into working & supporting my family & helping my sister achieve her dreams. I was born and brought up in a joint family & after marriage also I moved into yet another wonderful joint family.
We have heard that you were a banker by profession and turned into a baker. What made you decide to be a banker to the baker?
I wasn't very good in the kitchen and would often mix masalas. After moving from Ahmedabad to Mumbai just like other middle-working-classes who live-in Mumbai, we survived on tiffins. Since cooking wasn't my cup of tea, I often used to get scared of it. However, as they say, Love conquers all the fears. Motherhood changed everything. Immediately after delivery and in my post-partum phase I craved to eat home cooked food. Due to the lack of family support in this phase, I had to get on my feet and start cooking for myself. So, yes, my real cooking journey started while my stitches where healing and & motherhood hormones taking over my way of living.
Where did the inspiration of shifting your career come from? How did it all get started? Was it difficult to leave one passion (Banking) to pursue (Being a baker) another?
With the kind of weight that I had put on post-pregnancy, I hated looking at myself in the mirror anymore. But then as it happens, I just couldn't bare my daughter eating outside cakes & chocolates; and there the fitness freak inside me finally awakened. Cooking & Baking became my single most important mission in life. It was time to bid good-bye to the banking world & move into baking & culinary arts. In fact, so much was the need to feed healthy food to my daughter I gradually drifted away from the glamorous corporate sector.
Please tell us something about your journey so far from being a banker to the baker? Do you miss being a banker?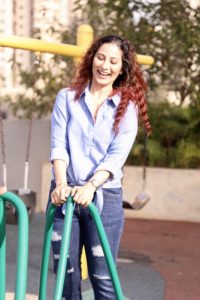 Not at all. Banking work was a responsibility that turned into a way of life. But the culinary world was a choice I made from within that turned into an art of living for me. In fact, I have managed to stay in touch with most of my friends from corporate days who acknowledge my risk-taking abilities. My school friends who used to once call me 'Meghna Jaadi', with the transformation that I have gone through – losing 20 kg of weight & retaining it for 3 years now – have been so receptive to taking tips of healthy lifestyle changes.
Any particular recipe of yours that your daughter loves the most? How do you ensure healthy eating at home for your family?
Though Indian cooking is balanced there are interesting concepts that I get to pick-up from living & travelling abroad. She gets to have my desserts a few times a week; I make sure I make them very light & low in calories. My daughter never liked fruits, but thanks to desserts, now she on her own eats a lot of fruits just like that. My food will not have more than a few drops of oil; I use water a lot while cooking and that helps bring the desired textures in my dishes at home.
What are your thoughts on equal parenting? What role does your husband play in parenting your child?
This is a widely misunderstood word 'equal parenting'. Most people I have seen in India see it as husband working all day, coming to the home in the evening, and then babysitting because the wife has handled the kid all day. Wife expects the husband to contribute in child's studies; sometimes it happens sometimes it doesn't. Rather I think Equal Parenting is about dividing work basis the circumstances. When your child is an infant; it needs more of the mother – just about all the time – but as the time passes, she gets introduced to the world outside, the father becomes very critical in taking the initiative in helping her navigate. And so, while the mother sacrifices her career initially, the father too should be ready to sacrifice so that the mother can catch up with her lost time/interests that she left for motherhood. That to my mind is equal parenting.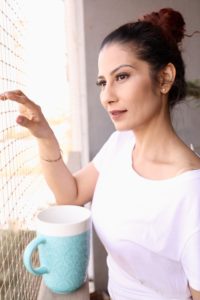 What does your morning routine look like? What time do you get up? What's the first thing you do in the morning?
5.30 am every morning. And my Ginger Masala Chai with a toast with olive oil drops & some methi masala are my ideas of a perfect morning routine. Even when I'm travelling, my multi-grain bread always travels with me. A power-smoothie post workout is my way of ensuring I eat something 2 hours before lunch. So basically, every 2-3 hours I make sure something goes inside my stomach.
Balance—we can't do this interview and not talk about it! Mostly because I'm desperate to know all of your secrets. How do you make it work? Basically, how do you balance personal and work life?
It's a very relative term. What balance to me may not be to you.  When I'm not shooting or travelling, I'm constantly researching what I want to innovate. Being a vegetarian, it's more challenging to innovate a non-vegetarian dish where I rely on my super sniffing powers. The best part of mixing work with personal life is to bake a cake or make a dessert for the family – sometimes with my family. I chose food that I love to work with, so basically, there are never dull moments.
What is your idea of growth? Are you planning to take up some more professional courses into cooking? Where do you see yourself in the next few years?
Similar to Chartered Accountants & Doctors, we Chefs are also always students. But more than professional courses, travelling & interacting with people, watching international food channels & YouTube videos help me a lot. What I look for is the thought process. And how I can bring international taste to Tier 2 & Tier 3 cities – which brings me to affordability & accessibility to ingredients, availability of kitchen equipment and adaptability of taste for my viewers. Many times people tell me why I didn't make an authentic dish exactly as it is written in the books, and my response to them is that I'm not here to showcase my culinary skills; rather help the middle-class viewers actually be able to afford & make these dishes at home. Corporates always talk about 'Client First', right? Well, this is my way of bringing corporate jargons into home-kitchen.
How do you make room for personal time for yourself? When you do get down time, what do you do to relax, refresh and/or get inspired?
Like I said I love what I do, other than the few hours of physical tiredness that one would get by standing for 12 hours or travelling for 9 hours, I don't get mentally stressed. Every project I look forward to working on.
What are the things that help you stay organized throughout the day and get time for everyone and everything? Is there a special time planner, or workspace design or technique that you use? Tell us your time management secrets!
The moment I start planning, I will feel compelled to stick to it. Whoever says they are very planned people, I would say are probably genius and brilliant; but in my so many years in different worlds from banking to banking- I have yet to see a single day where everything goes as planned. Baking teaches you one thing that even the climate changes on the ingredients, affect the final result, so why to take so much stress.
Secondly, responding to viewers is supercritical; I try my best to find 10-15 minutes in between throughout the day to respond to as many people as I can. When viewers thank you for your time, you feel the most satisfied. And that's the technique to stay motivated & work harder.
Does being a Mom help you be more professional at what you do?
100%. I am very clear that whatever I cook or bake, has to be something kids would be able to appreciate. Try offering a baigan ka sabjee to a 5-year-old, or a salad to 11-year-old, and you will realise it could get really tricky. How do you alter the taste (sobering down spices or extra sourness), cooking method (controlled oil & other fats) & presentation (we eat first with our eyes than with mouth) that the child would actually ask for 2nd serving?
1 thing you do for yourself to unwind from it all?
A small glass of wine my special cooked spicy tofu- almost no oil & watching crime petrol (an only non-cooking show that I see) I guess would define my unwinding.
Whom do you attribute your success to? And why?
My family. See they had to step up. My husband took up roles that allowed him flexi hours or remote working. My child in her very young age understood that her mom needs to work. And a few close friends who continuously guided me. Being a woman it's not easy. Often you run into not-very-nice people. A lot of times people approach to work with different intentions. My PR team has ensured sanity remains.
Last but not least one advice for women who are out there to achieve something in life.
First, make up your mind that you want to achieve something in life. More often and not, it's the indecisiveness that hampers we women from achieving anything. Two, more often I have seen women want quick success; rather than investing their time in the process. I have been blogging for 3 years, and I can tell you that there are several days a month when you feel totally helpless. So easy to give up. Lastly, please don't just invest in jewellery & dresses, also invest in yourself. Learn something new. Meet new people. Think that you don't want to depend on your husband forever. That alone will drive you to chase your dreams.
Please follow Meghna's Food Magic blogs, recipe videos, food facts and cooking tips here.
If you are a woman with a passion for your work and one with tons of dreams. We would love to feature your story on our website. Do connect with us on lifethrumyeyes11@gmail.com
If you are a brand and would like to see your products reviewed, please send an email on lifethrumyeyes11@gmail.com or you can also connect with me by clicking on any of these on  Facebook | Twitter | Instagram.
Picture courtesy- Chef Meghna
For more such interesting features click here
Copyright Notice- Unauthorized use and/or duplication of this material without express and written permission from this site's author (owner) is strictly prohibited. Excerpts and links may be used, provided that full and clear credit is given to Rakhi Parsai (Lifethrumyeyes) with appropriate and specific direction to the original content.