India is a land of festivals, culture, relationships, and traditions. For every festival, we Indians plan everything and start the preparations weeks in advance. From Sankranti to Diwali all the festivals are celebrated with zest and enthusiasm. With Rakshabandhan just around the corner, families are not getting geared up to celebrate the bond of brother and sister. One of the most scared bond which doesn't need to be connected via blood but, is definitely maintained with equal rigor.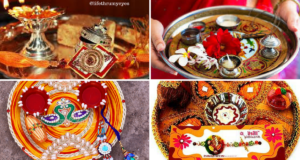 To make the celebration even more special, decorations are done with full zeal. Beautiful Rakhi's are either bought or are made. Brother and sisters start looking for gifting options weeks in advance. The ones who are earning want to floor their sisters with the best gift that they can buy. The ones who are small make cute little cards for their sisters and show their affection and love. To make the ambiance mesmerizing and add color to the festivity today, I am going to share ideas for home decor and ways in which you can welcome your brother home. In this article, I have come up with some of the creative home decor ideas which I am sure is going to add the element of love, warmth, and peace. In-fact, I always try and incorporate these ideas in different ways to do up my place. Here are few things you too can do to add a colorful and festive vibe to your homes.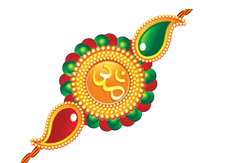 Add colors & brighten it up- Little bit of color here and there can make a huge difference in the overall look and feel of the house. Do away with beige, white and cream and go bright colors like red, green, orange, yellow and blue. As the walls can't be painted often so you can try some colorful wall hangings and paintings to brighten up the area. Consider changing the linens, covers, and curtains to something brighter and lively. So go ahead and add bright colors to your house.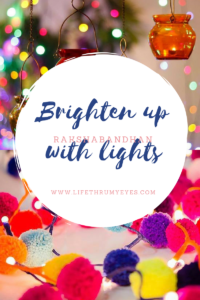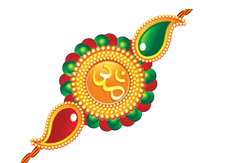 Bring Festive Decor Pieces- Home decor doesn't need to be very expensive it can be anything and in order to give a look and feel of festivity, you should put some mind into bringing new decor items. Select very simple and basic things that speak of celebration such as flowers, lights, wind chimes, etc. A divine idol put as a centerpiece will also attract attention. Paper lantern of different sizes and color can sure light up the lonely corner of your house.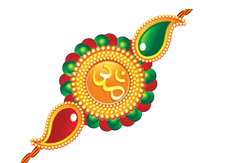 Make it Welcoming- The main door of the house is the most important place as that's the first to be noticed by your relatives. To make them feel important and welcomed you can start by main door décor. Hang a toran made of real flowers of artificial flowers. You could also try traditional Rajasthani toran to give it more ethnic look. It denotes festivity as well as gives a welcome home feeling to your relatives. A Rangoli at your entrance will be very welcoming as it is also a good omen. Lamps/diyas along the entrance and fresh flowers will look very welcoming.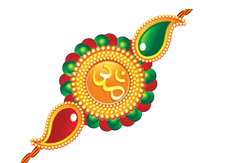 Add Glamour- Festive colors and lights do constitute a very important part of the home décor but it's not all. You can try to add a touch of glamor to the house by bringing in the throw away cushions, rugs and mismatched drapes to add a tinge of glamorous sophistication.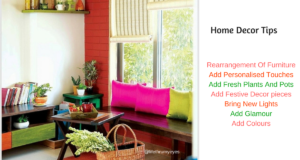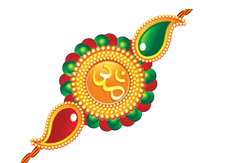 A Little Rearrangement- It's not always necessary to invest in something to make your house look beautiful. A little bit of rearranging your furniture can change the entire feel of your décor. Just shifting that couch to another corner and placing a set of ottomans at the foot of sofa can do wonders with your interior design.
READ-Last Minute Diwali Decoration Tips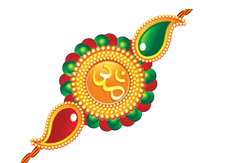 Don't Spend All of It- You know that the festive décor is just for the time being. So do not get overexcited about it. Make good use of your money. Use the things you already have, like vases; fill them up with fresh flowers and set them up in different rooms or dress up your hallways to create a good impression on the guests. You can try changing the upholstery or curtains and this will change the entire scenario of your room giving it a new look. Since Rakshabandhan is a very traditional kind of a festival you can set up the room in more personal and traditional way. You could keep the family and specially siblings pictures at display in the living room to make it more special.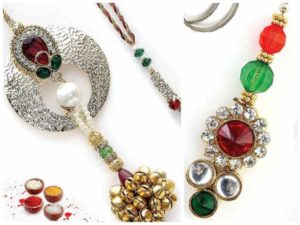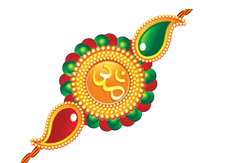 Bring New Lights- Though Rakshabandhan is not about lights but you can create a festive look by adding the sparkle of lights around your home this will light up your home and your mood. Brighten your living room by using vibrant color sofa cushions and floral decoration. You could place fairy lights in glass vases and keep it in one corner to make the corner bright and welcoming. In fact fairy lights are in trend these days and can change the way your entire house looks.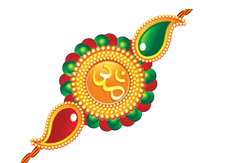 Make it personal and welcoming- Give Rakshabandhan celebrations a personal touch by making sweets at home. Step into your kitchen as it is best to make something at home as it shows your love and pure feelings towards your brother. If you are not great at cooking, watch some amazing YouTube videos and make some. We are sure your brother won't mind eating a little less or too sweet laddoos and milk cake if you have prepared it with your own hands. Also, you can try cooking his favorite dishes. Personalized gifts are quite hit so you could get a personalized gift for your brothers and sisters. You could also try making Rakhi's at home to make it all the more special for your brother. In fact a beautifully decorated Thali will just complete the celebration of Rakshabandhan. Keep a separate corner/space for sweets and gifts. The food and sweets corner can be nearer the kitchen so you can replenish whenever you want.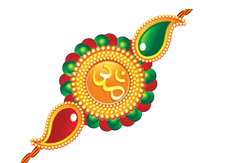 Freshen it Up- Brighten the hallway by placing some plants and maybe some fresh flowers. Trusts me plants are my personal favorite and they lighten up your house instantly and give it more personal and very refreshing look. Be a little creative with the flooring, you could use carpets or runner rugs to liven up the hallway. You may have a big hallway or a small one; you can really do it up tastefully, to create an attractive and welcoming ambiance. You can make Rakshabandhan all the more special by giving a bouquet of your brother or sisters favorite flowers as well.
So what are you waiting for go ahead and get your house decked up and invite your brothers and sisters and cousins to celebrate this bond of love and affection?
Set up your decor for a complete lively one and show your decor talent to the relatives and guests, this Rakshabandhan.
This blog is a part of Festive Blogging Series in which 10 wonderful bloggers have hooked up to bring out interesting content for the readers. Links to these blogs are mentioned below.