In today's hectic lifestyle and scheduled we all are so busy and occupied that we hardly have time to do various household activities. A very big fact which I think everyone would agree with has become one of the most clichéd parts of our lives. We all are doing everything possible and are leaving no stone un-turned when it comes to making a livelihood out of day today hectic lives. Be it a working woman or a stay-at-home mum who has been executing every professional and personal task with sheer devotion. Towards the end of the day you are exhausted, you are just not able to perform some of the tasks at home on your own because all the energy has been utilised in the office or tackling kids and their lives.
Behind every successful man, the saying goes, there's a good woman. And that's often the case. But have you ever considered that behind almost every successful woman, there is another woman, yes it's your "KAAMWALI BAI"? Well, don't wonder, in today's day and age it's actually the biggest fact of a women's life. There's very little that one can do if the maid does not turn up for work. Who will clean the house, do the dishes, and complete the multitude of other work at home? Till the time you are single you give credit of your success to your parents, once you are engaged or in a relationship you might give the credit to your boyfriend or fiance and once you are married there will be a maid to be given credit for your success. It's too trivial an excuse to take a day off from work since your maid has not turned up.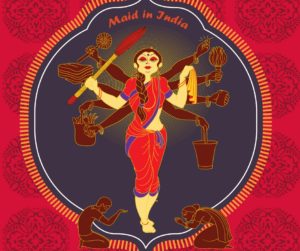 Since ages, I have been dependent on my phone to wake me up in the morning with a shrieking alarm. But do you know today I have a best, tried and trusted option for an alarm? My maid!! Well, of course, there may be a miss once in few month or so. No one's perfect. We all miss out from time to time. I have a very diligent maid, she does not stay with us but comes every morning and helps with all the basic chores (right from waking me up these days with a thud on my door). Even if I wake up early, I continue to lie on the bed, waiting for the doorbell to ring so that I get little extra dead time on my bed and when she rings the bell, it's like a sign that get up and go to earn your bread and butter. The day she does not turn up, my world turns upside down. From running behind my daughter to shouting on my husband to packing lunch boxes in a jiffy. Well, with that said and done, in short, my maid is my (S)HERO.
Certainly many a career in India, and abroad for that matter, has been knocked down by motherhood. Conservative, disapproving family members have been a hurdle, too. Working mothers in India are further handicapped by lack of quality daycare facilities. There comes a role of this house-help and maids who let us win accolades at work. With them standing by it becomes lots easier for us to succeed as working women.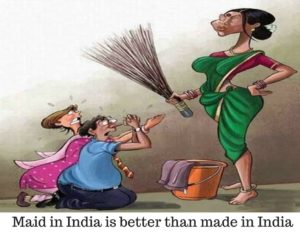 I am sure we women are capable of doing any amount of labour loaded on us. Be it office work or housework. Even if a day there is no show by the maid, we will still be able to a manage the house. But I am talking about those 364 days( Not literally as maids do take off's and yearly vacations often)when they manage our house and lives so that we can easily manage our office and home. With this posts, i intend to be grateful for their contribution in what they do and how they do. Without them, i know I won't be able to give my 100 % to my work.
Let's imagine a day when the maid doesn't show up. The caretaker for kids can't come. The cook doesn't cook. The milkman, garbage picker and newspaper vendor disappear. Imagine how the day would look like. But if the maid does not turn up for a single day, it is a huge problem. For a working woman, it is no less than a catastrophe. I would not mind saying that the maids are the managers of our home, the caretakers of our family. Life does not stop without them, but it isn't easy as well. It is quite an important relationship to handle, however stressful. It requires finesse, tact and a fine balancing act to maintain it smooth and sound.
The one's reading this in India will definitely relate to this since they are grown up seeing a maid work at your home. It's an advantage in our country which most of our counterparts in other countries do not have. While chatting with my cousin recently I realised how unhappy she was. Going to the US immediately after marriage was a great prospect for her, but the reality dawned on her very soon, when she realised that domestic help is a luxury there, which not many can afford. She had happily left her job in India to enjoy the post marriage life in the US, little she had known that she would become the maid of the house (not literally). So such is the story of we Indian's who are born in this luxury of having a maid around for every work. Let's respect them. We describe them as a servant, kaamwali bai, it has an inherent quality of subservience in that word. We expect these maids to be respectful, obedient, and undemanding like the Vimla Kaki or Ramu Kaka of Bollywood movies who used to up bring the child since he was a baby.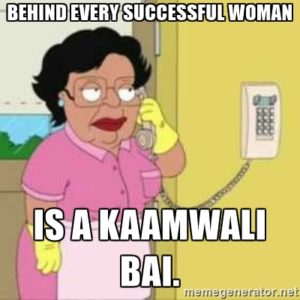 If by luck you have got a reasonably efficient maid who is good at her work and manages your house very well, you might still want to maintain the equation with her by sweet talking or supporting her since you are scared that replacement for her would be difficult. Why can't we have the same attitude towards any other maid as well for that matter? Relation of one human being with other. I know of someone in my circle who overlooks minor mistakes of her maid because the child is very fond of her and the maid keeps her child engaged and happy. We should not be good to her for own selfish reasons, but be good to her since she is leaving her house to clean yours, to cook for you and your kids first and to just provide a living for her family.
I would not say time has come, since it was always the same but now it has become all the more important to see them as a customer and service provider. The least we could do is to see them as one working woman to another. We need to be concerned about their well-being since it is essential to your own well-being. I agree to the fact that there are all sorts of maids, liar, cheater, rude, and we should deal with them in the way required. However, the majority of them come from the poor background and are doing this work of maid to make the ends meet. It's the daily life's struggle which makes them do this. You would get tired after doing your housework, which is just one house. Imagine they do the same work in so many houses. They rush back to their own houses to do the same chore all over again. You have a choice to order food from outside if you don't feel like cooking, they don't have an option and outside food is a luxury which they may not be able to afford. She balances her family AND helps you have an easier life… and yet you will never know even if she is having a tough day
If my posts is able to touch some chord in your heart, do remember to thank her when you see her tomorrow morning on your doorstep for making a difference to your lives and being there for you.
Also read- 12 Things You Have Experienced With Your Maid In India