With Children's Day just around the corner, I feel nostalgic thinking about the time we had spent in 80's and 90's. If you spend your childhood in India during 80's and 90's, then this list will make you recollect all beautiful memories of the golden era lived by all of us. Every now and then I think back to childhood and remember just how beautiful it was. The generation was full of fun, colours, innocence, no internet, no mobile phones and much more. What better day then Children's day to go back to your childhood days and live it up again. If Time Machine would have been real, I would like to go in past instead of future. Just to relive these amazing moments as these childhood memories are memorable and will stick with us forever.
On the joyous occasion, let's take a quick glance on what Indian kids were like before the smartphones started to take over. After all, we still need to take care of the child in us. Here are some precious moments from childhood revisited as I wish everyone a happy Children's Day!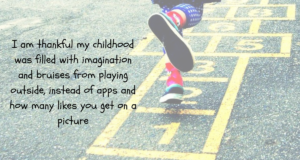 Hope you enjoy going down the memory lane of your childhood and living it again.
Big Video Cassette collection: At that time most of the families had just one TV which was shared by everyone and Doordarshan was the only channel aired hence, video cassettes played in a major source of entertainment.
Audio Cassettes: CD's and DVD's were not commonly available and audio cassettes were quite a rage at that point in time. I remember buying almost all the audio cassettes of new movie releases.
Video game parlour: Mario, contra and fighter games were the most sought after. Saving money to play in the video game parlour is a very fond memory that I have from my childhood. It was a recreation and luxury outing for kids then.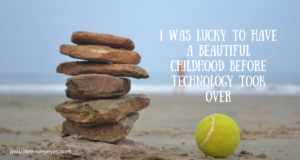 Walkman: A huge source of personal entertainment. If kids were asked what do they want as a gift they would say walkman. Yes with no VCD players, laptops and DVD players youngster who owned boasted walkman as if they owned a car
Pink Cotton Candies: Happiness used to come in Rs 1. And we used to ask for the one which looked heavy and biggest. Fighting with a sibling to share and to eat the major portion was fun.
Disney Hour: Remember the popular 'Disney hour' cartoon show that aired all the popular cartoons- 'Chip and Dale, Ducktales, Tales Spin, Rescue Rangers, Tom and Jerry etc. Mums used to wake up children sharp at 9 am on Sundays to watch the cartoon show at the breakfast table.
Parle G Biscuit: Parle-G biscuit and the iconic girl on the packet: The glucose biscuits were so much popular and even now. The yellow and white stripped packet with the girl printed on it is one of the oldest brands in India. Biscuit got major popularity as it was the only low costs biscuits which people could afford.
Inland letter card: The inland letter card was very popular and people used to communicate with it more than the big telephones at homes.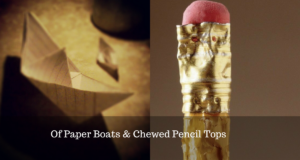 Ramayan TV series: Ramayan is a highly successful and phenomenally popular Indian epic television series created, written, and directed by Ramanand Sagar. The 78 episode series originally aired weekly on Doordarshan.During its original broadcast, Ramayan was enormously popular, drawing over 100 million viewers. People religiously woke up early to watch the popular series.
Brown paper: The craft paper produced from chemical pulp with which students covered notebooks. We made the most of the paper's use to escape the scolding of the teacher.
Marbles: Does this bring back anything for you? Yes, a beautiful memory and competition which we had with peers. The one who had the maximum of these was considered superior.
Floppy Disk: Floppy disk was considered to me the most in thing. Carrying this along with you was the most tech savvy thing to do.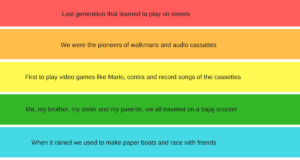 Big Babol or Boomer: Do you remember the competition you had with friends on who will blow the biggest bubble.
Fountain Pen: Every morning before school we used to ensure our Hero Fountain Pen is filled with ink. My father used to remind every morning to positively fill the ink.
Natraj Geometry box: This one was in much rage. I remember cooking up reasons to get my parents to buy a new one every now and then. And being the youngest I got a second-hand box used by my elder siblings.
Paper boats: Come rains and we used to tear out pages from our notebooks to make paper boats and have competition with friends on the water deposits in the pits on roads. Paper boat race used, to begin with, the much noise and roar but it was fun. We enjoyed the small pleasures of life.
Bata Canvas Shoes: The whiter the better. All of us had compulsory white shoes to be worn on a PT day in school. Happiness came with extreme white shoes which also made us paint them with white chalk.
Mango Frooti: Frooti has transformed a lot in all these years. But this was the only beverage we knew of and relished it to the core.
If I sit down to list down more stuff it would never end. Childhood in 80's and 90's was the best days. I am sure you all would be able to relate to all these. Which are yours favourite and memorable Childhood Memories? Mention it in the comment box below and share this list with all your childhood friends.
Happy Children's Day !