Like all parents, you too would surely want the best for your little ones. You give all your energy, time and effort into raising them and providing a suitable environment for them to grow. You always strive to be your child's best friend and would expect him or her to share everything with you. But despite all efforts of being a good parent and a friend to your child, he or she may not be able to share everything they have a mind. No matter how often you and your child speak, there are certain subjects that are often left unspoken or unaddressed. Whether your kids share with you freely or not, they may not be able to articulate what they really need as they may not fully understand it themselves. Childhood is a very delicate phase of one's life and it's very important for parents to understand what goes on in child's mind.  I used to always wonder what goes on inside that little head of my daughter. Is she happy with her parents? Does she need anything more from us? Are we doing the best for her? All of this and more led me to think deeply about what is that I should know that my daughter isn't saying explicitly.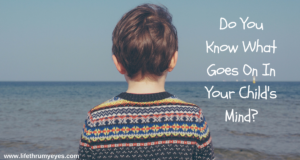 Following are some of the hints to understand the things your child wishes you knew but won't tell you:
1} A peaceful and calm home
For your little one, the world can seem a scary place. A peaceful home allows your child to seek solace, support, and love. Despite your individual efforts in child raising, it is important to remember that your child needs a stable and peaceful home. You may be the best parent to your little one, but if you don't get along with your partner you are putting all your efforts in vain. An unstable home can cause anxiety, depression, inferiority complex, aggression and low self-esteem in your child. The best gift that you can child can ever have from you is a peaceful and a calm home.
2} Order and stability
Although it may sound strict and old-fashioned, children prefer order and stability. Strict parents set standards that provide children comfort and at the same time standard routines and discipline. An authoritative parenting creates the perfect bringing up for your child and they develop high confidence and self-esteem to succeed.
3} They don't want you to criticize them
As your child grows up, he will face failure along with success in different stages of his life. He may face criticism and comparison among his friends, peers, and superiors. Due to this he may not perform well in school and suffer in academics. Back home, they want you to be their best friend and confident. While you can't control what happens outside the home, you can do your best to make them feel better when they are with you at home. Criticizing them for their failures will only make them feel worse.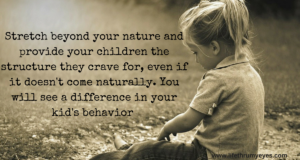 4} They want you to be their best friend
Often during parenting, we forget that our child not only needs a parent but needs a friend too. When you see your child being abusive, argumentative or having problems at school, there is a strong reason behind it. Instead of punishing your little one, try to find out the reason behind their behavior. Do not expect them to explain what is going on as children always fear to communicate. Take charge of the situation and talk to your child's teachers and friends to find out the reason for his behavior. You can also plan a day out with your child to help him open up and share his problems with you.
5} They want to impress and please you
Even though children are stubborn, deep inside their hearts they want you to be happy and pleased with them. Focus on developing a strong bond with your little one so that they reach out to your support when they need you. Children do not like to disappoint you and also try their best to impress you. In fact you will be pleasantly surprised what positive reinforcement can do to your child. We need to build them till the time they are with us. Most important are to have an open line of communication with your child as that will make him feel open about sharing his or her concerns with you.
6} They need you to be their strong supporter
It's easy to criticize your child or attribute negative adjectives to his behavior or personality. But do realize that your child is negative or misbehaving in a manner not on purpose. There might be things which are bothering him/her. There could be a host of reasons from sensory issues to vision problems, bullying at school, hunger, not getting enough nutrition leading to irritation. If you look closely you will get to the root cause of the behavior. Trust me your child looks up to you for being his strongest advocate, to be there with him in spite of wrong doings.
Parenting is a challenging phase, however, if walked on the correct path parenting can be the most joyous experience one can ever have. If you are able to develop a strong bond, be their best friend and create a positive environment at home, then raising happy, successful and confident children will no longer be a mystery.