Mostly, you might have heard of from parents and experts and even your teachers during a parent's teacher meet that one should raise their children gender-neutral way. But do you know what this gender-neutral parenting even mean? Let us understand what this is.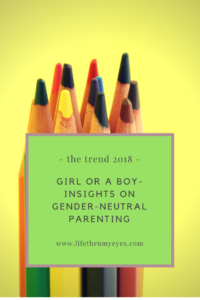 What is Gender-neutral parenting?
Gender-neutral parenting is raising your child irrespective of gender norms and considering both the gender as same and treating them without any favoritism. Parents often treat their children differently in every aspect. By gender, they use a particular color for dressing, provide specific toys, and also expect different behavior from each of them. On the other hand, such parental messages make a mindset in children of both the genders at an early stage.
Besides, the way fathers treat their son and daughters distinctively is more identified with their sex convictions, though moms will probably treat their son and daughters and contrastingly independent of their sex convictions. One can easily inquire, treating boys and girls distinctively. Confidence and strength are supported more in boys, and minding and amiability are empowered more in girls. Specifically, guardians react to forceful conduct in boys more brutally than in girls.
Influence of gender-neutral parenting
The strongest influence of gender-neutral parenting starts within the family, where parents use to distribute everything by their gender. Be it some work, be it some toys or other things. Later on, this belief is further promoted by the child's peers, school experience, and television viewing.
On the harsh side, there is a long prevailing scene that most parents prefer male children to female. The finding further emphasizes this preference for male children that parents are more likely to continue having children if they have only girls than if they have only boys.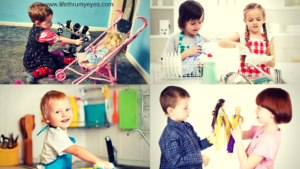 Tips to follow the gender-neutral parenting
There is a common gender stereotype belief that boys are good at sports and are more aggressive. On the other hand, girls are good at reading and caring. Cycles and mostly blue toys can be found in the boy's room, and pink toys can be found in the girl's room. There is now more change among parents with some mythical holding expectations and some expressing impartial expectations for their sons and daughters.
Such stereotypes should be imposed off, and parents should focus more on becoming a gender-neutral parent. Here are some ways to follow to be a more gender-neutral parent and raise your kids without the gender binary.
Have a gender neutral home: First thing first, try to make your home gender neutral. This will raise your kid with an adjustable vision on gender roles. Parents should give an equal chance to both son and daughters to live free from gender criteria. They should not restrict if their son wants to play with dolls or daughters riding a cycle or having short cut hair or playing cricket, hockey or football.
Take gender out of sports: Never let gender come in between when your kids prefer choosing some sport. Sports are equally meant for everyone, irrespective of gender. Don't force your kids to join some games irrespective of his or her desire and interest. This will demoralize your kids and make them least interested in any sports.
Believe in non-gender toys: Always prefer giving non-gender toys to your kids or either let them choose their toys freely. This will inculcate a better understanding in them that will make them gender neutral. Also, this can be considered as the first step towards making them grow by gender-neutral.
Don't pin your kids in stereotypes: Keep your kids away from all those gender stereotypes. Taking this as the initial step will keep them away from gender bias.
Show them examples: Give live examples of gender-neutral scenarios to help your kids understand and believe in your sayings. The best example can be to show them the profession or work being carried out by some opposite gender. A male nurse, a female cricketer, is some of such examples. This way they will understand that whatever you used to talk about gender-neutrality at home, they see the live examples of it.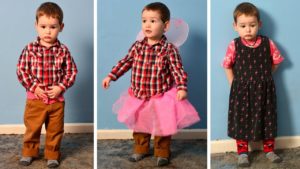 For more on parenting click here
In many industrialized countries, one of the most typical traditional images of a father working and earning outside the home and mother serving as a homemaker has been changed. Instead, many fathers are working inside the home and even taking care of their kids whereas; mothers are working outside and earning. Longitudinal investigations suggest that parents' approach of sons and daughters may influence some aspects of their gender development.
Always engage your kids in all types of activities irrespective of anything and any belief. Studies demonstrate that children raised with sexual equity, while being presented to gender are more innovative because of their opportunity of decision and articulation. It also increases the chance of their interests and insight in various fields and makes them choose their career accordingly and gain success.
Picture courtesy- World wide web. Pictures are taken from the web.
For more on parenting stay tuned with us on Lifethrumyeyes!
Follow us on Facebook | Instagram | Twitter
Copyright Notice- Unauthorized use and/or duplication of this material without express and written permission from this site's author (owner) is strictly prohibited. Excerpts and links may be used, provided that full and clear credit is given to Rakhi Parsai (Lifethrumyeyes) with appropriate and specific direction to the original content.
Love Deeply. Give Freely. Laugh Often