It's been 5 years since the time God has bestowed me with this huge responsibility of being a mother to a sweet little daughter. Most of the times I and my husband find ourselves deep in conversation about how can we make our daughter lead a happy life? How do we know what's going on in her head and most of all how can we ensure she opens up to us just like best friends do? We strive to be good and supportive parents to her and always aim to make her feel comfortable about life and places it's going to take her in coming years. Given the changing times, it's important that children to open up and talk to parents about more or less everything, especially in the formative years.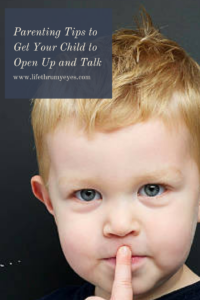 I am sure parents hate the most is seeing their child being upset, and after several attempts of probing if parents don't get to know what the reason behind it is, they get upset too. After asking several times from your kids you get the one answer and that's 'Nothing'. Sounds bad… isn't it? There may be thousands of reasons for your child being upset or not being able to talk to you. They might be teased, might be bullied, or maybe tensed because of the teacher or any other reasons that are even beyond our imagination.
Kids don't find it easy to share and are often afraid and nervous to share their problems. And for some, it's simply a challenge to articulate the confusion they are feeling. Well in the past 3 years since the time our daughter has started to understand and communicate with us in a better way we have used certain strategies to make her open up and talk to us. Here are few pointers that you can consider while dealing with your children to open up and talk.
So as a parent what should you do to sort this out? Well, let's find out.
1. Listen to them- This has been one of the most essential things that we practice daily with our daughter. More than anything else, they need you to listen to them. They need their parents time and ears all for them. You got to notice the little conversation openers your child offers. Drop everything that you are doing and just listen to whatever they have to say. It could be a silly thing for you but for them, it will just mean the world. Practice this with your kids every day and help the children to open up and talk.
2. Give your child some time- Have patience with your kids. Try to give them a comfortable atmosphere as soon as they enter the home. In case you find your child to be upset about something try to coax him gently to talk about it once he is well rested and has eaten something. Try to make the child feel that you understand him and his state of mind and just be a silent support till he or she is ready to talk.  Keep the environment calm and composed and avoid prodding, cajoling, lecturing, threatening and pushing.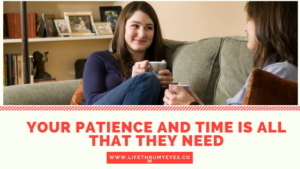 3. Always increase the conversations- Try to have a conversation that is beyond monosyllables. Engage your child so that he feels comfortable and tries to open his heart and mind to you. Make the conversation longer and interesting and allow your child to be the main speaker and make yourself a silent listener. Just try this trick and you will see your children open up and talk so well.
4. Don't give advice unless needed rather give advice with a trick- Listen to their problem clearly and patiently. Don't always run to give them your advice. Once you are clear with the problem they have, ask them first, "what are you going to do about it?" listen what they have to say and now this is the perfect time for you to give your advice. This way they will not feel that you are lecturing them which they hate the most.
5. Connect with your child's world- As a parent be available for your child in most of the situations. Always engage and probe your child when he feels comfortable. It may be while playing, painting, drawing or doing the puzzle. Believe me, this is the time when your kid will open up more than usual and share their problems with you and often need your advice. Don't talk just listen to them. Let them know that you are understanding them and while they stop talking ask another question to carry on the conversation but in an amicable tone.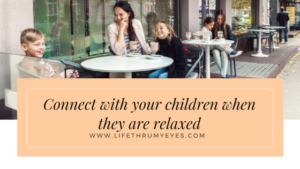 6. Don't ask the same question again and again- Don't repeat your question, again and again, always try to bring some twist and turn as this is what your kids want. Asking the same question every time will generate boredom and improper reply from them. So, stop repeatedly asking questions like "How was your day?" "What did you do?"
7. Always be an invitation opener – When your kid starts a conversation never interrupt or stop them in between and start giving your own advice, let them complete saying first. Once they are done try to use comments like "wow!", "Uh huh?", "Really", "I don't believe this".  All these comments will not make them feel odd and stop the conversation rather it will make them talk even more and share a few more things.
8. Be a little inspector– Do visit your kids' school often and get to know what's happening there. Ask your kids teacher about everything. A teacher will tell you best about all the activities and interest of your kids in school. With this feedback, you can sum up some questions that you need to ask from your kid. Moreover, you will get to know about your kid's behavior too. If he is a week at some points you will get to know it from there only which is quite impossible to get it from your kid's mouth.
9. Be a storyteller- Kids love to hear stories. You can try to open the line of communication by telling them stories. It could be existing ones or you could cook something up to teach them an important lesson of life. Often stories are the best way to bridge the gap or break the ice. Do use this tool to get your children to open up and talk.
10. Avoid negative phrases- When you are trying to especially talk with your tweens and teens try to avoid negative phrases. Avoiding negative comments can help in building a connection with them and help children to open up and talk. Using negative words will ruin the communication between you and your child.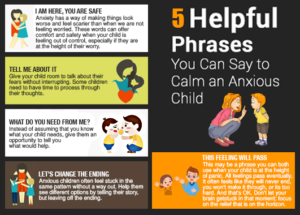 11. Avoid judging your kids- Do not judge your child whatever circumstances you are in. It is easy to judge the way they talk or the way they act or dress in front of others. If there is nothing really serious then avoid being judgemental. Fear being judged and criticized will stop them from opening up to you.
No matter what age of the child you are dealing with, communication is very important. Being your child's best friend rather than a parent is important. Unless we are best friends with our kids, we won't be able to get them to open up. Put yourself in your children's shoes and understand what they are feeling. A healthy relationship is based on trust and open communication. Use some of these tips with your children to open up and talk. There is no readymade formula that works on every child, you will find that a combination of these tips will help your children to open up and talk. Once they begin to open and talk, a treasure that communication and try to build on it. Hope you find these helpful and are able to build a good bond and communication that lasts a lifetime.
Picture courtesy- World wide web. Pictures are taken from the web.
For more on parenting stay tuned with us on Lifethrumyeyes here!
Follow us on Facebook | Instagram | Twitter
Copyright Notice- Unauthorized use and/or duplication of this material without express and written permission from this site's author (owner) is strictly prohibited. Excerpts and links may be used, provided that full and clear credit is given to Rakhi Parsai (Lifethrumyeyes) with appropriate and specific direction to the original content.
Love Deeply. Give Freely. Laugh Often