Since the day my daughter has started exploring her world, every shape, color, and texture has been a learning experience for her. Toys have been her constant companion helping her learn something or the other every day. From brushing up her fine motor skills, cognitive skills to hand-eye coordination, toys have played an important role.
Gone are the days when toys were just a source of entertainment for kids. Also in those days, books were the best source of learning. However, times have changed and learning has evolved a lot and doesn't need to happen in the close proximity of notebooks, classrooms and school premises. Learning is more interactive and a lifelong process of analyzing things and learning from every small thing that you come across. We as parents strongly believe in the power of play and its role in the overall development of the child, hence, we always preferred teaching various aspects of learning through toys and play.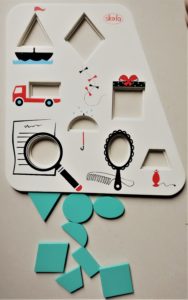 Having said that it would be unfair if I don't mention my love for wooden toys and hoe I have loved collecting them for my daughter over a period of time. The beautiful shape & color the lovely feel of the wooden texture on hand is simply amazing and worth playing with. Recently I came across an amazing brand Skola and its toys which are nothing but innovation packed in beautiful colors and shapes for all age groups. In my posts today, I will be sharing my opinion about a wonderful Geometry Puzzle Tray by Skola Toys.
What does the set include
Set includes a printed geometric board with 8 geometric lift out shapes, a detailed instruction manual all packed in a Skola Doodle box. Size of the board: 29.5 cm x 29 cm x 1 cm
Packaging- I liked the sturdy cardboard packaging that the puzzles come in. It is further wrapped in the clean transparent wrap which keeps it safe and protects from it getting any scratches.
Quality- The quality is marvelous and absolutely safe for the baby. The corners are rounded to protect the kids from getting hurt.
Touch and feel- The cardboard-like material used is a very good and fine quality. The texture is smooth to touch and doesn't feel hard at all of the skin. The corners are well rounded to ensure child safety. Also, the colors used seem very strong and doesn't come on hands as well.
Also, Read- Power of plan defining learning journey of a child here
Learning- Children are usually problem-solvers on their own as they keep trying to fit the right piece in each empty slot. The joy of seeing the complete puzzle and having pieces in place is immense for kids.  The triangle inserted to make a boat or the circle that makes a camera lens. This toy helps children take the initial steps to understanding shapes through complementary pairing.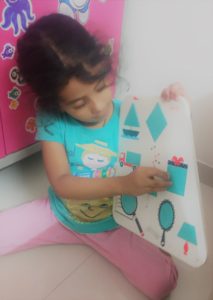 Also as children visually analyze and pair complementary shapes, they discover new aspects of geometry, like a triangle and a rhombus together forms a trapezium. Making new designs and forms with existing shapes stimulates children to be more imaginative and creative. By repeatedly inserting puzzle pieces in the tray and removing them, children slowly learn to grasp objects firmly with the three-finger grip. This also aids in developing essential pre-writing skills.
Price: Its priced at INR 445
Where can you buy- Check out the website
Overall take- As children identify that multiple objects can come together to form a complete shape, they also begin to distinguish objects on partial similarities of shapes. I loved the activities suggested by the brand along with each set of the toy to enhance the learning process with the kids.  My
Disclaimer-
This is a sponsored post. However, all the facts and opinion is my own basis the experience with the product. It is advisable that you seek professional advice in case of specific educational needs.
Stay connected with us on