We often tend to forget our hand and feet and seldom stop to pamper them. We expect our feet to take us everywhere, often in the most unsuitable of footwear, and it's only if we get a suntan, blisters, or other problem that we even think about what's happening down south. Similarly, we don't pay much attention to our hands which are the mosts important part of our body. A few drops of moisturiser is what our hands get. No matter how good you look, the roughness, dullness and dryness of your hand & feet can mar your overall appearance and can steal away the elegance from your gait. Sometimes beautiful hand and feet become a style statement, we can't forget famous Bollywood actresses who sell cosmetic brands from her beautiful feet and hands. Imagine if her feet are complemented with ugly and dirty feet? you can't really call her glam if that were so. could you?
They have to last a lifetime, so why are hand and feet often the most neglected part of the body? We are constantly in the look of masks to make our facial skin soft, smooth, young and radiant but why do we often ignore hand & feet. Masks are no longer just for your face and now more than ever, there's a variety of sheet, peel offs and creams available to treat your skin from head-to-toe, including one of the hardest working parts of your body: your hands. Inspired by the amazing results of Organicmill's Body scrub that I had used and reviewed last month I was very keen to use yet another wonderful product from the brand, Hand & Foot Mask. I do have to admit that I pay more attention to procuring facial masks than hand and foot masks, although with occasional application of hand creams. Read on to know more about my experience.
My Experience with Organicmill Hand & Foot Mask:

The packaging is very nice. It comes in a transparent glass-like small tub with a black screw cap. It has got a double lid to ensure that the product doesn't leak or stick on the main cap. Easy to use, simple and travel-friendly packaging. Back of the glass tub has all the product-related details.You can refer to their official website if you wish to read more about the product and order as well.
I had never tried Hand & Foot Mask before, hence I was intrigued. The first thing that hit one of my senses was fragrance and sight. It looks and smells yummylicious, just like a big dollop of chocolate. The mask is super silky and soft to touch. Key ingredients used in this mask are Vitamin E, Kaolin Clay, Almond Oil, Aloe and Essential Oils. Kaolin clay is a type of soft cosmetic clay which is usually used for mask, scrubs and many more beauty related products. It seemed like an interesting ingredient and just like other things I had to look up on the net to know more about this. This is what I got to know, it has detoxifying effects, and it sucks out impurities such as grime, dirt, pollution and germs from the pores. This cleanses out the pores and prevents them from clogging up and causing breakouts.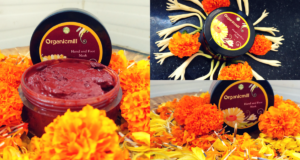 Well, that was quite a bit of information that I got about one of the core ingredients of hand and foot mask. Due to constant exposure to harsh sun rays, my hand and feet had become dry and tanned and I was looking forward to seeing the result on my skin. The mask as mentioned is very smooth and glides very well on the skin. It spreads evenly covering the top layer of skin properly. Keep the mask for around 20 mins and wash it off with normal tap water. I found my skin to be very soft, clean and radiant. In fact, I found my skin to be shining. It didn't stick to the skin and got washed easily without leaving any greasy feeling on the skin. Even after washing away the mask I could smell chocolate on my skin. In the span of two weeks since I got the product I applied it thrice and was amazed to see the results.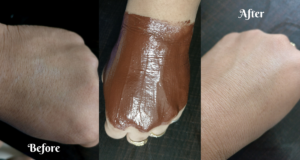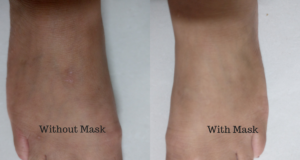 The whitening effect for the hand & foot mask is visible(-O_O-!) Never expected my skin to glow after 20 mins!
Up until now, I had not thought of using such mask for my hand and feet and was not even aware of the reasons we should be doing this. Organicmill Hand & Foot Mask was a real eye opener. I realised that it cleanses the skin deeply and helps out to draw all the toxins and impurities leaving fresh, rejuvenated and healthy skin behind.It infuses the skin with essential oils, vitamin E and tightens the skin, leaving the skin soft, smooth and glowing. It didn't cause any irritation on the skin at all. I am looking forward to buying this masks in future too. I think if with continuous usage my hands and feet will be silky smooth like a baby's bottom :-). They really do whatever they claim but turn out to be little expensive in the long run.
Pros of Organicmill Hand & Foot Mask
Packaging
Chocolate fragrance
It's organic and chemical free
Makes skin soft, smooth and moisturised.
Non-sticky and non-greasy
Cons of Organicmill Hand & Foot Mask
Expensive if you use it every few days
Cannot replace proper foot care routine which may consist of scrubbing, cleaning, washing.
With changing perspective about beauty and skin care feet and hand care cream has become an essential component of every women beauty kit. Your hands and legs draws the direct attention of people and ignoring them are one of the biggest beauty mistakes most ladies make. So next time while getting prepared for a special occasion to give your hand and feet as much attention as give to your face. Little bit attention to your hand and feet would make you completely beautiful.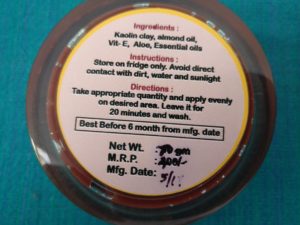 Price: INR 400 for 70 Gm
Instructions: Since it is made of natural ingredients you need to keep this in the fridge and can be used till 6 months from the date of packaging.
Lifethrumyeyes Rating 4.5/5
To place an order go on to Website
Would I Repurchase/Recommend Organicmill Hand & Foot Mask?
Yes. However will also suggest once in a while indulgence in a proper pedicure to treat the foot overall. This product does everything it claims and does improve skin colour and feel of it in 1-2 usages.
Follow them on Facebook & Website