On this occasion of Independence Day we bring to you #BlogToFreedom blog train. This is the day which gave us the freedom to live in our country with head held high. With confidence to chase our dreams and to live the life we want to.  Everyone has their own definition of being independent, hence we are bringing you a series of 13 blog posts from 13 wonderful versatile bloggers writing for one common goal of #FreedomToExpress. This is one of the blog post from our blog train. I thank a wonderful lifestyle and parenting blogger Minakshi from Mommystimeline for introducing me. She is constantly working towards creating awareness amongst parents and helping them take informative decision.
At the stroke of the midnight hour, when the world sleeps, India will awake to life and freedom." With this speech from Pandit Jawaharlal Nehru, our country rose to Independence on 15th August 1947. This year we will be celebrating the 71st Anniversary of that momentous event. India's 71st Independence Day. With this post today I am going to share emotions of an unborn girl child is who scared of being born and shouts from within, " Maa I don't want to be born here"
I am lying peacefully in the cozy tummy of my mom. She has been protecting me for over 8 months now. I started my journey in this place with a lot of excitement as I had found a woman who was soon going to be my mom and she would shower me with so much of love. I am slated to be born on 11th September 2017. Well, you would be surprised that it's my mum's birthday as well. I heard it was a very bad day for United States of America a few years ago. But I pray to God for the people who lost their lives. I pray to God for peace in the world. I am yet to be born and I so badly want to take birth in the country which has a lot of peace and happiness for our and many more generations to take birth and do good.
Well, keeping aside my prospective birth's excitement I heard my mother talking to papa about Independence Day celebration planned in our society. I so wish I was born little before so that I could wear a beautiful color coordinated Independence Day costume. But then it's okay since I will be very small to wear all this right away. So going back to the celebration. My mother has the very sweet voice and she is planning to sing a song for the occasion. She always keeps her hands on her tummy while she is practicing as if she wants me to hear the song and realize the importance of this day. She has chosen this song, A Mere Watan Ke Logon Zara Aankh Main Bharlo Paani, Jo Shaeed Hue Hai Unki Zara Karo Kurbani. The moment I heard the song I could feel the pain of the freedom fighters who lost their lives to give us the country that we are living today in. I had tears in my eyes as even before I am born I had a strong feeling that I would like to do something for my country. But you know I am scared of being born also since I am a girl child.
As I said its been over 8 months that I am in this temporary home of mine. Well, it's a long time to be here and I have been witness to so many things that my parents talk about. From politics to corruptions, to Modi government, to soaring tomato prices, to bad monsoon, to rapes, murders and what not. I am really scared. Is this country safe for me t be born? My mother doesn't know that I am a girl. The day I am born she will start worrying about protecting me from the evils of society. My dad will become my constant companion to escort me to classes and school in order to keep me safe and out of the clutches of bad people out there.
My family is good and they won't differentiate between a girl and boy child so I am not worried about being killed immediately after I am born. But I am deeply scared of the other atrocities that a girl has to go through in this country. How will I survive molestation at a young age if it happens, how will my parent's evil eyes away from me? When I grow up and start going to college will I be safe? Will I not be eve teased by a random person walking on the road. Every now and then my papa tells mum about so many bad things happening around. I remember him telling her about a recent incident wherein a girl in a local train was a victim of eve teasing and the man who was supposedly not stable mentally showed his private parts to this girl. Eww, isn't it gross? Will I be able to survive all this? I am very scared. Even if I survive all this, will I be able to find a good house where my parents will get me married. I am scared of being burnt or killed for dowry. What if I get a family who is greedy and can go to any extent just to get more and more money. Even if I survive this the day I conceived, won't I be pressurized to deliver a boy child? I strongly feel it's a vicious cycle which won't stop just at my birth but might continue till my last breath. I want to be born in a country which is safe for me and I can live freely.
Today on this occasion of Independence Day I want to question the society and so called supreme powers who rule our country. Why are we girls not free to live happily and safely in our own country? Why are we judged for wearing a cloth of our choice? Why are we not allowed to be out late at night? Why do we have to live under the shadow of the man to be safe? Also are we safe in this shadow as well? So I shout from my mother's womb and make a plea, please give me a safe and free country to live it. It's been 71 years that we are free but are we really free? What are we doing to make a life of a girl simple yet accomplished?
Is this what free India all about? We have been independent for over 71 years now but why are we not free from such atrocities happening in our country. Why can't we stop the wrong doings and why can't we just throw away such people who are spoiling the name of my country, my nation, my India. I want to be born here. It's the same country for which Mahatma Gandhi and many others lost their lives. I want to feel the pride of being an Indian. I want to hold the beautiful tri color flag next year in my hands wearing a color coordinated salwar kameez. I want to request all the Indian's and the supreme powers to make this country safe for all of us and specially for a girl who is born in this country. She is the pride of your nation, she is the one who will continue your legacy for generations to come. Keep her safe and respect her.
Read more on this blog train do check out this blog by Rashmi who blogs at Ajisth's Mom Style. Please read her take on the prompt #BlogToFreedom see what she has to share with you this Independence Day. Follow her on Facebook, Instagram to stay updated.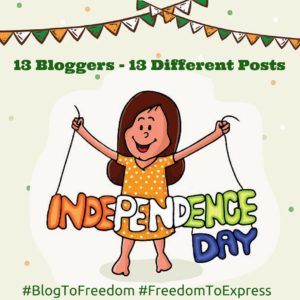 If you like what you read on our site do share your thoughts. We would love to hear from you. In case you feel there is something that can be changed or improved we would be glad to bring in positive changes.We can be contacted here for collaboration, sponsored posts, giveaway or just like that to chat with us.
Also, read-