Since the day my mother had left us I used to wonder where did God take her. Is she doing okay in her new home? Hoping that someone was taking care of her up there I started living my life with a desire to be united with her up above in the beautiful place called HEAVEN. Whether heaven is real or not is something people will challenge until the end of time. Even I used to wonder if it really exists but then may be almighty realized this child's desire to see her mom once.I very clearly remember that day when I was in deep sleep and I felt as if someone is lifting me and taking up the ladder. I wanted to scream and stop whatever was happening, wanted to move my body, fight to just be left alone on my bed.But, I couldn't do a thing. My body felt lethargic and heavy. I was just going higher and higher and could not see anything except a huge mass of cloud and fog. Higher than the clouds – immeasurably higher – flocks of transparent, shimmering beings arced across the sky, leaving long, streamer-like lines behind them. The sound was palpable and almost material, like a rain that you can feel on your skin but doesn't get you wet.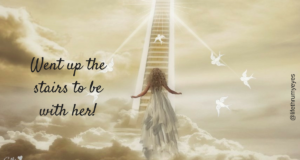 Finally, when I found a base below my feet I realized that I was standing on a cloud and ahead of me was a beautifully decorated gate in white and gold. I was confused as I was still not clear where I was. I was urged by an unknown voice to go ahead and open the gate in front of me. With heavy heart beats and fear in my soul, I just went ahead and opened the gate. I could see a lot of magnificent structures around me and at the pinnacle of a great hill beyond them, I could see a bright light. I have a distinct feeling that that is where God lives. I kept on walking inside I saw many people around me, they were not human body form but they were all fully recognizable as themselves, so yes, they were tangible. I could see them. And they were all perfect and they were ageless.
I suddenly realized that I have been walking for a very long time but I was not getting tired at all. Every step that I took felt effortless and weightless. My anxiety grew as soon I saw some deceased from our family. They were sitting in a beautiful garden surrounded by millions of butterflies. I walked up to them in amazement and tried to hold them but it was just air that came in my hand. I couldn't feel but see them in complete form. I spoke to them and asked about their whereabouts, how did they find this place and if they were taken care of well. They looked quite happy and burden free. All this while my eyes were eagerly searching for that one person who I never stopped missing. My Maa, My Mother! Reading my eyes and anxiety within, my grandfather got up and walked up to me. He smiled and pointed in a direction where there was a beautifully lit door. I couldn't contain my heartbeat and started running with anticipation in that direction. The doors opened and I saw an angelic face, I saw my mother. I felt as if my soul had left my body and united with her. With tears rolling down my cheek I ran towards her but just like others, I couldn't hold her. I was wailing, begging God to let me please hold her tight, to feel her hand on my head, do get a one kiss or a pat on my cheeks. I wanted that supreme power from almighty so that I could feel her. May be my tears did soften God and suddenly I saw a bright light behind my mother. It was blinding me but gradually the light subsided and I saw my mother for real, I could see that she was my mother who had left me 9 years ago. I saw the same saree in which we had parted ways with her. She was looking absolutely stunning and out of the world. We hugged, we cried. She couldn't leave me even for a second. We wanted to make up for all the 9 years we missed with each other. We had so much to catch up on and we just had an hour to hold each other.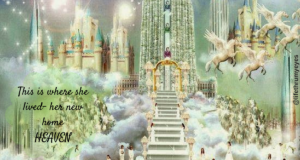 My mum took me to a beautiful room made up of cloud, it was her room. The room was adorned with pictures and so many things which reminded me of our childhood. She told me about her journey from earth to heaven. She expressed her feelings of how badly she missed all of us. She didn't want to leave us behind, but God had another plan. But she was little unhappy as the time was not right when God took her. She had many things to take care of, to help my sister in her lasts days of pregnancy, to get my brother married, to enjoy my first salary which I was going to earn within 3 months of time, and last but not least to spend a wonderful retired life with her soul-mate, our father. They had some real plans for retirement. She was extremely worried in her last days for my father and how will he cope with life all alone. We cried inconsolably. Half an hour had passed and I had briefed her about how my sister was a mother of 2 kids now and my brother was happily married and was a father of 1 daughter and was soon going to be a father to a new born child. She was elated that I was married with a daughter of my own. She couldn't believe how her youngest child was herself a mother today. With all the eagerness she asked about my father. I told her that papa has been a wall for all of us after she left, he took care of entire family and kept us all strong. He was alone but never showed his weakness to anyone. A tear dropped from her eyes again at the mention of papa. She missed him up here too.
All the while we were talking I could hear a wonderful sound, huge, booming like a glorious chant. Mum told me that this sound was created by the winged beings as they were soaring high and they had to make this sound. It was a sound of joy she said and that they couldn't contain it. Around 10 minutes were left when she started giving me all the motherly advice and instructions on how I should not cry and live life strongly. She wanted me to take care of the entire family and especially our father. She was worried about him and wanted him to stay healthy and fit always. She told me that Heaven was a good place and that she was taken care of very well. In fact, she was a favorite angle of God and that's why he had granted this one hour to her. She told me soon she won't be able to hold me and so we hugged again and soaked each other in tears. She immediately gave a small piece of her saree and 4 wonderful stones to me. These 4 stones were for each one of us in the family. She said that every time you rub this stone you will see me sitting in the heaven peacefully and can seek her blessings. She also gave a piece of her saree for my father to tell him that she misses him up in the heaven and will wait for the time to come when they will be united in heaven again and live together for ever. She also mentioned that I will soon be taken back to earth as it was god's plan to bring you here so that you could meet me.
Suddenly a light so bright came behind my mum and again it blinded me for few seconds and she went back to being tangible. I felt as If I had lost her again. Though I felt as if all my burden, sorrows and worries have been taken away from me. Meeting my mum in heaven helped me unburden myself to her just like a child always wishes to do with her mother. I spent one more day with her in heaven wherein we spoke of so many things at length. I filled her in with everything that she missed in 9 years. As she was aware soon I will be gone, she assured me that I am loved and cherished by her and I should have nothing to fear since she is looking over me and our family. She is the guarding angel of our family now. I was very tired of so much that had happened with me in last 24 hours that I drifted to sleep with a satisfaction that my mother is looking for me right there.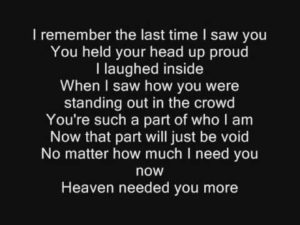 When I opened my eyes I found myself on my bed and I was shocked as I was expecting myself to wake up in heaven near my mother. It felt as if it was some dream that I saw in my deep sleep. But I couldn't believe that it was a dream as I remember almost every detail. I remember being in the bed in her bedroom. My mother was at my feet, and I remember starting to drift off — and I remember opening my eyes and telling her that I loved her, I remember just closing my eyes in that bed and I opened them and I was standing in the most beautiful tunnel of light I could ever describe.May be this was the tunnel which connected earth and heaven.
There is nothing I could say that could really convince you to believe one way or the other. But this place called heaven was beautiful. It was my mothers new home. We all believe that the ones who do good deed go in heaven and the ones who do bad go in hell. Do good deed not because you want to go to heaven but do good because you have an option of doing good till you are alive. Good deeds will always keep you in the memories of the ones you leave behind.
I am taking part in The Write Tribe Festival Of Words #6 for which we were supposed to write an article on a place real or virtual.
I can't thank Corrine enough for opening this opportunity as writing these different subjects, especially this one made me connect with myself more deeply. This post made me really crave for my mother and I will be eagerly waiting to be united with her up above in heaven and rest in her lap forever.
If you like what you read on our site do share your thoughts. We would love to hear from you. In case you feel there is something that can be changed or improved we would be glad to bring in positive changes.We can be contacted here for collaboration, sponsored posts, giveaway or just like that to chat with us.
Also, read- Kindle My Best Friend My Best Resource
Memories are timeless treasure