Being a parent, I can say this for sure that some things spread like wildfire- be it the latest lingo, the latest trends of parenting and, unfortunately, the latest germs as well. Out of all these, we parents struggle and fight most against the germs to keep our kids safe and protected. We all want our kids to be healthy and germ-free. However, the truth is we can't monitor everything around them. Even within our own homes, there are several nooks and crannies that are crawling with bacteria and germs- thankfully, I have found a way to alleviate this. With the new Crompton Anti-Bac LED Bulb, we now have an option to up the health standard of our homes!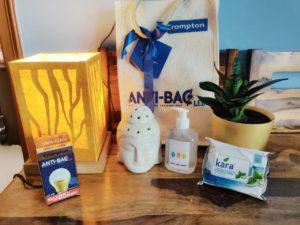 Yes, you read it right. Crompton has recently launched Anti-Bac LED bulbs using futuristic Envirosafe technology. Along with providing visible light, these LEDs also kill up to 85% bacteria and fungi in a period of 4 hours. The best part is that it is also recommended by the Indian Medical Association.
Being a mum of two, I have always been paranoid about the cleanliness at home. So much so that I prefer cleaning the house twice a day, to ensure that my kids do not come in contact with germs, if they play on the floor. However, no matter how spotless I keep my home, germs are everywhere. In fact, due to seasonal changes, at times lack of proper ventilation, dampness during the rainy season and many other conditions, make my home a breeding ground for germs and bacteria. Thanks to this innovation by Crompton, I do not have to worry about germs any more as they are getting killed by the flip of a switch.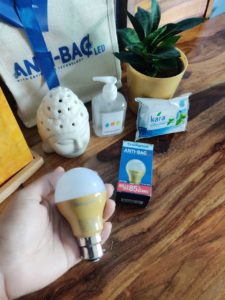 Aside from killing the germs in the house Crompton Anti-Bac LED Bulb ups the aesthetics of my home. Good light plays a key role in accentuating the home décor and thus I am quite happy to have found these to brighten up my living space, while also making it a germ-free zone. They are quite easy to install these bulbs in the house just like any other LED light.
Recently, we received a beautifully packed hamper in a jute bag by Crompton. The hamper had the latest innovation Crompton Anti-Bac LED Bulb, essential oil diffuser, sanitizer and face masks to cover the mouth and stay protected against germs. I loved how thoughtfully the whole hamper is curated and every item in it is made to stay germ-free. In fact, the timing of receiving the hamper couldn't be more correct as we were looking to buy a powerful bulb for one of my favourite handmade table lamps that we use on the dining table.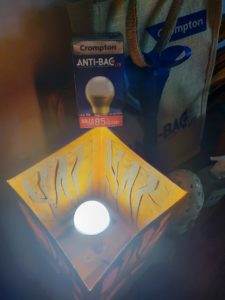 Currently available in Cool Day White Light with a range of 2 wattages -7W and 9W at an MRP of Rs. 180 and Rs. 190 respectively, the Crompton anti-bac LED bulb will soon be available and extended to Warm White Light as well.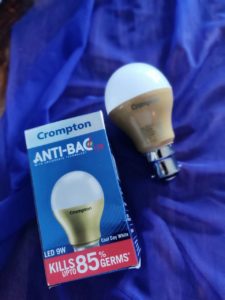 With this, I would like to close on a positive note that germs are an inevitable part of our life and we cannot protect our kids, family and ourselves from everything. But we can always take steps to prevent illness and stay protected from germs. And this goal can be achieved with Crompton's Anti-Bac LED Bulb, one of the best innovation for all of us.
Picture courtesy- Lifethrumyeyes
For more on Lifestyle stay tuned with us on Lifethrumyeyes here!
If you are a brand and would like to see your products reviewed, please send an email on lifethrumyeyes11@gmail.com or you can also connect with me by clicking on any of these on  Facebook | Twitter | Instagram.
Copyright Notice- Unauthorized use and/or duplication of this material without express and written permission from this site's author (owner) is strictly prohibited. Excerpts and links may be used, provided that full and clear credit is given to Rakhi Parsai (Lifethrumyeyes) with appropriate and specific direction to the original content.