Well, it's that time of the year again when the kids are busy preparing for the yearly exam and eagerly waiting to be promoted to the higher classes. There are quite a lot of children for whom examinations are nothing less than a nightmare. Pressure to perform well, live up to the parent's expectations and scoring the best marks among the peer group is quite high. Faced with such immense pressure, stress has become increasingly common among young children.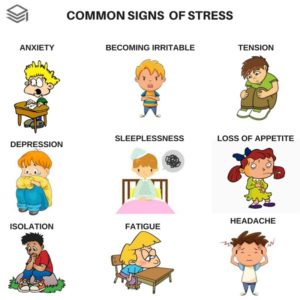 Stress can also lead to children falling sick as the exam time approaches or they might go blank in during examination. This is the time when parents can ensure and help the children not only survive but maybe even thrive during their exams.
1) Offering support – When you notice the initial signs of stress in your children its ideal to offer them your support and reassurance. Try and make them speak up and share their worries with you. It's always advisable to have realistic expectations from your child. It's best to not pressurize the child and be the biggest cheerleaders in your child's life. Encourage hard work, but ensure that they understand that they can only do their best.
2) Do not add to the stress – The first thing that as a parent you could do is avoid adding to the stress of your child. Try and reduce the burden and stress levels of your child. Considering they are young they do not know best ways to deal with the stressful situations and may not be able to manage it well. Recognize the signs of stress in your children and help them cope with it. Keep them motivated and avoid being the reason for stress in their lives. Stay composed and help them be focused on their studies.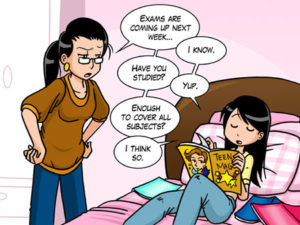 3) Seek professional advice – At times in spite of all the positive motivation provided by parent's kids still might not be able to show signs of improvement. In such situations its best to seek professional help. Expert guidance and support can help children get over the exam fear and improves concentration in studies.
4) Take time out- Exam – Excessive stress can lead to depression in kids, thus it is important for parents to interact with their children regularly. Spend quality time with your children every day and try to understand the pain points and things that worry them the most. Avoid putting undue pressure and expectations on them. Stay positive and encourage a positive environment for them.
5) Encourage light exercise and yoga – The healthy body is a must for the healthy functioning of mind and body. Encourage your child to do some light exercise or yoga daily. Some time spent in fresh air can do good for your child's health. Regular exercise helps in keeping stress, anxiety & fatigue away and give them ample energy to concentrate better on their studies.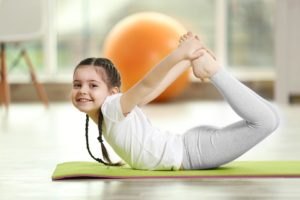 6) Ensure healthy nutrition – Balanced nutrition is the key to proper functioning of the body. A diet full of proteins, vitamins, and minerals helps in boosting the immunity and keeps your child fit during exam time. Ensure that you give fresh food, green leafy vegetables, pulses, and dairy products regularly. Along with nutritious diet also ensure good 8 hours of sleep for your child for better concentration and functioning of the brain during examination time.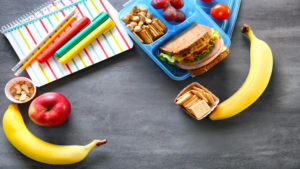 7) Positive encouragement – Parenting is one of the most difficult tasks and should be fulfilled with all honesty and responsibility. It's one of the major roles that helps in overcoming exam fear in your children.
Children are often fearful of not being able to meet the expectations of their parents. It's the responsibility of the parents to teach their kids that it is okay to fail sometimes. Try and help your children develop a habit of taking studies seriously and exams positively. Do not pressurize your kids to perform well in exams and score good marks. While helping your child deal with his fear of exams, it is critical to empathize and make him understand that examinations are not the ultimate judge of his capabilities. Exams are a great opportunity for kids to reap good results for their hard work, but do tell them that you will shower love on them come what may.
For more posts on Parenting click here
Hope you liked the suggestions and ideas for helping your child with exam fear. How do you ensure that your child is fearless during his examinations? Do share your tips and tricks with us in the comments section below.
PC- World Wide Web
Copyright Notice- Unauthorized use and/or duplication of this material without express and written permission from this site's author (owner) is strictly prohibited. Excerpts and links may be used, provided that full and clear credit is given to Rakhi Parsai (Lifethrumyeyes) with appropriate and specific direction to the original content.
Stay connected with us on Facebook | Instagram | Twitter
Love Deeply. Give Freely. Laugh Often
Looking to collaborate with us? Email us on lifethrumyeyes11@gmail.com.