All parents want their children to be good students at school and be successful individuals in life. Being successful in academics as well as personal lives is very important to maintain a good quality of life. Research states that those who are good at mathematics, good at understanding forces in personal lives, knows about scientific and spiritual worlds and those who can use art and literature to make sense of life- are people who make wiser decisions, are more responsible and lead happier lives overall. Being a mother myself I always strive to understand ways in which I can make my daughter a good rather a brilliant student. I do understand that every child is different and has a different way of perceiving things. However, there are certain things that a parent can do to foster childhood brilliance during growth years.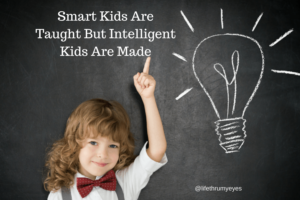 Intellectual, as well as physical development, is quite essential to help your child be a brilliant student from an early age. Here are few ways to help your child be a brilliant student right from an early age.
1} Support Intellectual Growth for childhood brilliance
When a baby is given an answer as "No", she automatically learns not to question while exploring her world. A toddler constantly curtailed and curb will not grow intellectually. The more you say "No" or stop her curiosity lower her IQ will be.
2} Music Lesson
Although it may sound surprising, research states that music lessons make kids smarter. Children involved in music group are shown to exhibit higher IQ levels. Musical training increases student learning and academic achievement in the classroom. In fact, keeping this in mind we also had enrolled our daughter in music classes which do show us various positive effects leading to her childhood brilliance.
Forget tiger mother techniques, the best way to make sure your children achieve their full potential is to nurture their interest gently
3} Encourage Experimentation
Children are natural explorers and scientists. The experiment by seeing the response to every action they do. Your child may drop things at home to see the reaction. Be patient. A certain amount of mess can be tolerated. Know where to stop if it is going overboard but encourage your child to explore and experiment in his own world. Helping your child achieve small-small things in life will immensely help in fostering childhood brilliance and leading a happy and competitive life ahead.
4} Teach Life Balance
Although your child's grades are important, help her to balance family and friendships, maintain relationships and do more social services. Also get her involved in extra-curricular activities at home and school so that she is an all-rounder. Remember the big picture is more important.
5} Select age appropriate toys for childhood brilliance
Most of us waste a lot of money, time and effort in selecting educational toys for our little ones. But sometimes that is more complex than our child's age. Select age appropriate toys so that your child can behave their age. Classic toys like stuffed animals, blocks, blocks, paints, puppets and vehicles are still the best for your little one.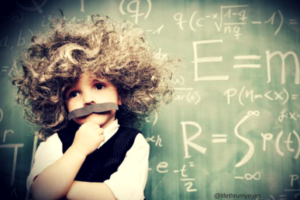 6} Read to your child
Even if your child is too small to read, you can read to her. Read to your child until she makes you stop and reach out to do it herself. Reading is known to increase your child's IQ from an early age.
7} Adequate Sleep
Missing sleep and deprivation make children stupid and dull. Losing even 1 hour of sleep is equivalent to almost 2 years delay in cognitive development. An average child needs a minimum of 8 to 9 hours of sleep. Good sleep keeps the child's mind active and alert throughout the day. Make sure that your child sleeps adequately to turn him into a brighter student.
8} Learn something new every day
Brilliant and bright kids learn a little new every day. For long term retention and knowledge gaining, this technique is much better than cramming together in a single day. Ensure that you child learns a little every day. Introducing something new every day will create interest in your little one. Distribute learning instead of cramming.
9} Study using active recall
Simple reading information is called passive learning. Passive learning is not the effective way for studying and recalling later. To ensure more retention in your child's brain and make memory strong, make your child recall all the facts that he learned from time to time. You can do this by asking your little one questions about their subjects in between their learning. This keeps them alert and also improves concentration and memory.
10} Make Associations for effective learning
Making associations with new knowledge as soon they learn to carve brilliant students in the future. Associations can be made by actively reading, looking, researching hard to make the association with what they have learned. Children catch information both incidentally and intentionally. Either way, they learn better by making the association with facts. This process makes their memory stronger and allows for longer retention. Encourage and help your little one make the association to knowledge.
Also, Read- Early Childhood Nutrition And Its Importance For Child Development

Parents are always worried and anxious about their child not picking up to their expectations. They struggle and pressurize their kids to improve in grades and other activities in life. An unmotivated child will drop lower if you don't encourage them. As a parent, you must be more patient, calm and focus on a better way to improve your child's intellectual and physical development. Take a step by step approach to help you child be a brilliant student from an early age. Your goal is not to fret or worry about the situation but solve the problem.
Last but not least, I would like to say by all means have aspirations for them (a child whose parents have none is emotionally neglected), but if they are going to be an emotionally healthy exceptional achiever, it must authentically come from them.
I am taking part in #myfriendalexa and this is my 4th posts for the month. Do follow us interesting reads on parenting, lifestyle and much more.
#Post4 Alexa Ranking Global-1,296,892 India-75,180 
Happy Parenting!
Also, Read- Benefits of puzzles for child development here