The idea of decorating your child's room is a fun-filled and loving experience. It's almost liking living your own childhood and making a room that you may have always dreamt of. From getting the perfect furniture, wall colors, making room childproof to getting matching furnishings. It's a task that requires a lot of planning as the occupant is going to be a child. Considering the fact that kids grow with time, the décor cannot change with time always. Hence, it is imperative that you design the room that grows along with your child's age. Using neutral colors and design you can ensure a decent yet a cozy look for your child's bedroom.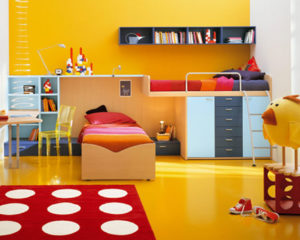 As your kid who once slept with you in your room transits to his own room, it's very important to make the room attractive and comfortable for them. Here are few tips to decorate your child's bedroom keeping the taste, interests, and imagination in mind.
1) Wall Colors- Kids are known for their innocence and we believe that adding a dash of pastel colors in the room will keep the element of innocence intact. You can try light shades of pink, yellow, green and blues. Keep the child's bedroom gender neutral so that it suits the personality of the child and not the gender. If you are decorating the room for a toddler or a preschooler you can also get the lower walls painted with cartoon characters, growth charts, and other fun elements.
2)Furnishings- Furnishing should be chosen with a lot of thoughts. Again, color plays an important role. Since kids like bright colors you can mix and match the furnishings from bedspread, curtains, rugs, bed runner, cushions to pillows with an element of nature or you could opt for your child's favorite cartoon characters. Having playful objects on the furnishings will make them feel happy about their surroundings.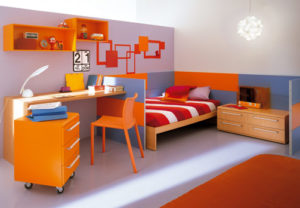 3)Furniture- The most crucial part of the child's bedroom décor is furniture. You can opt for brightly colored cupboards, beds and study table to match the overall look of the room. Also, you can opt for a multicolored rack to organize the books and toys. If the room is being decorated as a nursery for a baby then opt for a comfortable cot along with a baby rocker to help the baby sleep and be comfortable. U Grow, a renowned baby care brand has got amazing furniture designs like a bed, study table & chair, Toybox along with a cloth stand to hang cute little outfits and necessary stuff of your child. Do check them out for yourself and make a selection.
Also, Read- Why safe plastic is a must for kids products.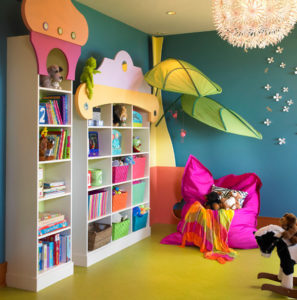 4)Room Décor- It's important to keep your child's interest and personality in mind while decorating the child's bedroom. Encourage them to create a space which talks about them. You could try adding stuff like rugs, throw pillows, and picture frames that you would be fine with swapping out on a regular basis. This can change with time and still will give fresh look to the room. For a toddler or a preschooler, you can set up educational play mats that do the dual work of a décor and learning as well. You can check out options available at Ugrow.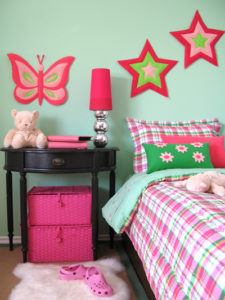 5)Safety- Kids are prone to accidents and getting hurt from some or the other corner of the house. Since they spend most of the time in their room its imperative to ensure their safety. Ensure the corners of the bed, study table, cupboards etc have a rounded corner and soft edges to avoid even minor accidents. Get all the electric fitting secure by getting the safety sockets in place.
6)Wall Décor- For kids, their room is their space so decorate it in such a way that they make best of memories in this place. Try glow in the dark stickers and place them strategically in the room on walls and ceilings. You can put up textured wallpapers that interest your child or you can have a dedicated wall with all the pictures of your child from early childhood till date.
Also, Read- Toy organisation tips a neat house
7)Involve your child- Last but not least, involving your child in the whole process is the most crucial part of child's bedroom décor. He or she will be spending most of the time in the room hence, it's important that they feel at home in this space. Get their opinion and insights and work on this together to bring out the best and give the best to your child.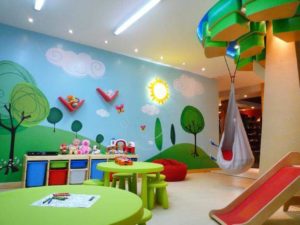 Child's bedroom is a place to build memories and weave dreams for a future. It's used for sleeping, studying, playing, praying and hence this space should be the reflection of their little personalities. Follow these simple tips and decorate your child's room.
For more on motherhood, follow along with Rakhi on Facebook | Instagram | Twitter
Love Deeply. Give Freely. Laugh Often
Reach out to us on lifethrumyeyes11@gmail.com for collaborations and discussions. We are all ears!
PC- World Wide Web.