As I look back in the year 2011 I could still see myself very excited to start my new life after my marriage. I remember that time when I was looking for stuff to buy for my kitchen and everything that I looked around was plastic. From varied shapes, color and sizes I found a plethora of options available in the market to buy from. Well, I was born and brought in the steel environment were my mother sworn by steel utensils and storage boxes. Hence with a lot of dilemma in my mind, I went ahead to buy few visually appealing storage boxes and was quite excited to see them sitting on my kitchen shelf. This is how my journey with plastic boxes had begun.
Today, with almost 6 years of my marriage I have a huge collection of plastic boxes and stuff that proudly sits in my kitchen shelves. However, motherhood back in 2013 changed things for me forever. The way I shop changed completely as I had a major responsibility of giving the best to my child. With all the news on the web about plastics leaching harmful chemicals into food, I as a mother wanted to be sure that I was using the safest materials for all my child's needs.  As a parent, I was increasingly concerned that there are no safe plastics. Hours spent on the web and opinions of fellow moms helped me choose the right plastic and product for the health of my family.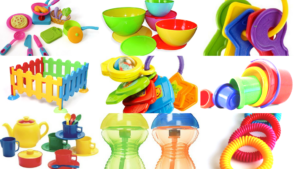 Plastic products form the most important part of our day to day life. We use a lot of products which can have a direct or indirect impact on our health. In fact, I tried to think of the number of products we use which are made up of plastic and the list just went on and on. From toys, tiffin boxes, water bottles, compass box, sippers, cups and much more. The life around is full of plastic and in such a scenario how do we protect ourselves and our families. Let's dive deep into why safe plastic is so important for our kids and the health of the entire family, and how you can choose the best one.
Did you know there are over 7 types of recyclable plastics available in the market? Shocked, isn't it? Even I was. Let's see which are these 7 types of recyclable.
1) Polyethylene terephthalate (PET or PETE)- Commonly used in bottles for water, soda, food packaging, medicine bottles, and pillows. 100% recyclable and doesn't release any harmful chemicals.
2) High-density polyethylene (HD-PE)-Commonly used in Milk and water jugs, juice bottles, containers for detergent, shampoo and motor oil, and toys
3) Polyvinyl chloride (PVC)- Commonly used in bibs, mattress covers and commercial-grade plastic wrap, as well as a few types of food and detergent containers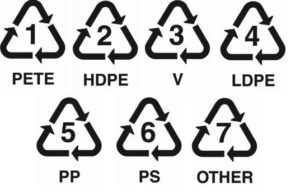 4) Low-density polyethylene (LD-PE)- Found in grocery store bags, plastic wrap for household use and garbage bags
5) Polypropylene (PP)- Ice cream and yogurt containers, drinking straws, syrup bottles, salad bar containers and diapers
6) Polystyrene (PS)- Styrofoam coffee cups and meat trays; opaque plastic spoons and forks
7) All Other recyclable plastics (Polycarbonate & Acrylonitrile Butadiene Styrene)- Commonly used in five-gallon water bottles, sports bottles, clear plastic cutlery or the lining of metal food cans.
For mums like us, these names of plastic are just big names which tend to put the health of our family at risk. Recently I was reading that some of the chemicals in the plastic products can cause severe damage to the brain development of a child. There are two types of chemicals which have been in news for all the negative reasons as they are believed to get into our bodies, and cause a variety of health problems, including cancer, birth defects and attention deficit hyperactivity disorder (ADHD). These two chemicals are popularly known as phthalates and bisphenol-A abbreviated as BPA. Phthalates add softness to things like shampoo bottles, raincoats and much more. BPA, on the other hand, gives a hard, clear, almost glasslike feel to products such as baby bottles, teethers, sippy cups, baby formula can, blender bowls and reusable, see-through water bottles.  Well, there are also safer options available in the market which can be trusted for the health of entire family and especially kids.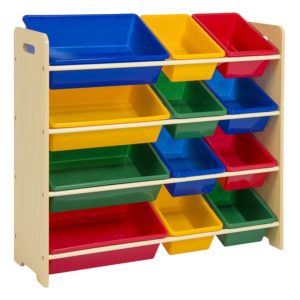 And after my long research, I finally found a product which is safer in comparison to all the above. And this wonder plastic is called Polyethylene Terephthalate (PET or PETE). Polyethylene Terephthalate is commonly known as PET or PETE. It is a clear and transparent sort of plastic which is mostly used in water, colas and medicine bottles. As a raw material PET is globally known to be a safe, non-toxic, strong, lightweight and is a flexible material. In fact, it is 100% recyclable and is most widely used recycled plastic around the world.
Products made of PET plastic have #1 mentioned at the bottom which is surrounded by the triangular "chasing arrows" symbol and the acronym PET or PETE below the triangle. Next time when you are out on shopping do check the #1 code with a "chasing arrows" symbol along with the acronym PET on any and every plastic product that you buy.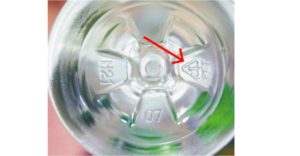 Few facts about the PET plastic which will further let you know about their benefits.
1)FDA, Health Canada, The European Food Safety Authority and many other health safety agencies across the world have approved PET plastic and is considered a safe plastic for contact with foodstuffs and beverages. In fact, PET plastic is being used for many years in food and beverage containers without any known adverse effects. A lot of studies have been done that indicates PET plastic and PET packaging are safe for use.
2)PET is a very stable material which doesn't react with the food or beverage and is resistant to attack by micro-organisms. PET itself is biologically inert if ingested.
Also, Read- Junk Food- should we give or should we not 
3)PET doesn't contain BPA. Bisphenol-A (BPA) is a compound used in polycarbonate, a different type of plastic (having a code 7) that is sometimes used in baby bottles, the lining of metal cans, and reusable sports bottles. PET does not contain BPA and never has, which makes it safe for baby products as well.
4)Finally, PET is also recyclable and is highly sustainable. Due to its quality of being recyclable, it can be recovered and recycled again and again back into various containers for food items, bottles, and personal care or other packaging materials.
Hope the information shared above will help you be better equipped and prepared for that next plastic box, bottle, cup or any other random thing you buy.
Let's take an oath to use safe plastic for our kids and keep them safe and away from developmental disorders caused by the bad and unsafe plastic. I am making PET plastic as my first choice from today. What would you choose? Share your thoughts and opinions with us in the comment section below, we would be all ears.
If you like this article, please share it! Your clicks keep us alive!
Sign up to receive tips, updates, actions and more in your inbox from Lifethrumyeyes.
For more on motherhood, follow along with Rakhi on Facebook | Instagram | Twitter
Love Deeply. Give Freely. Laugh Often.