Bura na Mano Holi Hai! Yes, I am sure we all are excited and are prepped up with the Holi outfit, Pichkari, Colours, hairstyles, accessories to go with that perfect outfit of yours. Well, why not to be excited, it's that time of the year when you got to let down your hair and enjoy to the fullest. While the nation must be gearing up to play Holi, it is important that you keep in mind few safety tips to protect yourself from the aftermath of harsh chemicals on your skin, hair and overall body. This festival of colour is a lot of fun but it does long-lasting damage the hair and skin. We have covered your hair and skin with these magical pre and post skin and hair care Holi tips to ensure you enjoy yourself without any worries.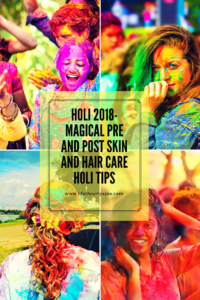 Magical pre and post skin and hair care Holi tips
Pre and post-Holi hair care tips
1)Pre- post-Holi oil massage- Ensure that you apply sufficient amount of oil to your hair. For better protection against hair damage, you can make a mixture of coconut oil, olive oil, and castor oil 1 tbsp each and apply thoroughly on your hair. You could also apply almond oil on your entire body as it provides nourishment to the skin and protects from colours. Once you are done with celebration and washing your hair re-apply oil on your hair and let it be for 1-2 days to keep them away from dryness.
2)Wear a hat or a cap– If easily possible for you to manage then try and wear a hat or a cap on your hair to protect from the colours directly going into the scalp. You could also cover your hair with a bandana which will add style to your overall look.
3)Tie them- Don't leave your hair open as that will damage your hair more. Tie them in a tight bun or you could also go for braids. This will protect the hairs getting damaged from inside.
4)Rinse without shampoo- After playing Holi do not rinse your hair with shampoo immediately, try and just wash it with plain water and then with very mild shampoo or soap.
5)Deal with Itchy scalp- Due to the harsh chemicals found in Holi colours your scalp might feel itchy even after washing with water and shampoo. Add a small cup of vinegar in your bucket and as a last rinse use this water to wash your hair. Vinegar will give a soothing effect and will help your scalp feel better. You can also get a good oil massage done for healthy hair.
6)Long lasting care- Continue to apply oil on an alternate day basis and cover it with a wet hot towel for some time. Due to the chemical exposure suggest you to only use baby shampoos and no other ones. Cover your hair always when out in Sun to protect from harmful sun rays and further damage.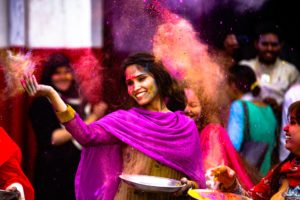 Also, read-
10 ways to teach your kids the importance of holi
Kids safety tips for Holi celebration this year
Are your pregnant and looking to celebrate Holi- Read these important safety tips
Magical pre and post skin and hair care Holi tips
Pre and post-Holi skin care tips
1)Cover it all- Wear full/long sleeves tops and similarly full covered pants/churidars to avoid the colour getting applied on your skin directly. The more you are covered less are the chances of colours damaging your skin.
2)Oil it- Apply ample amount of oil and moisturizer on your skin before heading out to play.
3)Don't forget the sunscreen- Ensure that you apply a good amount of sunscreen on face and entire body and avoid any sort of makeup. You can also make an olive oil body mist to mist the oil on your body.
4)Avoid facewash and soaps- Once you are done with playing holi don't use soaps or any kind of face wash as that will dry out the skin faster. Instead, you could apply pure almond oil or coconut oil to massage your skin and then remove the colours with damp cotton. Once the colour is of your skin take a shower with lukewarm water. Use only baby soaps that are mild and gentle on your skin. Avoid using adult soaps and body wash. Ensure and moisturize your skin well. If your skin is dry and itchy then massage aloe vera gel before the shower.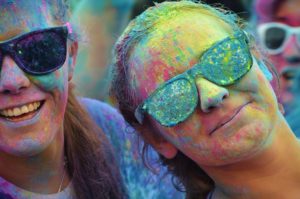 5)Lip care- Protect the skin of your lips with lip balm and Vaseline. You could use a lip balm with SPF.
6)Homemade packs- You could try some homemade packs to help the skin regain its natural and pre-holi radiance. Make a paste of ripe papaya, add lemon juice and a spoonful of milk powder and apply evenly on your face. Leave it for 20 minutes and then wash your face with tap water.
7)Avoid facial, bleach and waxing- It is ideal to avoid facial, bleach and waxing post-Holi as the skin is tender and can further get damaged due to a cosmetic procedure. Use only homemade face pack to soothe your itchy skin.
Hope you liked these magical pre and post skin and hair care Holi tips. Hence, before stepping out, tuck the tips like pins to your hair! After all, Bura na mano HOLI hai!
Do share your tips, questions or comments on Holi skin and hair care in the comment section below. Like us on Facebook, Instagram and follow us on Google+ and Twitter to stay up-to-date on the latest from www.lifethrumyeyes.com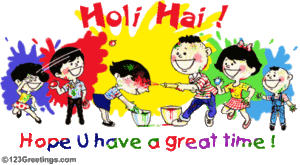 Happy Holi to All!!!
Copyright Notice- Unauthorized use and/or duplication of this material without express and written permission from this site's author (owner) is strictly prohibited. Excerpts and links may be used, provided that full and clear credit is given to Rakhi Parsai (Lifethrumyeyes) with appropriate and specific direction to the original content.
Stay connected with us on Facebook | Instagram | Twitter
Love Deeply. Give Freely. Laugh Often
Looking to collaborate with us? Email us on lifethrumyeyes11@gmail.com.
PC- Free Images Pixaby