Mothers these days have plenty on their plates, including a high-ranking job of being the manager of her children's nutritional needs. As more and more women are joining the workforce, they are often seen to be running around in an effort to balance it all, from work, family, home, and kids while providing the best parental care. Right from the birth of the child, uncertainty about nutrition can consume even the most put-together new parent. Is she eating enough? Or is she eating too much? The fear intensifies over a period of time when the children turn picky and don't want to eat what the mother is suggesting and want to tickle his taste bud's basis what he sees on television or what his friends often talk about.
Well, having said that I would agree back in 2013 when I gave birth to my daughter I entered the unending war of, am I doing right for my daughter? Am I giving her balanced nutrition? As moms, we often go overboard with our children's food; it never seems enough. Being a working professional life could get tiring and hectic and at times you don't have time to ensure a full course meal ensuring balanced nutrition. What do you do in such situations? Feel Guilty? No, I would say, for me balanced nutrition was just a concept that had come out of books. But over a period of time, I got hooked-intrigued and wanted to know the A B C's of balanced nutrition.
Google is the best teacher and guide for most new mums. So, with hours spent on the web searching for the correct answers, I settled with an interesting fact mentioned by ICMR in Dietary Guidelines for Indians. They clearly have defined the percentage of calories one needs to consume. The diet should have a strong balance that provides approximately 50-60% of total calories in a day from carbohydrates, about 10-15% from proteins and 20-30% from fat. Hence, I have been on the mission of trying to accomplish and meet these guidelines.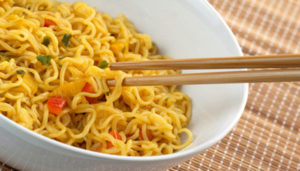 In spite of whatever plans mums make to manage the nutrition requirements of the child, they have some other plans for us. Mealtime is nothing less than a battle in trying to get young children to eat a variety of healthy foods. This is one situation when I am personally made to bribe my daughter to eat this and then I will give you that. However, over a period of time, I have realised that it's a losing battle and doesn't help if we feed them forcefully. All children have an internal food regulator that tells them what and when to eat. A parent's role is important in moderation of what the kids are eating and how they are getting enough nutrition as mentioned by ICMR.
Now that my daughter is around 5 years old and has a mind of her own. She often asks for food which otherwise I wouldn't have allowed while she was younger. Of late she has developed love and craving for things like Maggi, instant noodles, pasta and anything and everything fried. Well, what do we say to her in situations wherein she doesn't want to eat anything but these things. I have found a solution to this. Since Maggi has been my favorite since childhood I didn't want to have double standards and not offer her the same delicacy which I have grown along with. I strongly believe that all the health experts and dietitians of the world aside, there's someone who knows nutrition better than anyone else. Wondering who am I talking about? Moms! They have an unusual ability to feed their children nutritious yet yummy looking food day after day, and figure out exactly what is in their child's best interest.
Similarly, I try to give my daughter balanced nutrition without depriving her of the food that she wants to eat too. I personally prefer Maggi over many other food items since Maggi noodles, strikes this balance between protein, carbohydrate and fat very well. After the Maggi was re-launched I was very excited and the best part is that the packaging had all the information related to the ingredients which clearly states that it has the apt amount of protein, carbohydrate, and fats for the human body. In fact, this also includes the newly launched MAGGI Oat noodles that provide energy in this recommended ratio –Energy from carbohydrates (56%), protein (10%) and fats (33%).
I clearly remember the time when Maggi was re-launched. It was no less than a family member coming back home after a long gap. The mother in me was cagey but all my fears came to rest when I learned about the process used to make our beloved Maggi. The yummy looking cake goes through several steps before they come on the shelf for selling, from steaming, baking to frying (It helps in reducing the moisture in the noodle and preserving it) Finally after drying & cooling the noodles are packed.
Also, Read- Earlychildhood Nutrition & Its Importance for Child Development
For the mums who are not comfortable with giving Maggi to their kids. I would like to say that any food, when given in moderation, is not bad. Maggi is a good option, in fact, I feel since you can sneak in so many vegetables to make your child eat the food of his/her choice and also ensure that he is getting more nutrition from the vegetables that are included. I am sure you would agree a mom can find out ways to feed the best of food to her child. Let your child live in the days of Maggi as we all have grown with it. Always remember moderation is the key to your child's health. Too much of fruits and vegetables can also harm your child so think twice before scolding your innocent them for demanding a food that you feel is unhealthy.
I try to give my daughter 2 boring dishes that she doesn't like but 1 dish that she likes a lot. Sneaking vegetables may also not help always as we need to make them feel vegetables are good and not something that needs to be camouflaged. Balance the weekdays with food of your choice and let them have fun with the food of their choice on weekends. After all, the weekend is not just for adult fun but kids too.
After reading up so much about food and the nutritional requirements of the child. I have come to a conclusion that there is nothing like healthy or unhealthy food. What matters is that we as parents give food that gives your child enough nutrients that he/she needs to grow and perform his daily activities perfectly.
My best advice: Stock your kitchen with a variety of nutritious food. Provide balanced meals…and let your children eat as they desire. Forcing them to eat foods they don't like only makes them more resistant.
What is your nutrition tip? How do you manage the demands of your child? In case you have an important suggestion or message that we missed out on? Tell us in the comments below.
"Always keep in mind, a little bit of mindful feeding goes a long way in ensuring that your little one is growing just fine, and reaching her developmental milestones at the right time and age"
Follow us on