Being brought up in a family of 5 and consistent efforts of my parents, I realised the importance of money way early in my life. "Deficit Budget" was the most used word in our house and us as kids used to laugh at it. However, today I realise that these two words have made a very solid mark on my mind.I am sure all of us as parents tell this to our kids at least once in the lifetime that "money does not grow on trees and you will realise only when you start earning".While none of us knows where these words were originated from.As adults, we all understand how important it is to save for today and more so for future. For children, money seems like an endless possibility which can buy them all the fun stuff, toys and chocolates.
Unfortunately, as parents, it's very important for us to nip the splurging habit in the bud before the child becomes accustomed to spending.However, it's never too late to teach your child the importance of saving money. Starting with a small amount of money is also fine. It's not easy to make a child care about stuff like saving money. But, the lessons if made fun will make it easy for the kids to learn.In our house, we have few rules that we follow and my daughter not so happily follows the same. But, I am sure in future she will value this upbringing and this lesson which she learnt way early in life.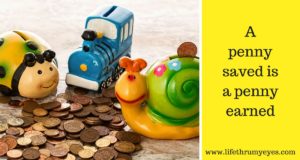 I really wish to know if other parents also worry about children being money savvy? I am going to admit that I do. I have one toddler currently who does not know much about saving money and is always looking out for getting toys and gifts every now and then. In order to control this unwanted buying and her demands we have devised a strategy to help her understand that money is important and she can have what she wants with little efforts and fun. And trust me, I am very proud to say that my 3-year-old daughter does understand that all the days in a month are not same and we need to be prepared for rainy days. She happily abides by my request to let the toy go and says, Mumma, we can buy when we save more and have more money.
Here are fun ways in which you can ensure that your child is encouraged to save money.
Buy him or her a piggy/money bank: The best gift that you could ever think of giving to your child is a piggy bank. It can be in any form of shape. Try giving a transparent piggy bank, it can even be a jar. In fact, a transparent jar would be a great option as your child can keep a track of how much it is filled and how much more is needed for that end goal decided by them. Piggy bank saving is an easy and fun way to instill saving in kids.
Copy your child and have a piggy bank for yourself too: Well this is a very good idea. Age has nothing to to do with having a piggy bank. Even we adults can have some short term goal which we can fulfill by having a piggy bank and saving money regularly. Not just to have a goal but we can lead by example. Let your kids see that saving money for you is also very important. To make it fun, you can have two identical glass jars with your and your child's name written on it. You can have a competition with your child and monitor whose piggy bank is getting filled faster. Ensure that you save money in front of your children so that they learn looking at you.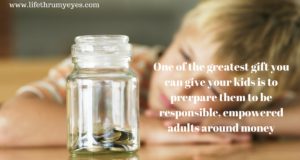 Open up a saving account: For young children, this won't mean much. However, with time and growing age this would be the most sensible and safe option to save money. Apart from saving it also gives children an early opportunity to learn about financial management and basics of accounting. Have your child empty the piggy bank every month and take them to the bank for depositing the money. Tell them you will contribute double the amount that is saved in their piggy bank. Example: if they have managed to save INR 50, tell them you will add INR 100 and then deposit in the bank. You can decide upon denominations.
Encourage your child to save for future purchase: Be it a birthday gift or anything special that your child is wanting to save for. Encourage your child to save as much as possible. An item purchased by their own savings will make them happy and proud and will keep them motivated to save in future.
Match their savings: Be it any age, if your child is excited about saving money you must consider matching your child's contributions rupee for the rupee to encourage saving. For older children, the match may be more reasonable at double the amount of the total contribution by your child.
Praise your child for every penny that he/she saves: Positive reinforcement can have a long-lasting impact and will go a long way. Every time your child controls on his or her desire to purchase something and instead opts to put money in his or her piggy bank or savings account, be sure to praise that decision. Express your pride in your child's efforts to save for the future rather than splurge in the present.
Share your childhood stories of saving: Stories are best way to connect with your child. So tell your children about the things you saved up for as a child or are saving up for now. Take them through each step that you took to achieve your goals, both short term and long term. Also make them part of the savings you are doing today as this will make them understand that savings do not stop at any stage of life but, it continues always with new responsibilities being added
Incentivise your child for chores done at home: This is a very good way to involve your child in household chores and also incentivise them for every good work done by them. This will add up to their piggy bank and help them in increasing their savings. Give unexpected bonuses, if your child has been particularly helpful then give them a surprise reward.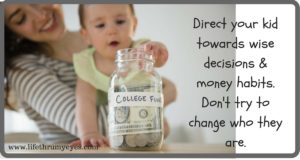 Teach them budgeting and help create one: Introduce your child to the concept of a budgeting and accounting by helping them to create one. Using the extra allowance that they earn by helping in household chores, help them to allot some of their coins/notes for toys which they want to buy in short term, some for long term goal that they wish to achieve(trip to their favorite place or a real big and expensive toy which they have been eyeing) and some for savings. This can help reinforce the necessity of saving even if you must continue to spend.
Encourage even if they splurge: Kids are after all kids and despite your best advice, your little ones might splurge on something other than what they were saving for. They may have regrets later and that's where you can play a role. Encourage them to start saving again, and do remember to very subtly make them from their past rash decisions of spending.
Let them handle money for the small purchase: In case you are going to buy vegetables or milk packets or any random small thing. Let your child pay for the money. Obviously, you will be required to give the money to the child. This will make your little one feel empowered and in control of money.
I am sure we all understand that teaching children on how to save money is an uphill task. However, it's very important step to prepare them for financial responsibilities and to secure their future. Kids are a great imitator and they imitate everything that they see. So lead by example and you also save for your future. Act in a way that you would want your child to act. Last but not least don't forget to encourage and praise your child when they do well as budgeting and saving their money.