Nothing can beat the toothless smile of the baby. We are sure every time you look at the toothless grin of your child the heart skips a beat and melts away all the worries and sorrows. Well, in order to keep the smile and teeth intact and healthy parents need to be extra careful in ensuring proper dental hygiene. While most of the babies don't start getting teeth until they are 6 months old. However, infant dental care is important from the very beginning.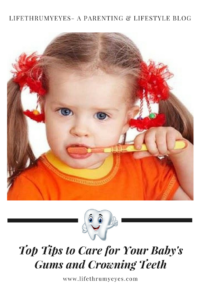 The report states that over 40% children suffer from cavities by the time they reach kindergarten. It is one of the most common preventable disease suffered by young children. Unfortunately, parents usually begin the oral care at the later age of the child when the emerging teeth and gum have already suffered a lot. Here is a quick guide to caring for gums and brushing baby's teeth.
1) Make a daily dental care routine – Even if the baby doesn't have any teeth, it's still imperative to form a routine. Sooner, you begin longer the habit will stay and benefit the child once teeth starts crowning. Cleaning the mouth twice a day will help in overall good oral health.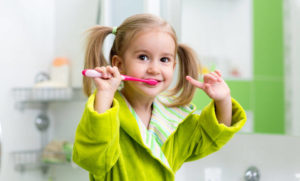 2) Use of good toothbrush for dental care – The first teeth will be shown at the age of around 6. However early oral hygiene habits can take the child a long way. You could use a soft silicon toothbrush to clean the soft and tender gums of the baby. Ensure that you buy a toothbrush that is made of food grade silicone and toxic free as well. You can bank on Ugrow for the perfect toothbrush for your baby. Check out the soft silicone brush on the website of this renowned baby care brand.
3) Oral cleanup – Infants are mainly on milk until the age of 6 months and many parents don't realize the harm milk can also do to the young gums and emerging teeth. Clean your infant's gums and tongue after meals and before bedtime. This will help prevent sugars and bacteria from settling and causing decay as your child's teeth erupt. It can also help get your baby used to the teeth brushing process.
4) Read on & get knowledgeable about dental care– For every new parent, it's important to have complete information on the tooth decay and signs of the same. If you notice any discoloration or black spot while cleaning your child's teeth, seek the help of an experienced pediatric dentist who can diagnose and treat dental decay. Stay up to date on the dental exam and fix the first appointment with a dentist as early as the first tooth erupts.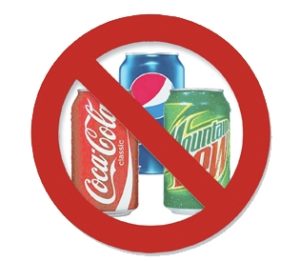 5) Avoid sweet and chocolate – Howsoever unavoidable still try and keep your child away from sweets. Especially during the night time keep away the sweets as that is when mouth becomes a breeding ground for bacteria attack.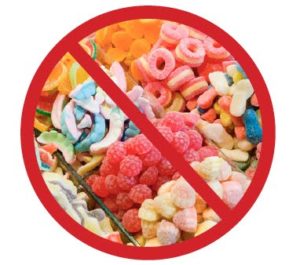 6) Bottle feeding – In case your child is on feeding bottle it becomes all the more important to keep a check on signs of feeding bottle carries as they get undetected at an early stage and later take the serious form of cavities. Maintain extra hygiene with feeding bottles. Don't let your child sleep with a bottle in the mouth as that leads to bacteria affecting the gums and teeth. Ensure the bottle used is of good quality and the nipple is as per the age of the baby. For all your babies feeding needs check out U-grow that has a host of products for baby and kids.
7) Dental visits & dental care– As soon as your baby gets his first tooth it's important to visit the doctor immediately. A pediatric dentist can help you to get through the painful days of teething and will also guide you on the care chart plan you need to care for your baby's smile.
Most of the times parents tend to ignore the initial dental care in kids thinking that they aren't important as they will be eventually replaced with permanent ones. However, it's important for the parents to know that first teeth preserve the spacing for the permanent ones and helps the baby in chewing and talking as well.  If not cared and treated well teeth can decay and cause gum infection impacting the permanent teeth.
Do try these tips to keep your babies teeth healthy and beautiful smile intact.
For more on parenting read click here
Picture courtesy- World wide web. Pictures are taken from the web.
PS- This post was originally written for U-grow by Rakhi Parsai (www.lifethrumyeyes.com)
For more on parenting stay tuned with us on Lifethrumyeyes!
Follow us on Facebook | Instagram | Twitter
Copyright Notice- Unauthorized use and/or duplication of this material without express and written permission from this site's author (owner) is strictly prohibited. Excerpts and links may be used, provided that full and clear credit is given to Rakhi Parsai (Lifethrumyeyes) with appropriate and specific direction to the original content.
Love Deeply. Give Freely. Laugh Often