Brushing is just like another activity in a kids day to day schedule like bathing and eating vegetables. However, mums(parents) would agree that this activity comes along with outright resistance and bucket full of tears (pardon my exaggeration).The child might just clench his teeth and shut the mouth and won't allow you to brush the teeth. Well, this is all part of the tantrums which usually toddlers throw. But it's very important to have strict teeth brushing regime in a kids life to ensure healthy oral hygiene from early childhood and combat tooth decay and cavities. We all understand how important it is to have a good dental care for kids which goes beyond the home. Young children often eat things during the day which can leave a lot of time for bacteria to develop between morning and evening brushing. It's imperative that we take good care of kids teeth. They eventually fall but till the time they don't fall and new teeth do not grow, they play a very important role in chewing, biting and speaking.
So how should parents ensure that this regime does not get disturbed and their kids brush their teeth regularly?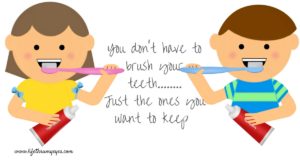 Kids are great imitators and modelling a good behaviour in front of them is the best way to get them excited about brushing their teeth. You as parents need to look happy while brushing your own teeth and don't let it look like a task. Make it a fun routine for yourself and your kids. As I said they are great imitators, they will copy what you do. Sharing some time-tested ways which will help generate your kid's interests in brushing. Whether you have a small baby, toddler, pre-preschooler, or a pre-teen, you'll find some of the tips listed below very helpful in teaching kids to brush and floss their teeth.
Start early, right after the birth of your child: Since your baby is very small you could begin with using a washcloth(think material) or a finger silicon toothbrush which is soft on the newborn gums. Beginning early in life will make them familiar with the idea of brushing. You could start doing this when your baby turns 6 months old since this is usually when babies start to eat and food might leave its impact on the teeth and gums.
Tell a story: This works wonders. I follow a story every day and now it is drilled in my daughter's head so firm that she values brushing. The story is about how germs sit on each tooth and how they can be killed by hitting hard on the teeth and rubbing strong on it. I make noises while she is brushing and tell her that that germ just got killed, you are doing a great job kill more germs in your teeth. So, parents, you can come up with any random theory around germs and how kids have an opportunity to kill them before they attack.
Allow them to brush their own teeth: Once your child is old enough to understand your instructions allow them to brush themselves.As mentioned above let them associate the process if killing germs. And what better than killing germs with their own small hands. To ensure that the You could let them brush their teeth for a while and then finish up the job for them. Or you could do the brushing first and then let them have the final round.
Family that stays together and BRUSH together: As the title says, brush together as a family. Make it a fun routine for a family to follow. Lead by example and allow them to hold their brush and do as you do. You all could dance together while brushing. You can follow a pattern in which the brush should move in the mouth.
Same colour brush: To make it more exciting for your kids and the family fun time. Buy same colour brush and tongue cleaner if possible. It's never too early to learn how important flossing is. Use single flossers, in fun colours and shapes, and make it a part of your kids' tooth-brushing routine.
Learning with play: Give your child his/her favourite doll or a robot in case of boys. Give them an opportunity to be in charge and clean their doll's/robot's teeth. For young kids, dolls/robots are like their own children so they are likely to let you brush their teeth when they have done the same to their little dolls/robots.
Education: When imparted at an early age education can help your child go a long way. Explain to them what will happen if they do not brush teeth. Teeth can become dirty, it will stain if not cleaned regularly. I am sure your child won't like the idea of yellow teeth and will feel encouraged to take tooth-brushing seriously. Pictorial representation generally works with kids. So you could get print outs of colourful images of bad teeth and show them. The idea is to not scare them but make them realise the importance of keeping teeth clean and staying away from the doctor. Don't feed them with horrible stories around dentist, tooth grills and injections. I am sure you don't want them to become anti dentists. Rather, focus on the consequences of not brushing.
Play doctor doctor: Examine your kid's teeth and tell them what you find inside their mouth. You could tell them what they have eaten during the day and that you see its stuck there. Make it fun for them. And do tell them that brushing will help remove the stuck up food and make their teeth clean and safe.
Make brushing their teeth a lot of fun: Fun is a word which kids very easily associate with so show them that brushing can be fun. Tell them that it's ok to dance and make faces while brushing their teeth! Look into the mirror together and have fun laughing and making all sorts of faces. Some kids love to growl and make animal noises as they bare their teeth to be brushed. And always make brushing their teeth sound like a FUN activity! Say positive things like, you know what, It's time to brush your teeth yay yay. We are gonna have fun. Lets see who makes the best face and who growls louder.
Brush your child's teeth when asleep: I am sure after reading this few eyebrows might go up. But it sounds like a good idea, especially if your kid does not want to brush his/her teeth in spite of all your efforts. In-fact I have heard that dentists also recommend this in case your child is a heavy sleeper or else you will open up another front of pain to put you child back to sleep.
Give them the freedom to choose their toothbrush: Market is full of interesting toothbrushes in all colours, sizes, shapes, and with fun characters on them. There are also electric options available so you could buy one of those to engage your kids in this daily routine.
Read books about brushing teeth: Few kids are better able to relate to things when read or seen on paper. So you can try checking out books around oral hygiene for kids. Go for the board books or something which warns kids against sugar bugs. You can also look up the net to find interesting ways to make your child understand the importance of brushing.
Take your child with you to the dentist: If your kiddo isn't scared and can sit along with you while the cleaning process. Take your child to visit the dentist and let the talking be done by the expert. Request the dentist to talk about how important it is to keep teeth clean and your child can watch and see how teeth are cleaned. Indeed an educational experience!
Incentive chart: This will be a good option for older kids. For every day that they follow the brushing routine you tick the chart and towards the end of the week give some incentive as per the need of the hour.
Praise your kids: Last but not least whenever your child finishes the task compliment them. Say words of encouragement especially when
What tips and tricks do you have for helping your kids to brush their teeth? Share your tips in the comments!