Being the first time mother I was always over protective for my daughter and her needs. From being protective on her every step to being over possessive about the products that I use on her. Like any other parent, I always wanted the best for my daughter. Having said that I was brought up in an environment where upbringing of a child was all about using natural methods and was more about home made experiments for everything related to babies. So when it came to picking up products for my daughter, I always looked up for options which were made naturally and were more organic to suit the sensitive skin of my child.
Recently I heard about Mama Earth, Asia's first MadeSafe certified brand & claims to be 100% toxin free being launched in India. I was super excited to try out the range for my daughter. And as they say, when we wish for something badly, the world conspires for you to get that. Well, leaving the filmy me aside I got this wonderful opportunity to review the entire range of these organic and wonderfully safe for kids products.
They have almost the entire range of products for all the needs of your baby up until he/she turns 5. The product ranges from Shampoo, Massage oil, Moisturising lotion, Body wash, Diaper Rash Cream, Sunscreen lotion & insect repellant.
I got a beautifully packed travel essential kit in transparent zipper semi-circle shaped pouch. The kit had 4 products namely Gentle Cleansing Shampoo, Soothing Massage Oil, Moisturizing Daily Lotion and Deeply Nourishing Body Wash. It also had a pamphlet with written details of the products which also talks about the genesis of the brand. I was mighty impressed with how meticulous and well thought this whole kit was. The product packaging is quite user-friendly and comes with baby animal prints on each pack to gain kids attention. From a cute little elephant to an awfully sweet little baby of the tiger, to an adorable panda and a cute fat fish all the prints are worth catching even adult attention. This brand knows how to get the kids hooked. 🙂
To make it more elaborate and self-explanatory for the parents to make a guided/informed decision I am dividing the review into 5 parts.
Gentle Cleansing Shampoo
Packaging: The product comes in a nice white coloured tube with a flip cap to open and use. It has got a very cute and attractive baby elephant which I am sure is going to get extra giggles from your baby during the bath time.
Key features: It is certified toxin free product made with tear free coconut base to save your baby from shedding those precious tears. Off late parents have become more conscious about the products being absolutely safe for the newborn's sensitive skin. Hence the brand has put all the fears to rest by making a product which is not just hypoallergenic but is also dermatologically tested.So it's absolutely safe for the newborn baby needs as well.
Fragrance: The shampoo has got a very mild and distinct fragrance.It's very soothing and does not irritate at all. In fact for a moment, I felt as if it smells like raw turmeric.Very fresh and very homely.
Consistency: It has got nice runny consistency which makes it easy to pour on hands and lather up to apply on the baby's scalp.Very little amount of shampoo is enough the cleanse the scalp completely.
Pricing: For an organic product the pricing is very much affordable. For a 200 ML pack, it costs around INR 299.
Soothing Massage Oil
Packaging: It comes in a cute white bottle with a flip top to open. It has got an equally appealing background with an image of a cute cub to attract your munchkin.Unlike my other experience with a flip cap, I really liked the sturdy cap on this bottle as it makes it impossible for your baby to try and open keeping it safe.
Key Features: Made in the Himalayas the product is 100% natural. It has got Cold pressed Sesame (Til) Oil, Coconut, Olive, Sweet Almond & Jojoba oils. The product as claims t be 100 % it has no lipids, parabens, sulphates, phthalates, mineral oil, petroleum, synthetic fragrances or dyes
Fragrance: It has got a very nice citrusy fragrance which appeals to your senses instantly. It's very calm and soothing overall.
Consistency: It has got smooth runny consistency which makes it easy to apply on the child's soft skin. It glides very well on the skin and gets absorbed into the skin deeply leaving no greasiness on the surface of the skin.
Pricing: For a 100 ML pack it costs around INR 299
Moisturising Daily Lotion
Packaging: Yet another product by the brand with the cute panda on the tube of the lotion. With similar flip top, the product is very convenient to carry along in travels.
Key features: Again a certified toxin free product which is hypoallergenic and can be used on sensitive skin. It has got Shea butter, Aloe Vera, Calendula extract, Almond & Jojoba Oil. It makes it all the more safe for babies skin as it is free from parabens, sulphates, phthalates, mineral oil, petroleum, synthetic fragrances or dyes
Fragrance: Just like the entire range of the products by the brand this daily lotion for babies has a very mild and soothing fragrance.The product has been designed entirely keeping in mind the sensitivity of the babies
Consistency: Consistency is just perfect which helps in smooth glide over the babies skin. The lotion gets completely absorbed into the skin and does not leave any grease on the skin surface.
Pricing: For 200 ML pack it costs around INR 299
Deeply Nourishing Body Wash
Packaging: I am completely in love with the way these products are designed and packaged. A very cute and appealing fat yellow-blue fish welcomes your kids on this pack.I can see that lot of thought has gone behind each products designing and packaging.
Key features: Being an organic range the brand has ensured that each product is certified toxin free.It has got coconut based cleansers and conditioners, aloe vera, orange essential oils which cleanse the baby's skin very well keeping it deeply nourished. Completely safe for your child skin as its hypoallergenic and dermatologically tested. Fragrance: It has got a very mild and soothing natural fragrance.
Consistency: Consistency is thick enough which keeps the liquid intact in the tube until pressed hard to squeeze some on hand. It's very smooth and glides well on the skin. Little quantity is enough the bathe your child properly.
Pricing: For 200 ML pack it costs around INR 299
Overall Takeaway & recommendation: I really liked my experience with this brand. Overall the brand has got all the elements correct making it best organic skin care product available for babies in India. Since all the ingredients used in the products are natural and free from parabens, sulphates, phthalates, mineral oil, petroleum, synthetic fragrances or dyes it makes it all the more reliable for a mother to use these products right from the 1st day of the child after birth.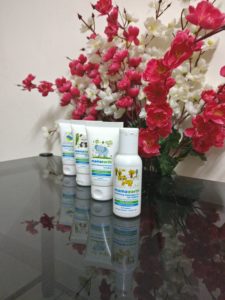 The packaging is very cute and was great fun for my daughter. She thoroughly enjoyed all her encounters with the brand from bathing to massaging. It was a good learning for her as we engaged in a game of identifying the animals on each product. Apart from the above-mentioned products they also have Sunscreen Lotion, Mosquito Repellent and Diaper Rash Cream for babies.The products are absolutely safe as they are dermatologically tested and are hypoallergenic. The fragrance is just perfect and soothing for babies. Very happy to have a brand which is Asia's 1st MadeSafe certified Toxin Free Brand. I completely recommend this to 1st-time mothers.
Where can you buy them: MamaEarth products are available at FirstCry & Amazon
So that was all about Mama Earth Baby Care Products. Have you tried these? Share your thoughts in the comments section below.
Happy Parenting!
---
* Opinions expressed in this review are basis my experience with the brand. It is suggested that you use the products on yourself first before trying on your child to be extra sure.You may also check with your paediatrician before starting any new product for your child.