We all know that a child's skin is very delicate just like a flower and requires a lot of care to bloom. No one can get away from the softness of the skin to the beautiful fragrance which is so attractive. There was a time when my daughter had very soft and dreamy skin which I couldn't resist. But as she started growing I could see visible changes on her skin and realized the special care that I had to give to protect the softness and health of her skin. Children have thinner skin than adults. Their epidermis is thinner and under-keratinized, compared with adults. As a result, children's skin is at risk for increased absorption of agents that can penetrate through the skin and spoil the skin quality. It's very important to provide childhood skin care for the skin to be healthy in future. 
Since the little one's skin is sensitive in comparison to adults skin, applying harsh chemical based products can cause severe allergies and rashes too. Being amongst other moms, the subject of what our children are eating (or not eating) is not an uncommon topic. As parents, we are truly concerned with what goes into our child's bodies and on the body too. So way early I realized my responsibility to choose right childhood skin care options for my daughter that take care of her skin naturally and gently. In mosts parents take good care of their baby's fragile skin in the first 1-2 years, when they turn into kids their skins are often overlooked. It is extremely important to protect your child's skin, which can suffer from hydration issues and environmental factors that can cause eczema or other skin problems.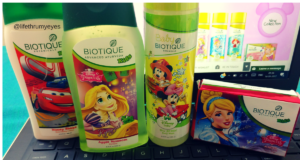 Biotique's belief gels well with this system of delicate childhood skin care for babies and kids as they believe in 100% natural brand with no chemicals and no preservatives. Products by them are free of animal testing and also has eco-friendly and recyclable packaging. On top of the other things, they are dermatologically tested which makes them absolutely safe for the child skin.
Today I will be showcasing some amazing products from the Biotique Disney range that are specially designed for kids and helps in childhood skin care. I have got some 4 products to talk about today that are Apple Blossom Shampoo, Almond Nourishing Soap, Honey Shake Nourishing Lotion, Bio Berry Body Wash. These products are a mix of girl and boy Disney range.
Biotique Apple Blossom Shampoo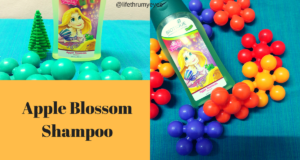 While applying the shampoo on my daughter's hair I remember the apple farm I had seen a few years ago. This beautifully gentle shampoo is 100 % natural and soap free which is made up of green apple extracts. My daughter has got long hair so I always needed a shampoo that could cleanse her long hair properly and leave behind beautiful bright and shining tresses. I have found a perfect solution to my requirements with Biotique Apple Blossom Shampoo. Before this, I was using Bio Green Apple Baby Shampoo for my daughter but since the kid's range has been launched I have shifted to this one. As the brand claims in indeed cleanse the skin from within and does not cause any irritation to the sensitive kid's eyes. The application is very easy with the good amount of lather which gets washed off quite easily too.
Before trying the shampoo I had tried it on my own to be sure about its claims and bang on. They stand true to their claims. Shampoo sessions have become very easy and more fun since I have started using this shampoo as my daughter doesn't like to get her long hair shampooed but with Rupanzal as an attraction, I am able to control the restlessness amazingly well.  It has got beautiful Green apple fragrance which seems to be sour and sweet at the same time but pleasant for the senses.
How to use- Wet your child's hair with warm water and massage little quantity of shampoo all over the head to form a thick lather. Rinse thoroughly with lukewarm water and dry with a towel.
Price- 190 Ml bottle is priced @INR 175
Apples are excellent detoxifiers and protectors to purify, refresh and revitalize skin and hair.
Biotique Lightweight Nourishing Body Lotion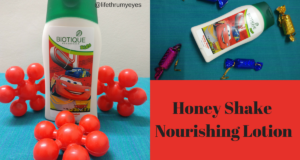 This wonderfully fragrant body lotion is very light to touch as its name suggests. It is made up of honey, wheat germ, and seaweed blanket to help in keeping baby's skin moisturized.  As a habit, I always try out all baby products and couldn't resist applying the lotion again and again after every time I washed my hands. It has got amazing fragrance which is perfectly mild and pleasant for kids skin. It glides very well on the skin and doesn't leave any sticky feeling on the surface. Since it is lightweight my daughter didn't mind me applying this all over her body otherwise she is quite finicky and doesn't like anything that sticks to her skin. Complete 10/10 for this lotion.
How to use-Gently massage the lotion over the body after morning and evening bath time.
Price- 190 Ml bottle is priced @INR 280
Biotique Body Wash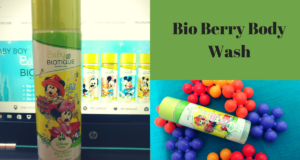 Yet another wonderful product by the brand in bathing range. When we adults take care of our bathing routine and the products to be used, why not same for kids too. Here we have a body wash which is an answer to all. This gentle and 100 % soap free wash is made up of wild berries, sandalwood oil, honey and aloe vera to nourish and moisturize the skin of your child from within. Usually, all the chemical laden products form an excessive foam, this body wash is just perfect and forms light lather for proper cleansing. Apart from deep cleaning it also ensures that the child doesn't go through any kind of allergies or irritation on the skin. Many products tend to dry out the skin but such is not the case with Biotique Body wash. The fragrance is mild and pleasant for kids. 
How to use- Pour a generous amount directly under warm, running water, until the bath is full. Rinse thoroughly.
Price- 190 Ml bottle is priced @ INR 180
Also, Read- Organic Skincare for babies here
Biotique Almond Nourishing Soap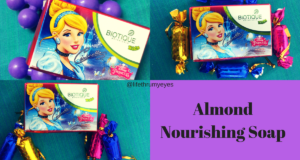 Last but not least we shall be talking about the soap which is again made up of natural products like almond, margosa and coconut oils, mixed with turmeric and wild turmeric. These ingredients help in gently cleaning the body impurities while maintaining the PH balance of the skin. Recently we had ordered 3 soaps online and my husband refused to use any other soap after we started using Biotique soaps. They are really amazing and even an adult can hook to them. The fragrance is mild but lingers on the body even after few hours of the bath. I found my daughter to smell so much like a newborn baby after bathing her with this soap.
How to use- Gently work up a foamy lather, and rinse.
Price- 75gm pack is priced @ INR 55
Now that you know how natural ingredients can work magic on your child's skin with good childhood skin care regimen, you can finally get some peace. Trusting in natural formulations is the safest option to ensure your child enjoys healthy, problem-free skin that radiates happiness!
Do let us know if you have used Biotique and how was your experience with them? We are sure that your care and attention will keep him/her glowing and healthy, come wind or rain! After all, you are the best caregiver your child can have and there's no one else who knows him better. Just keep extending your gentle and moisturizing care to your child and his/her delicate skin will remain happy.
The Biotique range of products is available on their website and other online platforms like Amazon and FirstCry.  They can also be bought from their website here
Happy Parenting!