I am always on the look out of good beauty products which are natural and keeps me and my skin away from harmful chemicals. While last month when I was looking for some natural products I had come across La Cure which has to die for natural products made of dead sea minerals. Well, we all have heard about the hidden benefits of magical minerals from the Dead Sea where no life exists but still, they give so much to the beauty industry and natural beauty in whole. Knowing the importance of Dead Sea products I had written an interesting post covering all the aspects which you can read here.
Today I am going to be showcasing wonderful range that I got from the brand to review on my site. They have a huge range which is has got natural ingredients such as Vitamin E, Aloe Vera, Chamomile, Apple & Carrot Extracts, Lavender Oil and Eucalyptus Oil. Not all of us can dream of visiting dead sea to avail the benefits so here we have La Cure who can make your dream come true with the exotic range of products they offer. The best part about La Cure products is that they are natural, not tested on animals, alcohol-free and also paraben free. What else do you need from a beauty product? Isn't it?  Read on to know more about the range.
So a very special friend now from La Cure was kind enough to send us a bouquet of products which included La Cure Brightening Cream, Protective Day Cream, Facial Mud Mask, Refreshing Mineral Shampoo and two sets of soap, mineral salt soap and scrub soap.
As soon as you open any one of the product you can feel connected to nature as the fragrance is not superficial or chemically enhanced. It's just perfect and natural for the senses. Let me begin with the first product which I was very eager to try back when I had received it.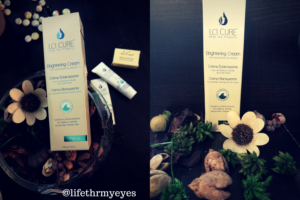 The Brightening Cream and Protective Day Cream
Well, these are the two creams which compliment each other and go hand in hand in your regular/daily skin care.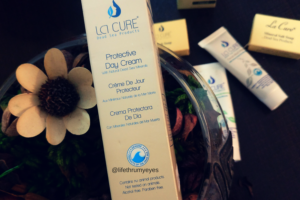 La Cure Protective Day Cream
Protective Day Cream needs to be applied as the name suggests during day time on face and neck. It has got rich dead sea minerals along with Vitamin E, Jojoba Oil and Aloe Vera to moisturize your skin deeply. I found this to be absolutely light and it gets easily absorbed into the skin and doesn't leave any oil texture on the surface. It glides really well on the skin and helps in maintaining the complexion and skin tone as smooth, healthy and clean. In fact, at times my skin breaks out and appears to be dry so I found this to be a good solution for this problem of mine.
How to use: Apply it every morning on clean face and neck. This can be used as a good base for makeup as well so ain't it perfect for your day to begin.
Price: It's priced at INR 549 for 30 Ml and INR 1099 for 60Ml
Moving on to the other cream which is Brightening Cream which is a night companion of the Protective Day Cream.

La Cure Brightening Cream
As mentioned this cream is for evening use and helps cover up dark pigmented areas, blemishes, and age spots to achieve a flawless unified skin tone, and a brighter, younger, more radiant complexion. This cream helps reduce the visible signs of aging, moisturizes mature skin and smoothes wrinkles giving a youthful radiance. I have been using the combination of both these cream for over a month now and have seen the amazing noticeable change in my complexion and skin tone. It appears to be more even and firm. In fact, it has also helped my skin to look soft and supple earlier it used to be dry.
How to use- This is suitable for all skin types and needs to be applied during bedtime or after sunset. You need to gently apply the cream massaging into the skin and avoid contact with eyes.
Price- It's priced at INR 549 for 30 Ml
Lifethrumyeyes Tip- Next day in the morning when you wake up don't expose your skin to the sun and first wash your face with La Cure Dead Sea Scrub Soap for better effects on the skin. Read on to know about the La Cure Soap.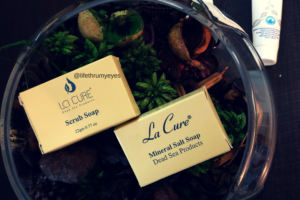 La Cure Mineral Salt Soap and Scrub Soap
Yet another wonderful product by the brand. The soap is made up of natural oils with dead sea minerals that help in maintaining healthy glowing skin.The soap cleanses and replenishes whilst helping to eliminates impurities of the skin thereby restoring the skin's PH balance. It doesn't have any chemical or animal fat. I loved my experience with the soap as I found my skin to be absolutely smooth,
How to use- Just rub on wet hands to form a lather and apply all over the face and body.
Price- It's priced at 399 for 90 Gms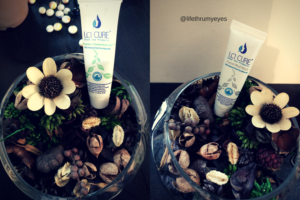 La Cure Facial Mud Mask
Well, who doesn't go for facial? We all don't we? How about getting a parlor like a mask at home. Yes, this is it. A wonderful facial mud mask by La Cure. It is made up of rich minerals and natural oils which help in rejuvenating your skin. Considering the fact that it also has the magic element from the Dead Sea it helps in enhancing the purifying mechanism to deep cleanse, tone and remove excess oils, leaving the skin looking firm with a radiant appearance. I have been using this once in 10 days and found it to be effective on my skin which used to get tired due to long working hours and travel and back to home chores. I found my skin to be tight and young. It also has honey in it which helps in smoothing the skin.  The best thing that I liked about the mud mask is.
Helps in getting rid of blackheads and acne

Removes deep-seated impurities and exfoliates dead skin layers.

Gives your skin a silkier and younger look.

Helps reduce the appearance of aging and the look of wrinkles.
The only con of the product is the fragrance. It's very pungent and doesn't appeal much to your senses.
How to use- Gently apply onto the skin in upward, sweeping motions and avoiding sensitive areas around the eyes.Leave the mud for 5-10 minutes on dry skin, 10-15 minutes on normal skin, and 20-30 minutes on oily skin, and then rinse with lukewarm Water. Recommended 2-3 times per month for best results and maximum benefits for normal use. For treatment use, recommended once-twice a week.
Lifethrumyeyes Tip- Clean your face with the La Cure Mineral Salt Soap to cleanse the pores then apply the mud mask on your face evenly.
Price- It's priced at INR 449 for 30 ml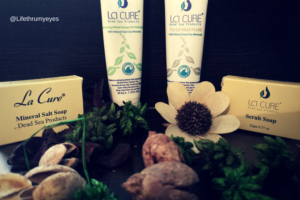 La Cure Refreshing Mineral Shampoo for Normal hair

Beautiful flowing tresses is a dream of every girl. So is mine. Not all shampoos offer good cleansing and bounce in your hair. Well, La Cure does offer that to your hair. I loved the mineral shampoo a lot for the way it provides deep cleansing and moisturizes the hair along with restoring its texture. I found my hair to be more clean, bouncy and thicker. It also helps in washing off the scaled skin on your scalp. Absolutely wonderful product with soothing natural fragrance.
How to use- Apply to wet hair, massaging into a rich foam. Rinse thoroughly, wrap in a clean towel.
Price- It is priced at INR 999 for 250 ML
Well, so here is the range that I had to talk about today. Overall I had a wonderful experience with the range sent by La Cure. I would love to recommend this to my friends and family. As I said since we can't travel to the Dead Sea to avail the benefits why not buy the products which are so rich in dead sea minerals.
Do try out the amazing benefits of Dead Sea Minerals with La Cure and share your experience with us in the comment section below.
You can buy the range here
I am taking part in #myfriendalexa and this is my 5th  posts for the month. Do follow us for interesting reads on parenting, lifestyle and much more.
See ya till we meet again!