Organic is a word which has been floating around in the beauty industry for a while now. Doesn't it seem like new cupcake of the industry? Brands are introducing products out of 100% natural ingredients under strict guidelines like environment-friendly packaging, chemical free process and much more. As we discover the increased benefits of organic (natural) products, it is no surprise that organic beauty products are more popular than ever .
As we all know what goes on within our body reflects outside as well. Hence it's important to keep our insides healthy to showcase healthy looking and radiant skin. Having said that we also realise that the skin is the largest organ of our entire body, so we really should treat it with care. There is a tremendous increase in organic alternatives to food, beauty and cleaning supplies on the market. And if you haven't jumped on the organic product train yet, check out this product review on Organicmill Body Scrub for the top benefits and how much better it is for you.
Organicmill Body Scrub Review
Ingredients- Charoli, Barley & Herbs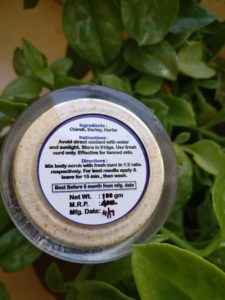 Packaging: It comes in a nice glass tub like a package. The tub at its base has got all the details of the product mentioned clearly for users. It's a beautiful glass tub which can be used for various things once the scrub gets over. I am gonna use it to keep my moisturiser when this gets over and replace with a new tub of body scrub by Organicmill. Well, so you know now that I really liked the brand and the body scrub. So much so that I have already decided to go for the second buy.
Key features: One of the most important aspects of the product is that it is 100% natural. With products like Charoli and Barley, it becomes all the more sought after. Charoli is an Indian plant which has got many health benefits for skin and hair. In fact, it's widely used in face packs, scrubs as they help in reducing itching, skin blemishes, and skin marks leading to flawless skin. Barley, on the other hand, is the king of cereals and is used for various medicinal reasons. With respect to skin, it helps in maintaining the elasticity of the skin, improves skin tone and also has healing properties. Aside of Charoli & Barley the body scrub is coupled with various herbs. The most obvious that I could figure out was kapur as the beautiful godly fragrance filled my nose the moment pack was opened.
Colour & Consistency: The scrub is in powdered form which has visible charoli, barley and herbs granules. When touched it feels little coarse on hands.
Fragrance: The most obvious fragrances that I could figure out was that of kapur. It filled my nostrils and made me feel heavenly. So pure and so natural.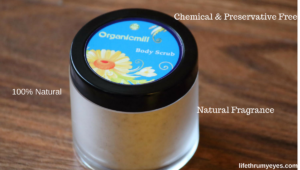 Instructions for storage, usage and validity:
Storage: Since the scrub is made up of 100% natural ingredients it reduces the shelf life compared to all other preservative and chemical-filled counterparts available in the market. Hence it needs to be kept in cold place (fridge) to maintain the quality up until its validity period. The product should not be exposed to sunlight and water as it will destroy the natural properties of the scrub.
Usage: Depending on the part of the body you intend to apply the scrub, take body scrub and fresh curd in 1:2 ratio and mix well. Apply it over the body and let it be for 15min. Once it dries out, wash it with normal tap water and pat dry. Use it for at least a week and then you will notice the visible change in the skin. It will begin to look more lively and fresh. It shows better effects on the tanned skin and helps in removing the skin darkening as well.
Due to recent exposure to the sun my feet had got tanned immensely and hence I tried the scrub on my feet and trust me the result was just amazing. Here is the output for you all to see. Just after 1 use I could see a marginal difference in the colour and look & feel of skin on my feet. It felt fresh, supple and young.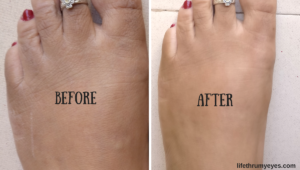 Validity: The product if kept in cold atmosphere away from sunlight and water is good to use for 6 months from the date of manufacturing.
Price: INR 400 for the 100gm pack.
Overall take:
Treating skin kindly from both the outside and within will leave you feeling great and looking fantastic too, and switching to natural and organic skin care products to moisturise your skin is a great place to start. Organicmill is a 100% natural brand free from preservatives and chemicals. My experience with Body Scrub was amazing from the first use itself. I would love to experience more from the brand and will ensure that this brand takes a proud place on my dressing table forever.
Would I Recommend/Repurchase Organicmill Body Scrub?
I would definitely recommend buying this product and keeping it part of your skin care regime for a long-long time.
Where can you buy?
This amazing brand is available to buy on its website,  Facebook Page and even on WhatsApp(9971648091). You can also check out other interesting range from the brand like Bath Salt, Lip Scrub, Toner, Hair Oil, Night Cream, Body Sunscreen, Body Polisher, Makeup Remover, Glycerin Soap and much more.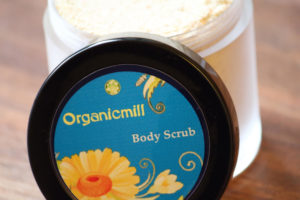 Going organic in skincare can get expensive and a little complicated since you have to first try the product to see if it suits you, but the long term effects can be worth it. So ladies go ahead and be organic, live organic and swear by organic. Do try out product by Organicmill and share your experiences with me in the comments section below.
Stay tuned for my next review on benefits of using organic products.