With Diwali, just around the corner most of us are gearing up to buy the best of furnishings, artifacts, candles, and much more. I love to go around in the old areas of Pune and look out for things that will lit up the corners and walls of my house. However, recently I came across a website named Qtrove that provides products that are handmade, curated with love and passion. Having heard a lot about them, I decided to check them out and here is my experience with a lovely website Qtrove.com.
What is Qtrove?
Qtrove means Curated (Q) and Trove so Qtrove means a Curated Store. After having a successful stint with Tastykhana, Vinamra Pandya, Founder, Qtrove, decided to launch a platform for a curated marketplace for all staples and hence the idea of Qtrove was born around January 2016 and they went live with 5 sellers and 30-40 products in the year July 2016. In little over one years' time Qtrove today stands strong with over 300 + sellers and 5000+ products across 30+ categories. We wish Qtrove a very best and would love to see them reaching new heights. Let's dive into the world of Qtrove and relish the amazing world of handmade products.
Here is my experience with Qtrove and the product
Qtrove.com welcomes you with an appealing layout which has got a beautifully laid menu bar with a host of categories listed out there for the user to choose from. Below the menu bar is a well-created slider that showcases interesting and grab me kind of offers. I took my own sweet time to browse through various categories food & beverages, bath & beyond, fashion, kids zone, household essentials, pet care to beautiful home décor. You name it and they have it all. The best thing that caught my eyes was the Navratri exclusive. Being a firm believer of Maa Durga I have been fasting for few years and loved to check out the lovely collection of dried fruits, candies to so very traditional Kuttu ka atta. Loved seeing these products on the website as they remind me of home and our traditions.

After drooling over the yummy looking dried fruits, I moved towards my favorite section i.e. Home Décor. I am simply crazy about decorating my house with beautiful artifacts, lamps, and corner pots. Well, my search wasn't restricted to the living room décor as Qtrove offers a huge variety of products in kitchen & dining and garden & outdoors as well apart from living room décor. Since I was pretty sure that I wanted to buy pots and Madhubani art being my favorite I just got a perfect set of two pots to grab with both my hands. I managed to find a perfect looking hand painted combo of Terracotta Madhubani Vase by Craftbell. This beautiful hand-painted Terracotta vase set in a tapered and round matki shape will definitely accentuate the beauty of your table décor just like its adding color to our house and décor.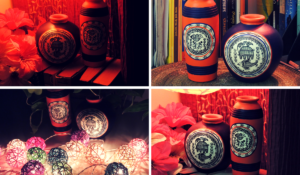 Delivery
Talking about the most important aspect of online shopping that is delivery. I must say I am pleasantly surprised at the quick delivery. I got the product within 4 days of my placing the order. So way before I could make a perfect place for them in my house I got them in my hands.
Pricing
For the quality and finish provided by the brand, the pricing seems to be apt. However, a buyer can do with a little economic pricing as well 😊
Checkout
The checkout process is smooth and hassle-free. If you have a code or a gift card to avail discount then you can easily put the code while you are on the last step of checking out. It's just a 3 step process.
Step 1- Customer information. If you have bought from the site before it automatically fills in your information. So, this saves you from putting in your details again and again. Which is smart isn't it?
Step 2-Shipping Method. For the product that I had ordered the shipping wasn't that high but I found few other items which had high shipping charges. We could do with lesser shipping charges as well. Nonetheless, curated products are worth shelling some extra penny.
Step 3-Payment Method. The transactions are quite safe on Qtrove. It offers various options to pay as well, like credit & debit cards, net banking, UPI, and COD as well.
Also, Read–Diwali House Cleaning Tips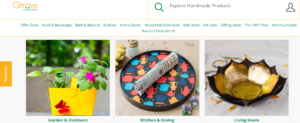 Unique Selling proposition- Qtrove.com
1)    FM messenger Notification- Considering the fact that we all are online whole day and are so connected to social media. I loved the fact that they send notification on FB messenger. In fact, I was pleasantly surprised to find this as none other brands that are known to me does this.
2)    Handmade products- One can feel the efforts, love, and passion with which these handmade products are created. There is a personal touch in the products which is quite dear to me.
3)    Pop-up- Yet another interesting feature which showcases the recent products bought by people across India. This is an interesting insight that I loved. I liked this because this gives me insights on what others are buying and if there is something interesting that I missed checking out I can see these pop-ups and check them as well.
4)    Clean interface- I personally don't like online sites that are confusing and mislead a customer. I loved the neat and clean interface of Qtrove which is simple yet clear.
Will I recommend Qtrove?
I would love to recommend the website to everyone, especially ones who are more keen on handmade products like me.
So, all you beautiful people reading this post. Do check out Qtrove today and order something special for someone special, from someone special who has made it. Absolutely safe and handmade. Wishing you all a Happy Durga Pujo and upcoming Diwali. Go ahead and decorate your house this Diwali with Qtrove.com!
I am taking part in #myfriendalexa and this is the 7th posts of the series. Stay tuned for last but not least one more blog for the campaign coming up next.
This is a sponsored post. However, the review is basis my experience with the website and the product.
Happy Shopping!