Diwali is one festival in India which is celebrated with unmistakable energy and zest. The country has innumerable customs and traditions and come September-October, it is time for festivals, lights, and colors. It is known to be the festival of lights and is one of the most awaited time of the year. This festival of light which has goodwill and prosperity associated to it also has a strong mythology surrounding it. It's interesting to see how everyone gears up with a lot of enthusiasm to do various arrangement before Diwali.
With the festival approaching it becomes imperative to clean the house and make it spick and span. Doing it up in our own way is the real spirit of Diwali. There's one thing without which Diwali seems to be incomplete, and that is cleaning. Since childhood, we all have heard stories of how a neat and clean home is the best way to welcome Goddess Lakshmi.  Hence, in our home, Diwali always meant complete cleaning assignment for every member of the house.
From washing the sofa covers to getting rid of the cobwebs, cleaning is the first step of preparations when it comes to celebrating the festival of lights. It would be convenient to do the cleaning during a weekend and two days are enough to get done with the cleaning everything(at least most of the things). You can leave the changing of old furnishings like bed linen, curtains and cushion covers to the last day since they do not take as much time. Little tiresome tasks can be done with the help of the men in the house, like cleaning fans, lights, removing cobwebs, etc. The easiest way to go about the task is to start with one section at a time, and slowly move to the other sections of the house.
With just a time of a week to go here are some last minute tips on cleaning the house for Diwali.
De-clutter the house: The best way to begin with Diwali cleaning is to de-clutter the house. Throw away useless things which have been lying idle for more than 6 months, as this may still be lying idle after 6 months. You can begin with your clothes. Re-use old clothes into wipe clothes/covers and if they are in good condition then consider donating them to needy. Old and broken toys can find their way outside the door and into the dustbin and the good ones can be given away to the needy. Kitchen cabinets should be ideally checked once in every month. However, with Diwali approaching check the cabinets for expired food items and old greasy containers. Throw away expired food items and replace the old and bad looking plastic with newer ones. Break the sentimental connect with objects in the house. Retain one-two items but give away the rest. You'll notice space in your house is magically expanding.
Start with wardrobe: De-cluttering was the 1st step in getting rid of the unwanted and extra stuff. Now going to each section of your house. Start with wardrobe.It is very easy to sort and clean the wardrobe. Throw away clothes that are old and are not used by you anymore. Keep away attachments since it will only fill space in the wardrobe. Be neat in arranging smaller clothes like undergarments, handkerchief and socks the drawer if possible or you could also buy bags specifically designed for such small clothes.
Bed Storage and wooden boxes: These days bed comes with storage space which is more than sufficient to keep entire army's clothes. Well, that was an exaggeration but we do not look at these storage space un till the Diwali cleaning is in our head. Clean these spaces properly and ensure you check everything for bed bugs or cockroaches and other insects. Put naphthalene balls and keep the stuff back safely. Remember the thumb rule throw away that is not required.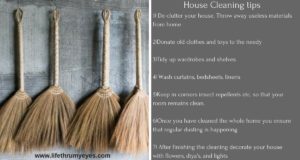 Reach the fans and lights: It's ideal to clean the fans every 2-3 months so that the speed of the fan doesn't reduce and the brightness of the lights do not go down. However, if you have not done that yet choose a day and clean all the fans and lights of the house. Clean the lights and fans with a dry piece of cloth to prevent getting an electric shock. Or if you want you can switch off the current (main switch) of the house and then do the cleaning to avoid any unwanted incident.
Kitchen & Refrigerator: I am sure you would agree this is the worst place to clean in the house but is the most crucial place as well.With so many cabinets, boxes, containers, gas stove, exhaust fans and utensils it can actually get chaotic.However, as mentioned earlier start with de-cluttering the kitchen. Throw away expired items and old containers which are not required anymore. If you need to get the utensils re-washed plan it with your maid in advance and start getting them washed in batches so that by Diwali all the utensils and containers in your kitchen are spick and span. The refrigerator is also one place which has too many secrets of ours, try to clean it more often. Get rid of spices and packets which are expired in the fridge. Throw away vegetables which are on the verge if getting stale. You could try keeping newspaper on each shelve to maintain cleanliness.
Windows, Grills & Walls: It's best if you clean windows, grills and walls first since with too much of cleaning happening in the house these places are bound to catch dust again. You can begin with removing cobwebs from the walls and corners of the house and then clean grills with a soapy solution and wipe with a dry cloth piece to finish the Diwali cleaning task.
Curtains, bed sheets, and sofa cover: Last but not the least you got to clean the curtains, sofa covers, and bed sheets. Since you would be doing too much of cleaning in the house no point cleaning the curtains, sofa covers and bedsheets in advance as it will catch dust again. Better to keep this task for last. If you are planning to replace the curtains, covers, and bed sheets with a new set for Diwali then nothing like it.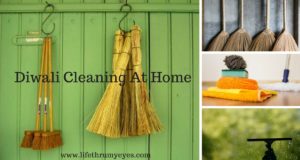 Bathrooms & Balcony's: By now your entire house has become spick and span so you can give the final touches to your house by cleaning bathrooms. Clean them with detergent/acids/Dettol or floor cleaning agent to have shiny floors. Focus on corners to ensure there is no dirt left behind. To add fine touches to your bathroom you can keep a pot or a bottle with money plant in it. You may also keep dried flowers for extra fragrance.
House Decoration: Post cleaning, it's time to plan the decor of the house. However, it's better to plan decoration in advance. For fresh revamp old bedsheets and curtains can be replaced with new ones. With so many sales going around I am sure you will find best of deals to make your house look revamped and beautiful. To make Diwali fun for your kids you can buy plain Diya's and make them paint it with natural colors. You can place nice pots with beautiful flowers on it to grace the house. Potpourri also adds a fresh fragrance to your home. Nice door garland "Toran" will add glamor to the house entrance. You could also practice few rangoli designs in advance for the D-day. Place beautiful sofa covers, bedsheets, new lines, curtains, and drapes in your home. In case you don't want to buy new ones you may wash the old ones and keep them ready. Final touches with beautiful Diya's and light will light up the entire house and your lives.
Make your Diwali special with beautiful and clean home along with beautiful hearts. Don't forget to light up the lives of people less fortunate than you. Happy Diwali!
These are few tips to ease Diwali cleaning. Do you have more ideas? Share with us.