With festivities just around the corner preparations for Navratri are in full swing. Women are busy with upgrading their wardrobe and buying new stuff from that beautiful metallic jhumka to colorful bangles and necklace to match the traditional outfit. Any kind of celebration shouldn't suffer due to one's safety and it's our own responsibility to ensure that we stay safe wherever we go. At the same time, I strongly believe that safety issues shouldn't stop women from enjoying and wearing clothes as per her desire and going to places she wants to.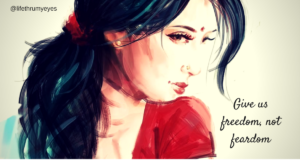 This is the most exciting time for we women and I'm all the more excited to be part of this Navratri blog train #NavratriHoppers wherein we are a group of 12 versatile bloggers who are sharing their views, suggestions, and expertise on all things Navratri and women. Thank you so much, Varsha for a warm introduction. You can follow her passion and journey on her social channels here Blog | Facebook | Instagram
With Navratri knocking on your door, it's high time that you let your hair down and enjoy life and nine days to the fullest. Many of you will get decked up and head towards the pandals in your cities with friends and family. It also means that you will stay late at night and might travel alone at times. Your safety is your responsibility to ensure that you follow these smart ways to ensure your safety as you go out and enjoy.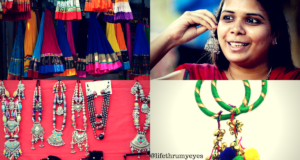 Stay Connected
It's important to keep your friends and family informed about your whereabouts. In case you are going to be traveling alone on the Navratri night, it would be better if you opt for cab service as they are much safer than other public transport. Since cab service providers give all the information pertaining to the travel like, cab number, driver's name and number it becomes easy to share this information with family and friends who can track your travel. Also, you can get on a call with someone close from family or friends and continue to talk till you reach your destination.
Stay Cautious & Careful
As soon as you are out there at Navratri Pandal to play dandiya or Garba with loud music on, your senses become numb and you become too involved in matching the steps with others. This usually makes you lose track of time and your surrounding. While it's not wrong to get engrossed in dancing but keeping an eye out there is crucial too. Check out for any suspicious thing happening around you. Anyone taking your pictures, trying to come close to you and dance along with you only, staring constantly, making suggestive gestures or someone physically following you everywhere.
If you find anything odd it's better to tell your friends, inform the authorities/security at the venue, and don't ever ignore! Always ensure and stay in the group. Don't wander alone, even if you have to use the restroom it is better to take some one along to the area. It is better to be wrong than be sorry.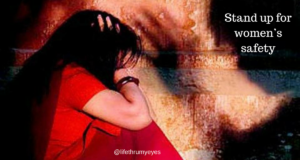 Carry Some Essential Stuff
It's understandable that you will get decked up for the evening full of fun and frolic and won't like to carry your bag around everywhere. But trust me your bad can be a savior too as you need to carry few essential things like mobile, stole/scarf to cover your head, a shrug to cover your shoulders while you travel home. You can also keep swiss knife and pepper spray in your bag. It would be ideal to carry a sling bag so that it doesn't come in the way of dancing and can be worn a cross.
It's important to keep all the emergency contact number on speed dial so that if required you don't have to search for any. These can be a parent/guardian's number, hospital number, nearest police station contact, number of the security office at the venue. If possible also carry a spare battery so that if in case you lose on the battery you also have a spare one to use.
Navratri Pandals-Be Careful On What You Eat & Drink 
Don't accept any food or drinks from anybody unknown during Navratri festivities. I would suggest buying your own food and to not leave it unattended as it's easy for anybody to spike the drinks and food. Drinking is normal and people do get swayed with the atmosphere but please don't drink so much that you can't walk and talk properly. Be in your senses as too much of drink will hit your ability to judge or stay attentive and aware. Also, prefer buying your own bottle of packaged water. You may never know when someone adds drugs to your water and take advantage of the situation.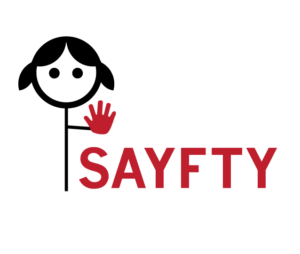 We women are blessed with strong instincts and mental agility. Hence you ever face an unwanted situation where you need to defend yourself physically, use your mind to act as quickly as it can. Make sure that you always keep some sort of safety handy with you all the times. As mentioned above you can carry, pepper spray, nail filer, small swiss knife etc. Also not wanting to sound paranoid but it's better if you can avoid high heels on your way back. You can keep a very thin flat chappal in your bag so that if required ever you can run too. It is better we learn to protect ourselves instead of waiting for our society and men to change their outlook towards us.
Do check out the next amazing blogger Ruchie sharing her thoughts on Navratri & Women on Blog | Facebook | Instagram | Twitter
Stay tuned for more on parenting, lifestyle on lifethrumyeyes!
Also, Read- Ways to clean your house this Diwali