You've read all the books and chatted with all of your mama friends, but nothing can quite prepare you for motherhood. You're looking to fill your vanity with unique products that align with your eco-friendly and natural vibe. You're conscious of the products you use for your family because you want to hold on to your values and strive for organic without breaking the bank.
Choosing skincare items can be overwhelming sometimes. With so many different products and options available to you, how do you whittle your options down to some truly fabulous ones that you and your skin will love? Well, the wait for the mums and mums to be is over with the new mama range launched by Mamaearth which you will be thankful to add on to your dressing table. Not only are they organic and natural, but they will also fit a wide array of budgets.
Well, my journey with Mamaearth started back in the month of February early this year when Mamaearth babycare range was launched. After using and reviewing the babycare range on my blog, I was very happy and curious to use the mama range launched by this lovely couple behind the brand (Ghazal & Varun). Check out my experience with this amazing range.
Mamaearth mama range of products were sent to me by the brand for review. All opinions on the blog are my own. 
I was pleasantly surprised to receive the beautifully packed bag in blue and pink by Mamaearth. The bag had full-size bottles of Hair Mask, Body Lotion and Body Wash along with a leaflet with all the details of the entire mama care range by the brand. I was mighty impressed with how meticulous and well thought this whole bag was. They definitely have got me hooked to them for a lifetime. 🙂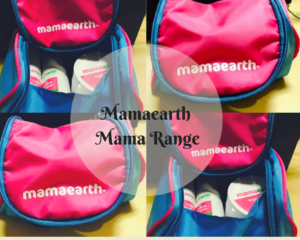 Mamaearth has always ensured that packaging of their product is pretty and high quality. The body lotion comes in 200 ml sturdy, white plastic bottle and pump dispenser. It also an inner lid that protects the product from leakage.The bottle is nicely colour coordinated with pink and green which makes the look of the bottle quite soothing.
The lotion is certified toxin-free and hypoallergenic which keeps the skin from all sorts of allergies. The lotion has got very creamy and soft texture that moisturises and hydrates the skin without any greasiness. It keeps the skin soft and supple throughout the day. The fragrance is very mild and smells like nature which makes it completely safe for mums and mom-to-be! It can be applied after shower immediately as the skin absorbs the lotion very well at that time. For the first time when I applied the lotion, I felt as if the lotion has gone down deep in the pores of my skin which made it look very lively and supple.
Key features: It provides protection and moisturisation to the skin with natural ingredients like shea butter, cocoa butter, and jojoba oil. It also has geranium oil which is very soothing and calming to the senses! Along with goodness of all the key ingredients that it is made up of, it is also Asia's first MadeSafe certified brand, which has no parabens, sulphates, mineral oil, synthetic fragrances.
200ML bottle is priced@INR 349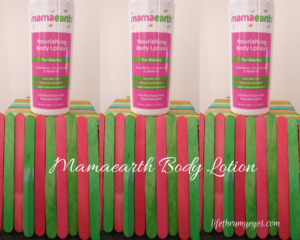 Well, I still remember my pregnancy and posts pregnancy days when I used to worry a lot about my dry and lacklustre hair. Since then I have been looking out for something which will make my hair shine and look alive. Tried many shampoos and conditioners but never found a combination that will give me smooth and shining tresses. Recently I heard about Mamaearth launching its mama care range and since then I was eager to try Argan Hair Mask by Mamaearth. It promises to reduce hair fall and repair the damaged hair. This picked my keen interests and here I am reviewing the Argan Hair Mask. As usual, Mamaearth has completely nailed the packaging with sturdy round plastic 200 ml tub. The tub has all the product details mentioned clearly. Let me now take you through my experience with the hair mask.
When we think about hair mask, there comes an image of an herbal powder which needs to be applied either with curd or mixed with water. Well, this is the biggest differentiator that Mamaearth has. Argan Hair Mask comes in a white creamy form which can be directly applied on shampooed towel dried hair. It's so smooth that it easily spreads on the hair. The consistency is quite thick which doesn't allow it to drip I have been using hair mask twice a week for over 2 weeks now and I must say I am sold on this product. The biggest change that I found in my hair was shine and softness. Something that I have been craving to find in shampoos and conditioner. The mask hydrates the hair completely and makes it lively. The best part about Mamaearth products across baby & mama range is the fragrance which is completely natural and doesn't have any chemical feel to it. It has a mild fragrance of essential oils which makes it ideal hair conditioner which even helps in treating split ends and tame frizzy hair. It also prevents hair fall and promotes hair growth.
Key Features: It has Argan and Avocado oil supplemented with milk protein & curd extracts which make it ideal hair conditioner that softens the hair and makes it silky and shiny. Essential oils like tea tree help in curing dandruff and treats the dry scalp very well. Milk and curd extract helps in strengthening that hair from roots making its a perfect choice for all of us mums. Last but not least ll the products by Mamaearth are clinically tested, Hypoallergenic and Fragrance-free (Natural flower extracts for fragrance), No parabens, sulphates, mineral oil, synthetic fragrances etc.
200ML bottle is priced @599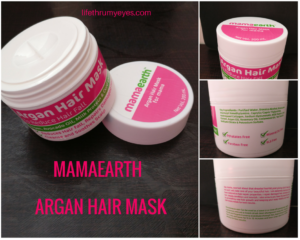 Just like body lotion, body wash also comes in 200 ml sturdy, white plastic bottle with pump dispenser. It also has an inner lid that protects the liquid from leakage, sort of double protection.The bottle is nicely colour coordinated with pink and green which makes the look of the bottle quite soothing.
Mamaearth body wash has very smooth and flowing consistency which makes it easy to apply on the body. It spreads evenly and lathers up really well. Having coconut base it ensures that the skin gets cleansed deeply.With a natural fragrance, it enhances the overall bathing experience. Unlike many other body wash it washes away quickly and does not leave a greasy or sticky residue behind. Overall it's an amazing product and is a tough competition to many other brands in the same space.
Key features: It has Aloe Vera, Allantoin & Vitamin E that keeps skin clean, nourished and completely healthy. It also has germanium which uplifts and rejuvenates the skin and promotes healthy feeling.
200ML bottle is priced@INR 349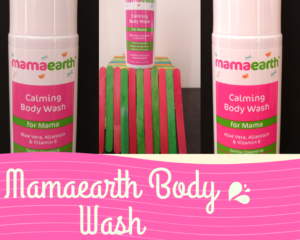 Skin care is most tricky when you have a sensitive skin and routine cosmetics that are loaded with harmful chemicals often causes allergic reactions and create various skin problems. With Mamaearth one can stay relaxed and use them without any concern as they are made up of natural ingredients and ensures complete safety. Along with goodness of all the key ingredients that it is made up of, it is also Asia's first madesafe certified brand, which has no parabens, sulphates, mineral oil, synthetic fragrances.
Suggestion to the brand: It would be great if smaller and economic version of the products can be introduced.
My Ratings: 10/10
Where can you buys: Amazon |Mamaearth website