Gone are the days when kids used to be excited about going to the nani-dadi house during summer vacations. Packing for the most anticipated summer holidays used, to begin with, squeals of laughter and excitement.This is how my childhood was. At today's day and age even before they are able to walk, their vacations are all abroad. From blue oceans to cold continents to beautiful scenic places, nothing remains unexplored these days. Everybody is fascinated with the other world.
Like every other child, my daughter has been fascinated with these places from the other world. Recently one of my daughter's friend had gone to the USA for summer vacation and my daughter who is just 4 yr old got so many stories from her friend to tell me about the most enchanting country "The United States Of America". And as anticipated my daughter started talking about going to places with us. Timing couldn't get better, as this is the time when I got a wonderful opportunity from Globetrotters Box to use and review one of their world discovery activity box. Knowing my daughters inclination towards USA I decided upon getting the same box delivered and helping her get a glimpse of this enchanted world which some day soon she will explore with her parents along. I got to fulfil this wish of her soon.
Today I am gonna take you through this journey to the USA along with me and my daughter. Don't miss out the fun we had while unboxing and playing around the activities provided in the box.
Globetrotters USA Activity Box Review
Who are they?
Globe Trotters Box is a monthly learning subscription box in India, for kids aged 4 to 12. Every month upon your subscription a country-themed box is delivered at your address These boxes are well researched and well thought to keep your child's age and development in mind. Isn't it what we all mothers want for our child? To know more about them click here
What's in the Activity box?
Standing ovations for the packaging. Well, this is what appealed me the most as soon as I opened the box. It's not only well thought but also meticulously packed and organised box. There were around 5 activities carefully crafted for kids of 4-6 yrs of age. Activity kits are ranging from art and crafts to simple puzzles game, souvenirs and much more.
1.NASA Astronaut Wooden Blocks Puzzle
2.DIY Native American Headband activity
3.DIY Native American House Teepee activity
4.USA Puzzle sheets
5.USA Colouring Sheets and sketch pens
6.USA Souvenir (Statue of Liberty Cap) –
7.Wall-sized Illustrated World Map (Premium quality)
8.Welcome Letter
9.USA Letter & Stickers
With huge lists of things in the box, my daughter got really excited and wanted to try out everything. We began our journey with creating Native American Headband. It was a lot of fun as she got to do a little bit of zinga la la hu hu once the band was sitting on her head. I never knew this simple sticking and pasting activity can get her high. This was followed by everything else that we both enjoyed together. These activities are very well thought and they ensure that towards the end of the activity your child gets to learn something. You can get a glimpse of our fun in the pictures sprawled across this blog and social pages.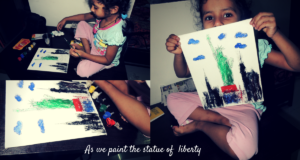 The best part about Globetrotters USA Box is that every activity by them was nicely packed and labelled. It was like a kit in which every item is nicely placed and can be used to create amazing US stuff. The quality of the material used for these activity kits is nice and thick and looks very neat while playing with it. In fact, the creation by our little wonders can be saved as well for a long time due to the good quality material used by team Globetrotters. Since kids get attracted to bright colours they have nailed it completely and have put lots of colours in the box for kids to enjoy more. I would say not just kids but we women too get attracted by colours so I simply loved helping my doll while she was engrossed in the box. The world map was the shining star. What better way than a fun map to teach your child basic geography. Ain't it! Well, I told you they have everything sorted and well thought. We are really happy with the way we could get our daughter to get a glimpse of USA and to know few things about the country. She had great fun and is relishing her Statue of Liberty Cap as a souvenir. It's an amazing box launched by Globetrotters. Their Monthly boxes include countries like Australia, Japan, Egypt, Italy, UK and USA.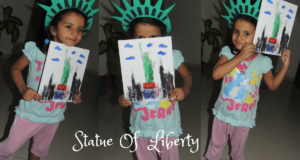 6 Things that I loved about Globetrotters Activity Box
Kid friendly- Materials used to create the activity kit is kid friendly and safe for children. There are no sharp edges to anything.
Activity A Day Keeps TV/Boredom Away- Vacation is the time when your child can catch the TV bug which isn't easy to go away. So I loved the fact that I could keep my little munchkin away from her favourite cartoon and glued to the activity box which is not only refreshing but educational too.
Provides Knowledge- As mentioned earlier these boxes are very well thought. Indeed they are as each activity ensures your child is learning something. Since these are the country specific box and we requested for a USA box. I am happy that my daughter got basic knowledge around the most admired country the USA.
Uniquely Unique- All the activities in the box are unique. In fact, not just this but all the boxes by the brand are unique in its own way providing some different flavour from different countries.
Souveniers- We always bring something from each place that we visit. I loved the unique idea of souvenir a lot. Statue of Liberty cap in the box was a bonanza and gave us parents strong travel goals to fulfil in this year for our daughter. So the USA it is! And here we come Statue of Liberty with our gem to see her souvenir live in front of her.
Develops Parent-Child Bond- Since most of the activities require parental guidance I found this to be great things to develop a bond between parent and kids.
The best takeaway for me through engaging with this box was the time I got with my daughter. Something that we all complain about and not able to do much as well. As much as for the kids, these activities are also important for parents like us who need a common ground to sit and engage with kids and to relive the childhood together with our own kids. I would definitely refer fellow parents to go ahead and order 1st box and begin this subscription journey with Globetrotters Box.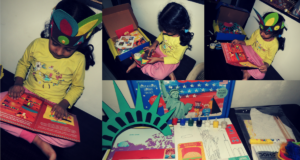 Price-INR 1099. Discounted price INR 799
Where can you buy? Click Here
Follow & Subscribe to GlobeTrottersBoxes
To read an interesting review on Australia Box click here