It is probably one of the oldest stereotypes that are quite popular too that women love to shop more than men. Not all of them but yes most of them love to spend hours browsing through various options available online and offline to shop from. They don't even get tired standing on their feet for long hours and trying a number of clothes and stuff to buy. In fact, I too have this tendency to move from bush to bush, inspecting all the options and varieties available to buy from.

Over a period of time and the spread of internet across the globe has revolutionized the way we shop. There are a lot of people who love to shop at the click of a button and there are some who believes in look and feel of the product before making a buying decision. Due to the paucity of time and to avoid the hassles of travel even I at times avoid going out and buying online. Many people in my family are not convinced with my idea of online shopping but I strongly believe when shopped by a trusted partner you don't have to worry about anything and just enjoy the shopping experience. Shoppers Stop is one such brand whom we trust a lot for the experience they have been offering for many years now. They are an omnichannel player and provides a seamless and unified shopping experience to customers across its multiple channels i.e. Physical stores, Web, Social, TV, and Marketplaces. Hence, I decided to place an order from both the platforms. Today I will be sharing my experience of shopping from both online and offline platform of Shoppers Stop.
Online Shopping Experience
The growing reach of the internet means more and more people are buying things online. Shoppersstop.com offers a truly remarkable shopping experience on the Internet. I recently had to buy something for my daughter and I decided to check the options available. You would be floored to find the range that they offer. From clothing for boys, girls, infants, shoes for all, toys to accessories and healthcare. They have it all. I am a stickler for brands and I really love to buy elite and good brands for my daughter. Shoppers Stop has some really great brands for girls like Mothercare, Life, 612 League, Nauti Nati, Peppermint to the in-house brand of Shoppers Stop named STOP. Before we begin with what I actually chose for my daughter I would like to talk about the website and the look and feel of it.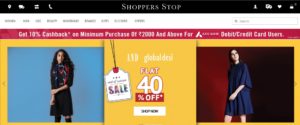 Website Look & Feel- The interface of the website is absolutely neat and clean and very user-friendly. They have very clear demarcation of products available for women, men, kids and other categories like beauty, homeware, brands, gifts, discover and offers. I really liked the offer segment as they have all the current offers listed in one place making it convenient for the users to choose from.
Brands- This is one of the best parts of shopping from Shoppers Stop online as they have a huge range of brands available to choose from. They have brands like UCB, Gini & Jony, 612 League, Biba for girls, Life, Beebay, Nauti Nati, Peppermint, Barbie and much more. They have brands and clothes for all the occasion. In the recent past, I had ordered a traditional outfit by Biba for girls. And I was simply floored with the quick delivery and smooth ordering process.
Shipping & Returns- The Shoppers Stop website offers various payment options like Cash on delivery, Net banking, Credit & debit card payment. While ordering the site requests you to register using an email id or Facebook login. The order mostly gets shipped within 5-6 days (excluding holidays) They have an amazing free return policy on most of the items that you buy from the site within 14 days of time with 100% refund on the products.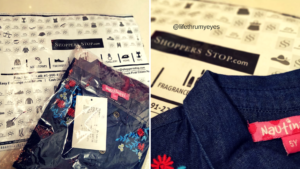 My experience- Well, since we have had a great experience with Nauti Nati products I decided to place an order from the same brand and decided upon a beautiful denim colored shirt with small flowers on the shoulder area.  There were lots of sizes available to choose and I chose 5-6 yrs. since my daughter is almost 5-year-old. As I loved the shirt I quickly added it to the cart. As I was already had a profile on Shoppers Stop so I was saved from one of the steps from the process and I was taken immediately to the last step of payment. There are various options available to pay from like credit-debit card, Wallets, Net-banking, COD, Gift card and E-gift Voucher. In case there is a promo code available you can apply that and go ahead with confirming the amount or you can directly choose your payment option and pay. It's a very simple three step processes if you are shopping for the first time or it's just a one-step process wherein you have to pay after choosing the payment gateway.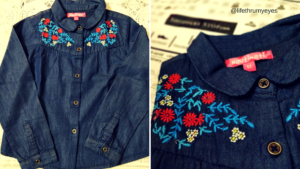 Overall online shopping experience- Overall, I had a wonderful experience shopping at Shoppers Stop online portal. The website is very neat and has a user-friendly layout. It's quite easy to navigate through the site and look for a particular thing. All the information related to products and brands are properly listed on the site and easy for customers to understand. They also have amazing discounts and offers running on the site that is basis the day of the week or as per the occasion like festivals. They have wonderful shipping and return policies. The First Citizen loyalty program is just too good to ignore. Read more about the programme below. I personally like the gifting options available on the site. gift gold coins or you can choose to give a gift card which helps in providing a personal shopping experience.

I am very impressed with the e-commerce site of Shoppers Stop and would love to have more and more experiences of hassle-free shopping with them.
Shoppers Stop who recently celebrated 26th anniversary has redefined its signature shopping experience by introducing features such as Access Anywhere, Buy Anytime, Pay Anyhow, Deliver Everywhere and Return at Your Convenience. Since they are an omnichannel platform they provide similar experience shopping experience in their widely spread offline stores as well. Being a Christmas and festive weekend, we decided to visit the nearest Shoppers Stop store at Westend Mall in Pune.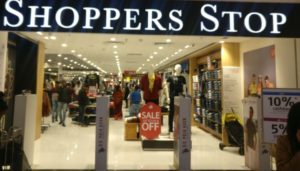 I have been a great fan of the traditional collection available at Shoppers Stop and hence thought of buying something nice for an upcoming function at home. I was in complete awe as soon as I entered the store. From colorful lights, beautiful displays, welcoming sales staff, an array of brands available to amazing discounts and offers. Everything seemed perfect and amazing. Beautifully displayed racks of a variety of clothing caught our eye and we weren't able to decide which one to check out first.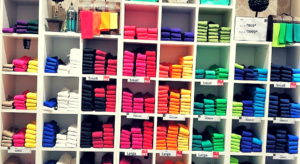 Since I am a personal fan of Biba I thought of checking out the traditional segment first and you would not believe I found the perfect outfit within 5 mins of browsing through clothes at the rack. A beautiful long kurta and contrast palazzo green pants. The combination just took my heart away and I was very eager to try out the outfit. Since the outfit was decided and sealed I started exploring other brands and varieties available. I was astounded to find vast variety and magnificent color combinations available at the store from various brands.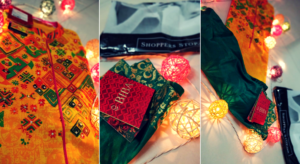 They have some national and international brands like BIBA, Haute Curry, 109F, AND, Aurelia, Global Desi, Go Colors, Kashish, Libas, Designers Ritu Kumar, Rangriti, W, Shoppers Stop in-house brand STOP and many more. They also have some brands exclusively selling on Shoppers Stop like RS by Rocky Star and Rheson.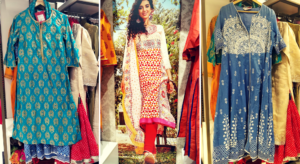 I could see a lot of stuff by the in-house brand of Shoppers Stop, STOP and was curious to check out the collection. The moment I laid my eyes on one of the Kurta hung out there I decided to just pick that up and looked up for my size and tried immediately. They have wonderful collection not just in traditional but in western wear as well.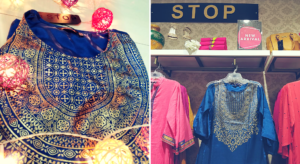 Overall the store has very vibrant and beautiful look. All the brands have a designated place and the latest collection is put up on display. Since winter is roaring at its speed most of the brands have come up with special winter wears from casual, office wear to party wear. Shimmer and glittery tops are on the display to protect from the harsh winter yet provide beautiful style. All the categories that are available in the online store are available at the offline store as well. Men's wear consists of all the top class national and international brands and similarly kids wear is beautifully displayed in the designated area with all the cute and bright colors. Along with a beautiful line of clothing, there are many other categories of branded handbags, travel bags, accessories, homeware, gifting solutions and toys.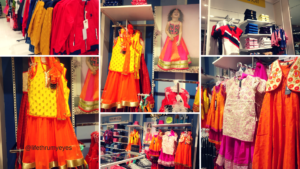 The layout of the store is well ideated and planned for many brands and categories to fit in well. They had two payment counters, one at the ground floor and one on 1st floor with 3-4 cashiers on each counter. Checking out with the products was very convenient and quick. Similarly, they have very good return policies as well.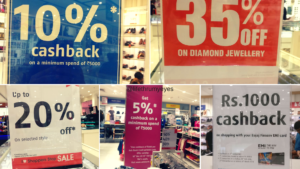 Since we are First Citizen members we got additional points on our shopping. I really like the First Citizen concept at Shoppers Stop that is a loyalty programme which helps you gain & collect points every time you spend money offline and online. One can avail exclusive offers, discounts and enjoy various other privileges after registering a card on your name. While shopping online you just need to enter your First Citizen Card number and during offline shopping, you can ask the cashier to add the points to your card and also redeem if required.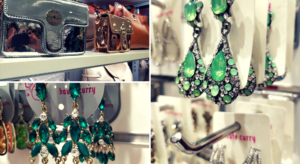 The staff is well trained and pleasant to deal with. Readily available to help in making the overall shopping experience all the more seamless and convenient. Shoppers Stop strongly believes in providing a seamless and convenient shopping experience to its customers and it's absolutely visible across the online and offline platform. With over 400+ Indian and International brands, exclusive brand partnerships (Rheson, Wrogn, RS By Rocky Star, Femina Flaunt, Love Generation, Desigual), unparalleled customer service and iconic private brands (Stop, Life, Haute Curry, Kashish and Vettorio Fratini) Shoppers Stop is the go-to destination for shopping.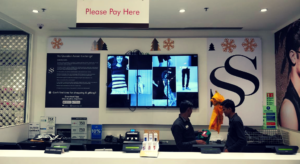 Overall, I simply had a beautiful experience while shopping offline and online as well. The wide range of apparels, toys, games, homeware available at Shoppers Stop ensures you have an unmatched experience while shopping for your family. The store provides you the look and feel of the products and online store allows you to shop your favorite brands from the comfort of your home but also leaves you wanting for more with the exclusive sales and best offers.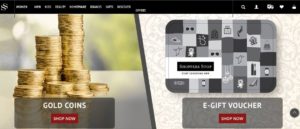 I am sure you would have shopped at Shoppers Stop online and offline as well. Do share your reviews with us and how was your experience with them.
Do check out the store and online site for amazing festive and winter offers, sales and discounts.
Shop Anytime, Anywhere with Shopper Stop.
PC- Clicked by Rakhi at Pune Shoppers Stop Store, Westend Mall, Aundh