When you're preparing for the arrival of your bundle of joy, you look up everything on the web, to ensure that you only buy the best. From choosing the best car seat, pram, clothing, diapers, to the most efficient and safe feeding bottles and much more— you do thorough research on everything. This entire process can be quite overwhelming.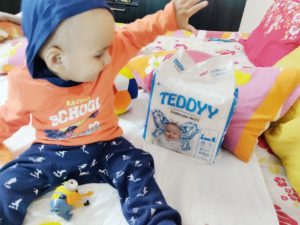 Most parents ensure that they get most of the items listed on their checklist and place the order well in advance of the baby's arrival. However, there is one important baby essential that often gets missed by the parents while they are on this shopping spree. Yes, it's none other than the changing mats.
Diaper changing can be an unpleasant business. Even when the baby is being cooperative, it can get gross while changing those nappies. And if you have a squirmy or fussy baby on your hands, then it only gets worse.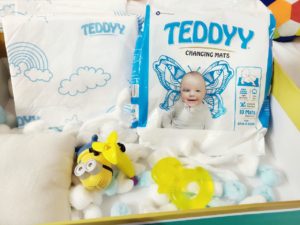 So, what's the most hygienic way to change a diaper? How can you make it as clean as possible and limit the spread of germs in your surroundings? Well, having a changing mat is the best solution for all. A few months back when our son was born, we came across Teddyy Changing Mats and instantly bought it. We have been using it ever since and had a great experience with it. So, now I have decided to share my detailed review of these changing mats and its utilities with you, my readers.
Teddyy Changing Mats are one of the most important baby essentials that I have added to my baby care routine. My son has sensitive skin and initially, we couldn't use diapers to keep him dry and clean, and that's when I got to know about these mats and its utility. Since it's soft, we could just make our son sleep over them directly, without us having to worry about him lying in the pee puddle. These mats absorb liquids quickly to keep the baby dry and comfortable, for quite a long time. Here are a few other key features of the mats that I simply loved: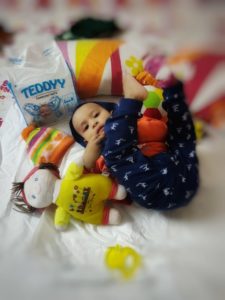 1) Antibacterial sheet- The changing mats have an antibacterial cover on it that keeps the baby protected from germs. You can directly make the baby lie over it without worrying about him contracting an infection or disease.
2) Waterproof back sheet- The back sheet on the mat is waterproof that helps in avoiding stains on the surface where you are keeping the mats for use. Trust us, you really don't want to get baby poop on your expensive bed cover—it doesn't come out!
3) Spill-proof- The changing mat is made with a crisscross design that helps in trapping any sort of leakage or spills. So, you can directly put this mat on your bed, without worrying about the bedsheet getting spoiled due to whatever is happening on the mat.
4) Soft & Spongy material- The mat is made of absolutely soft material, and it also absorbs the liquid faster to keep the baby dry and comfortable for a long time.
So, you see these amazing features make Teddyy Changing Mats a must-have in your baby essentials kit. These changing mats have been a constant part of our life now. These mats are not just meant to be used at home, but they are also useful when you are on the go. Here are a few other uses of mats that can help you manage your child well.
1) Your travelling companion on the go- Diaper changes are an inevitable part of parenting. Babies may need their diaper changed 10 times in a day (or more!) to help keep them clean and fresh. To ensure that the nappies are changed in a clean place, you can easily carry these Teddyy changing mats along with you anywhere and everywhere and ensure that the baby always has a clean surface to lie on during the changing sessions.
2) Use as a crib/bed protector- Not just for a newborn but these changing mats are a great support for older babies too when they start to move a little and can spoil the surface below them with drool, puke or accidental poop coming off the diaper. You just need to keep the baby on these baby changing mats and allow them to have fun without worrying about the bedsheet or the crib getting spoiled.
3) Ideal for mum's post-partum- They are also ideal for mums to sleep on post-partum, and can also serve as a safe and hygienic surface to give your baby their all-important 'airtime' and as a bed protector. You can ensure your baby is protected from any germs and irritants present on surfaces, be it in the hospital or after reaching home as well.
4) Help reduce laundry- Changing Mats prevent unnecessary washing of linen, especially when your time and energy are in short supply while managing a baby all alone. So, you see how hassle-free and hygienic these mats are?
5) An added layer of protection- These mats are a great way to add an extra layer of protection to keep your baby healthy and safe from germs. You can use these while you are staying in a hotel, travelling in a car, putting them in a pram, crib, and cradle. You can keep these mats on your lap and make the baby sit on it to avoid getting your clothes dirty from an accidental spillover or leakage from diapers. It has multiple uses and can be used the way you like.
6) During oil massage- You can also use these mats to protect your bedding from getting soiled with oil during oil massage.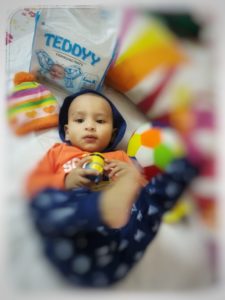 Changing a diaper may seem daunting at first, but trust us, you'll get the hang of it — and this diaper duty must-have will help you pick it up even faster. These changing mats are great value for money and come in a hygienically sealed sturdy packaging. It comes in a standard size and is more suitable for younger babies. With your baby in a diaper, you can use it for 2-3 times by storing it in a clean environment. Available in a pack of 10, 30, 60 and 120 mats, it can easily be bought on online shopping sites and is a perfect addition to any nursery. Do buy these and discover how economical and highly versatile these disposable changing mats are.
The amount of stuff a newborn may need can take any new mom or mom-to-be by surprise. So, which are the baby items that you skip, and which are the baby essentials you can't live without? Do share with us in the comments below.
#SuperMats ForSuperMoms
For more on parenting stay tuned with us on Lifethrumyeyes here! If you are a brand and would like to see your products reviewed, please send an email on lifethrumyeyes11@gmail.com or you can also connect with me by clicking on any of these on Facebook | Twitter | Instagram.
Copyright Notice- Unauthorized use and/or duplication of this material without express and written permission from this site's author (owner) is strictly prohibited. Excerpts and links may be used, provided that full and clear credit is given to Rakhi Parsai (Lifethrumyeyes) with appropriate and specific direction to the original content
Stay happy stay healthy.
Cheers,
Rakhi