Diwali, diyas, lanterns, lighting are synonymous to each other. With a huge variety of decorative items, kandeels, torans, diya's available in the market people are spoiled for choices. Given the options available in the market, lots can be done to refurbish your house and make it look dazzling this Diwali.
Makeovers are not very difficult, it just requires a little bit of your creativity to come out and adding a splash of colour here and there in the house. The intelligent shuffling of furniture can also make your house look new and beautiful. Also, do keep in mind that decoration is not always about buying new stuff and decorating the house. You can use old stuff and decorate in a beautiful way.
Here are some simple tips to dazzle your house last minute:
Flower Decoration: I am sure you would have a nice porcelain or a metallic vase at home. It's the time of the year to bring them out and put some fresh flowers into it to add that required colour in the house. If you have creative juices flowing you can buy the flower arrangement sponge which is not very expensive and place it in a glass bowl (I am sure we all have glass bowls) and arrange fresh flowers in a way you want to. You can also decorate a corner of your house with flower rangoli. This adds a traditional touch to the house as well.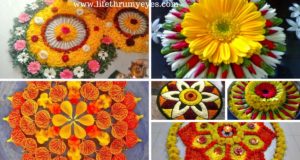 Diya arrangement: Well, Diya's are the heart of Diwali and decoration without them would be incomplete. These days lot of unique Diya's are available in the market. Buy them and you could make your kids paint it with dazzling colours to dazzle you home and Diwali. Since Diya's are not very expensive you can buy as many as you want and light up your entire house.It will also help the artisans make good money. Just be careful while placing the Diya's so that it does not cause any mishaps. Keep safety precautions in mind.
Curtain Decoration: If you can buy new curtains then great if not then also don't worry. You could do a lot with existing curtains only. You can make a fresh flower garland and place it artistically around the curtain rods. If you do not want to put fresh flowers you could try artificial flowers garland. You can also find artificial creepers of leafs which will change the look of your house and give new life to your curtains. You can hang a paper lantern at one end of the curtain rod and light up the area. If you are creative and willing enough stick small mirrors with temporary glue on the curtain, the curtain will light up like a new one.
Rangolis: We all have drawn rangoli in our house at some point in time. What could be a better day than Diwali to bring out all the colours and stencils to welcome goddess Laxmi in our house with beautiful rangolis. Many creative people are bestowed with the art of making traditional rangolis (Sanskar Bharti). However, do not worry if you are not perfect at making huge rangolis. Markets are full with equipment and stencils to help you make huge and creative rangoli designs. This equipment comes very cheap and helps in adding all the beautiful colours to our celebration.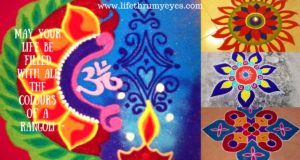 Lighting: Well, as mentioned above Diya's are the heart of Diwali. Similarly, this festival of lights and welcoming of Lord Ram as per our mythology is incomplete without lighting. With Chinese market opening its doors to us, lots of cheaper electrical lights are available in our markets. String lights have a huge variety, so you can buy any coloured and styled string light as per your choice and budget. If you want to add a little bit of creativity then you can place small string lights in a big glass bottle and keep on a corner table in your house and wait to see the magic unfold. Lights definitely light up the exteriors of our house however, you can place them on curtains in the house to light up the interiors as well. So what are you waiting for go ahead and buy these twinkling lights and add sparkle to your lives?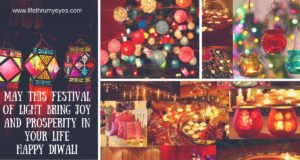 Change pillow/cushion covers: It's not always about decorating your house with new things. Replace the diwan sets or cushion covers with an existing old bright coloured set. You can try adding few beads and mirror pieces on the cushion to add the sparkle and bring in newness. You can't even imagine with such a small change how beautiful your house can look. You can also use old silk sarees which are not in use to make curtains or cushion covers.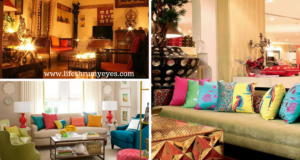 Shuffle the furniture: This may sound like a task to move the furniture here and there but trust me just be changing the location of your furniture can add the much-required change in your house. I do this often when I am bored with one look of my living room or my bedroom and it does the trick. Recently while cleaning my house I did this with my daughters (3-year-old toddler) room and when she saw the change her expressions were priceless and believe me it was worth the efforts.
Hope you find these ideas useful. It's always better and helpful to start preparing for Diwali at least 15 days in advance. But even if you have not prepared ahead and wondering what you can do as a last-minute measure, you can quickly arrange diyas, lights, ready to use rangoli and flowers etc and get started. Diwali is anyways the festivals of lights and diyas. Go buy some and let your creative side take over for the Diwali decoration.
Wish you a very happy Diwali and a prosperous new year!