Skincare is the most important part of the daily routine once the baby is born. It's crucial to ensure that the baby feels comfortable with the products that are being used for skin care. After having lived in the mother's womb for over 9 months, entry in the outside world puts them at potential risk of skin problems. In those early days after birth, it becomes evident that your baby's skin is going to need constant attention and nourishment.The skin of the baby is thinner and less elastic than that of an adult's, which makes it more prone to skin conditions like rashes, blisters, and acne. Using mild and hydrating skin care products is the key to keeping your baby's skin supple and soft throughout the cold and wet winter season. Keeping the upcoming winter season in mind today we are going to be talking about the baby care range by Aveeno Baby.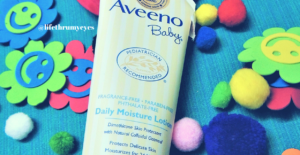 A newborn's skin is very sensitive hence it needs special care every day. I am sure all the moms would agree that it's difficult to zero down on one skin care product which is going to be best for your baby. Finding the right daily skincare routine and safest product with natural ingredients means a lot for comforting your baby's skin. Let's dive into the world o Aveeno Baby new range of skincare products. I will be focusing on the Aveeno Baby Daily Moisture Lotion in this review.
We all are very well aware of the benefits of oats when consumed directly. Well, here is one new thing which I wasn't aware of that it is also beneficial for the skin. Yes, you heard it right. Oats help prevents acne and improves complexion. They even act as a natural skin cleanser. It has got antioxidant and anti-inflammatory properties which help in treating itching associated with dry and irritated skin. So now that you are aware of benefits of Oatmeal you would agree with me that it's one of the magic element in the Aveeno Baby Daily Moisture Lotion.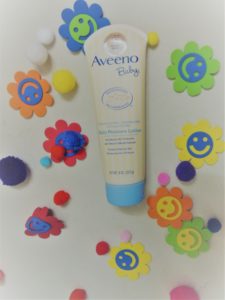 Key features

1) Pediatrician recommended
2) Combines natural oatmeal with a special moisturizer to soothe and relieve dry, irritated skin.
3) It relieves dry, itchy, irritated skin due to: Dry Skin, Rashes, Diaper Rash, Chicken Pox, Eczema, Insect Bites, Poison Ivy/Oak/Sumac.
4) It is made with natural colloidal oatmeal – a long recognized ingredient that relieves dry, itchy and irritated skin.
5) Moisturizes for 24 hours
6) Fragrance free
7) Paraben-free
8) Phthalate free
Packaging
The lotion is packed in a soothing off-white colored tube which has an equally soothing pale blue colored cap. The tube has a screw cap which has a flip cap on top of it. Below the screw cap, the tube opening is sealed with thick paper-like material to prevent the lotion from leaking.The cap shuts firmly with a click sound and has a big groove to open it with ease. All the necessary information are labeled on the tube very well. Anyone can refer the label and understand the details about ingredients and direction to use.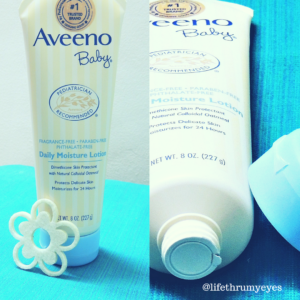 Ingredient
Dimethicone, Allantoin, Benzyl Alcohol, Cetyl Alcohol, Distearyldimonium Chloride, Isopropyl Palmitate, Glycerin, Petrolatum, Sodium Chloride, Water and Avena Sativa (Oat) Kernel Flour.
Fragrance
It's a fragrance-free product.
Colour & Consistency
The white colored lotion is white in color and has semi thick and thin kind of consistency which doesn't flow like a water but also doesn' gets stuck in the tube. The lotion needs to be rubbed on the skin for a while to get absorbed in the skin completely.
How to use
Apply the lotion directly on your baby's skin as required and massage it gently. My daughter has a sensitive skin so I applied this right after the shower and before going to bed at night. I would also like to state that the formula is quite rich without being greasy and doesn't need re-application unless you bathe your child again.
Lifethrumyeyes take
Aveeno Baby Daily Moisture Lotion has a unique texture which is non-sticky making daily application easy. Beyond immediate soothing, the lotion spaces out flare-ups of severe dryness. Supple and soft, skin regains a durable comfort. Once a day application to very dry and irritated skin on the face and/or body, pre-cleaned with a gentle soap-free product is sufficient to ensure 24 hr long comfort to the skin. I loved the fact that it provides lasting hydration leaving skin feeling soothed and more comfortable and to help space out feelings of dryness.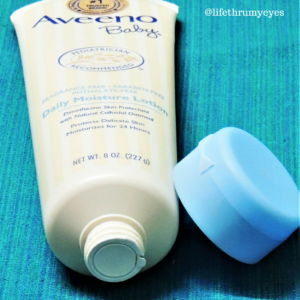 Using twice a pea size amount of the lotion is more than enough for both the arms.The lotion applies quickly and gets absorbed without much rubbing. It feels slightly sticky for an initial couple of minutes which subsides gradually. My daughter has very dry and itchy skin especially on her back so applied little more quantity on her back which seems to have worked wonders since she has stopped scratching.
Overall the lotion has performed exceptionally well on my daughter's dry skin on the body. I have stopped using any other lotion ever since I started using Aveeno Baby Daily Moisture Lotion. Having said this I would recommend it all the more to other moms as its Pediatrician recommended and is free from fragrance, paraben, and phthalates.
Use this exclusive coupon code to experience Aveeno on FirstCry with extra Rs.100 AVEENOBABYMJ
Price
It's priced at INR 799 for a tube of 227 gm.
What Could Be Better
I only had an issue with the size, as it's a little inconvenient to carry around. Introducing a smaller version would be great for travels.
Where can you buy- It can be bought from FirstCry here 
Also, Read- Early Childhood Nutrition & Its Importance For Child Development
Other products by Aveeno baby are given below.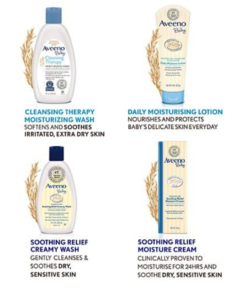 Disclaimer- The product was sent by an agency for review. However, the opinions in this post are my own and basis my experience with the brand and product. It's advisable if you do a patch test of all skincare products before applying all over the body. If any irritation is noticed better to stop the application and consult a doctor. The content mentioned in the post is for creating awareness about the brand and product and is in no way a replacement for professional medical advice.
I am taking part in the #myfriendalexa campaign by #blogchatter. This post is a part of this campaign.
Hope you liked the review. Do share your experience with skincare issues and products that have helped you the most.