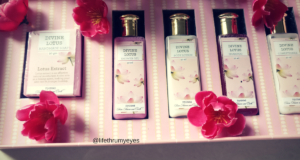 Most of the times when shopping for my skin care products I stock up everything in advance from moisturizers, lotions, hand creams, shampoos to conditioners. However, there was one very important skincare products that I used to give a royal snub until recently I got to know about the benefits and its importance in skin care. It's none other than bath salts. Yes, these are small and amazingly fragrant crystals which come beautifully packed, loaded with fancy ingredients that none of us can ignore. I recently got a beautifully packaged bottle of Bath Salt and Handmade Soap by Nyassa Bath & Body. And today I am going to take this opportunity to share my experience with this amazing

I got beautifully packed and sealed Nyassa Bath & Body Lavender Bath Salts and French Lavender Handmade Soap. They have nailed it on the fragrance department. Even without opening the pack I could smell it and feel the richness. Well going into the details of each product for the better understanding of both.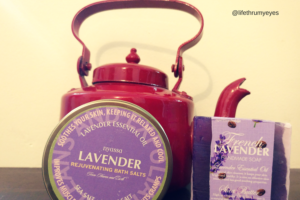 Nyassa Bath & Body Lavender Bath Salts
I used to always wonder how it would feel to just have a nice long soak with beautifully smelling essential oils and tub sprinkled with bath salts. Recently I got the opportunity to experience it with Nyassa Bath & Body Bath Salt and what an experience it was. Completely rejuvenating and relaxing. It's a beautiful light purple in color which is quite appealing visually. Read on to know more features.
What the brand claims: Soothes skin and keeps it relaxed and cool. It also improves muscle strength and tones it as well. Helps in preventing cramps.
Packaging: The bath salt came in a beautifully packed small round transparent tub which makes it look very cute and can be used later also once the bath salt gets finished. The golden screw cap gives it quite a rich look. The best thing part about the packaging is the product information which makes it easier for one to make out what the product actually is. It has everything labeled on front and back side for users to refer easily.
Colour: The bath salt crystals are beautiful light purple in color.
Fragrance: It's a very strong fragrance which might strike you for a second if smelt too closely from the bottle. However, when mixed with water it
How to use: Take a bucket of fresh water, preferably luke warm water. Add a small portion of salt in the bucket and mix it well. Add 1 spoon of salt in the bowl of water for manicure and pedicure. Soak yourself for good 30 mins and relaxes your body. Bath salts can be used for multiple purposes. For a regular bath add a large handful into a running bath for a relaxing soak. If you wish your bath to be more therapeutic than add two large handfuls into the bath. These salts can be used as salt scrubs as well. Mix them with water or oil and massage gently onto wet skin to exfoliate your skin. Sprinkle a small amount into the water for your manicures and pedicures as well!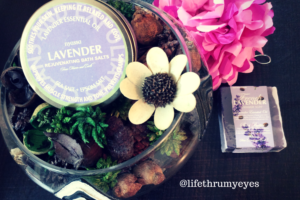 Lifethrumyeyes take on the product: For all the benefits bath salts stands for, Nyassa Lavender Bath Salts proves them all true. Lavender fragrance and essential oils are known to ease the tension in the body, relieves pain, enhance blood circulation, disinfect scalp & skin & it also treats respiratory problems. Lavender is also known for its antifungal properties hence I find it to be best to treat skin problems and sunburn. Loaded with so many benefits I personally found my skin to be supple and moisturized after soaking myself in the Nyassa Bath & Body Lavender Bath Salts. I usually get tired after a full day of work and found that soaking my tired feet in Lavender Bath Salts relaxed my body completely. It has beautiful fragrance which is an add on as it relaxes the tired mind too. Bath salts carry many benefits beyond its fragrance and these colorful crystals can do a lot more than just easing your body pain, the benefits of bath salts are far-reaching, and after using bath salts you'll feel the difference in your skin, your mood and more. Price for the benefits it provides is completely justified. Overall, it's a wonderful product and I found that whatever the brand has claimed they have fulfilled it hence I would recommend this to everyone.
Price: It's costed at INR 400 for 220gm
Where can you buy: Nyassa Bath & Body Website
Nyassa Bath & Body French Lavender Handmade Soap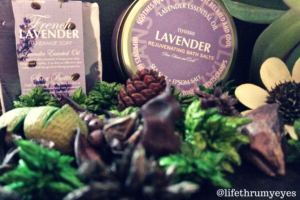 Skin is known to be the largest organ of our body and it needs to be treated well. When we think twice about what we eat then we should think 10 times about what we apply on our skin as it will have a direct impact on what goes inside our body.
What the brand claims: Brand claims that the lavender oil present in the soap acts as a natural cleanser which keeps the skin bright and healthy. It is also effective as a relaxant and has good soothing properties. Aside of this it also has Shea Butter that has high vitamin A and E that acts as a moisturizer and protects from the harsh sun. It also makes the skin look more lustrous.
Packaging: Beautiful packaging with a transparent cover which shows the insides of the soap as well. The product has all the necessary information labeled properly on the outer cover in front and back side.
Colour: Yet another beautifully colored light and dark purple soap. It looks like a yummy cake that one can really devour.
Fragrance: It has got strong floral fragrance which one can make out without opening the transparent cover on the soap. In fact, as soon as I got the packet I could smell this beautiful soap from the carton as well. Yes, I do have strong smelling power. 🙂
How to use: Wet the soap and rub it till it foams, apply on your wet body, massage it all over and then rinse well. For optimal longevity, keep the Nyassa Bath & Body soap in a well-drained soap dish between uses.
Price: It is costed at INR 400 for 150 gm bar
Lifethrumyeyes take on the product: As it claims it's a wonderful product which stands true on the benefits of Lavender and Shea Butter. The skin felt clean and smooth like never before and the fragrance is so strong that it lingers on the body even after a long hour of bathing. I personally prefer strong fragrance hence I loved the soap and its texture. It's very smooth and glides on skin very well. Lather formed after rubbing the soap on hand is just perfect. It doesn't leave any sticky kind of feeling and gets washed immediately after pouring the water. So the best thing I liked about Nyassa French Lavender Soap.
Where can you buy: Nyassa Bath & Body Website
So, you read up my experience about these two wonderful products sent by Nyassa Bath & Body. The wonderful team at Nyassa Bath & Body was kind enough to send me a beautifully packed gift set as well from their latest range. It's a wonderfully fragrant Lotus gift set. And trust me you would fall in love with it just like I have. It's a beautifully packed gift set for any occasion and can be gifted easily to any of your loved ones.'
Nyassa Bath & Body Gift Sets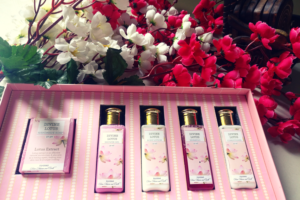 What's in the gift set: Divine Lotus Shower Gel, Body Lotion, Shampoo, Conditioner and Handmade Soap.
Packaging: Packaging is superb and completely unbeatable. It comes in a beautiful pink box which has got 4 small bottles of lotion, shampoo, conditioner, shower gel and one handmade soap. As soon as you open the box you can make out the rich fragrance of lotus. The packaging of all the bottle is fantastic and leak proof. It has a nice label which reads Divine Lotus on all the products. And it is indeed divine.
Fragrance: All the products have lotus fragrance which is divine to the senses and very-very pleasant to use. The fragrance can also be felt on your skin after shower or even after applying body lotion a few hours back.
Price: The gift set is costed at INR 999 for 5 items in all.
Where can you buy: These are available on the Nyassa Bath & Body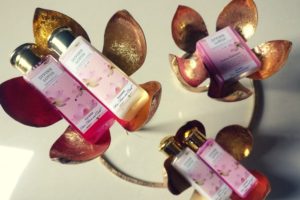 Isn't this brand lovely? They sure have found the perfect formula to treat your skin and mind in a holistic manner. Loaded with all the beautifully fragrant essential oils, products by Nyassa Bath & Body are simply wonderful. If you are looking for products to soothe your body and mind and to not worry about the harmful chemicals than Nyassa Bath & Body is your go to brand. Since the Nyassa Bath & Body Lavender Bath Salts and Handmade French Lavender soap that I got are chemical free and loaded with natural oils benefits supplemented with important vitamins and Shea Butter. Also after seeing and using the products in the gift set, I would sure suggest this to be the best gifting option for your near and dear ones. It's a wonderfully packed gift set which will delight the one who receives this from you.
I am going to for sure recommend this brand to everyone and would love to gift my loved ones with the amazing gift sets they have to offer.
Also Read
Benefits Of Using Natural Products Here
I am taking part in the #myfriendalexa campaign by #blogchatter. This post is a part of this campaign.
Post 3- Alexa Ranking. Global-1,296,892 India- 75,180  
Other Posts from #myfriendalexa campaign can be read here
Follow more on this campaign and interesting content around parenting, lifestyle, nutrition and much more on #lifethrummyeyes