What you eat today will impact how you live tomorrow
Motherhood can be an amazing experience but at the same time, it makes you all the more cautious about every small thing in life.From being finicky about hygiene to being careful about what is being fed to her kids and family, the emotions are varied when it comes to ensuring a fulfilling life for the family.Well, I was no different when I got into domesticity and later motherhood. I wanted to ensure that my family gets the best of everything from good life to good food to healthy living. When my daughter started eating vegetables and fruits my major concern used to be the freshness and the quality of the produce. I have always been very careful about what she eats as she has the habit of nipping on raw vegetables.
Being a working mum and dependent on the internet like most of us, I started looking online for best possible options of buying fresh fruits and vegetables and to my pleasant surprise, there were quite a few doorstep delivery choices. These tell you where the veggies come from when it was harvested and the likes. I was literally thrilled with the idea of trying out the same.
Well, one can't miss these small delivery vans with vegetable illustrations on them plying around your area, advertising fresh vegetables.The desire to eat fresh and healthy is driving the whole nation which led many brands to introduce organic and fresh vegetables & fruits from farm to doorstep. One such dedicated Pune-based residue free brand "Earth Food" gave me an opportunity to relish a basket full of exotic and Indian grown vegetables by them. From juicy Cherry Tomatoes, Green Celery, Basil Leaves, Zucchini, French Beans to plump Brinjal grown in their farms, they offer a whole selection of vegetables, greens, fruits, herbs, and more. All the produce at Earth Food are grown in the purest form without exposing them to harmful chemical fertilisers or pesticides and are sold to customers without adding preservatives and synthetic food enhancers. Gone are the days when we used to walk along the narrow lanes of vegetable mandi and pick up the best possible vegetables for our family. Here comes brand like Earth Food which brings health to your doorsteps.
I got nicely labelled and packaged vegetables in a huge bag from Earth Food. With proper branding, the vegetables had all other requisite details as well. The sheer sight of so many fresh vegetables stimulated my brain to zero down on a particular recipe where I could craft something exotic. In fact, I can't recall last time when I had found tomatoes to be so juicy and sweet. Fresh curry leaves, drumsticks, lady finger and cherry tomatoes made me crave for hot sambhar with steaming idlis. And thus our journey with Earth Food began with Sambhar. Each and every piece of vegetables in the bag looked extremely fresh and tasted very nice. I loved the way the vegetables were packed as it's been a week since I have been using them and they still look so fresh in my fridge.
My Basket of Veggies from Earth Foods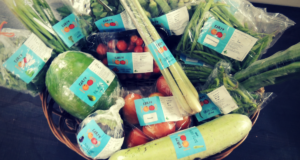 Sharing few reasons for all the puneites to try out Earth Food and to relish the freshness and health supplied by them.
Reasons you should go for Earth Food
No Pesticide and Preservatives: As I said being a mum can be a huge task wherein you are responsible for feeding the best to your child. With all the concerns looming around about the use of pesticides and chemicals in vegetables I always worry about what if's. Well, to my relief, Earth Food ensures that the produce is grown without any chemicals and preservatives. I had no fear of any pollutant or toxins being fed to my family and could let my daughter nibble on raw veggies as well.
Freshness: It's been over a week that I got the veggies delivered and I can still say they are fresh and good for use. Packaging is such that it ensures vegetables retain the natural moisture and are fresh for a long time. These vegetables are harvested when they are naturally ripe and thus fresher and full of flavour.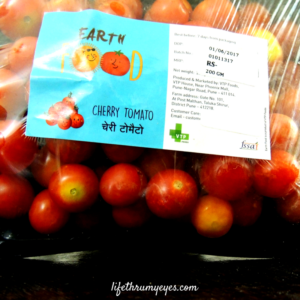 Better Taste: I can't forget the way Juicy Cherry Tomatoes burst in my mouth giving the sweet taste and soft texture while chewing. In an Indian household, you would for sure find Kadhi to be one of the delicacies and we all love "Drumstick Kadhi" at home. So having Drumstick sitting peacefully in my fridge led me to make some steaming Kadhi and I was really taken by a surprise. Usually, it used to turn little sour but Tadaaaa with the one that got delivered to me it tasted amazing. So yes I can very easily say these vegetables had far better taste then what we usually find in the market.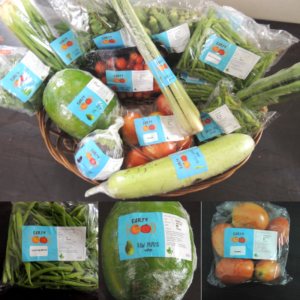 Overall Health: Research suggests that choosing residue free food can lead to increased intake of nutritionally desirable antioxidants and reduced exposure to toxic heavy metals. Since residue free food is not prepared using chemical fertilisers, it does not contain any traces of these strong chemicals and might not affect the human body in negative ways. So yes it means that these vegetables are good for the overall health.
Environmental Safety: Since no chemical and preservatives are used in these vegetables They use less energy, help to conserve water, reduce soil erosion and increase soil fertility.
Pricing: All the vegetables are affordably priced and it actually doesn't pinch to shell out a penny or two extra to ensure your families good health. In fact, I found these vegetables to be cheaper(affordable) in comparison with many other organic vegetable providers.
Earth Food USP: They are efficiently bridging the long lag between the harvest and the buying time, transporting the produce in hygienic conditions. Also, they are trying to avoid the problem of multiple human touches as the nutritional value of the product decreases because of these factors. The fruits and vegetables are harvested, inspected and packed on the same day. From there on, it goes to retail outlets in AC vans with minimum travel time. What else can we ask from a brand but ensure good health?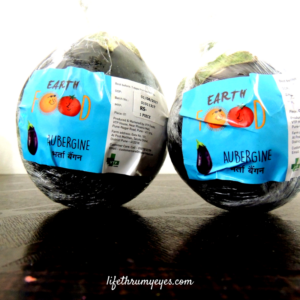 Residue free food has gone from fad to regular feature on supermarket shelves. I have heard many people asking whether it is worth buying because it's often more expensive than regular produce. I would say health doesn't see costs. If you can afford it, go for it. If not still try to eat healthily and be healthy. There is a famous adage that we live to eat and we eat to live. Hence it goes without saying that food is an important part of our lives. Overall I loved my experience with Earth Food and I am really happy that in Pune we have a brand who I can trust for all my grocery needs. Go ahead puneites and place your order today on their website.
Overall Ratings- 4.5/5
Where to buy: www.theearthfood.com
Follow their healthy journey on Facebook & Website
Related Posts
Read More About Organic Skin care Here