With the festivities going around for some time you must be surviving on fruits the last few weeks with a hope to fit in perfectly into that recently acquired size zero salwar kameez on Diwali. I am sure you must be delighted with the recently lost inches and kgs. Well, don't jump with joy yet as you can easily pile on multiple pounds, post the festival.
This festive season we are 14 bloggers who have come together to celebrate the spirit of Diwali in a pataka way. I would like to extend heartfelt thanks to a wonderful blogger and a mom Deepa Gandhi who blogs at Kreative Mommy and perfectly manages her family with healthy and yummy food and lots of love.
While it is normal to gain some amount of weight during the festive season, enjoying your favorite festive foods doesn't necessarily have to be accompanied with weight gain, especially if you make smart choices. In addition to being careful about what you eat, portion size, and meal timings, there are other lifestyle changes that you can make, that will allow you to enjoy Diwali sweets, without the round Diwali belly causing trouble for you to fit in those beautiful clothes of yours.
Today I am going to be sharing tips that will keep you healthy and well maintained this festival season? Read these diet and healthy eating hacks to control weight gain.
Avoid starving- Dieting according to me is the worst and skipping meals along with starving yourself is a strict no-no. Starvation leads to intense hunger pangs which lead to overeating that you normally wish to avoid. Hence in order to enjoy the delicacies don't starve your body. Have a balanced meal.
Increase liquid intake- Instead of starving to enjoy the festive food, I would suggest that you go for healthy drinks like buttermilk, vegetable & fruit juices, and coconut water, as well as water. At times thirst gets confused with hunger and we eat more. Hence ensuring good liquid intake will help you stay away from overeating. In fact, you can binge on healthy snacks like soups, toast, fruit salads, and pulses as well.
Also, Read- Detox tips post Diwali here
Control your portion size- Its always better to watch your portion size as in most cases overeating is a concern rather than what you eat. If you are in a situation where you don't get healthy food choices then it's better that you stick to small portion size. You can opt for lots of salads and steamed vegetables which are low in calories and rich in nutrition. If you are in the party then have healthy salads first so that there is not much space for other food.
Go easy on sweets- Well, this may seem like a very difficult task but it's important that you resist the temptation to hog on the delicacies. If you can't resist and avoid them, then try to share them with someone instead of gulping it down completely.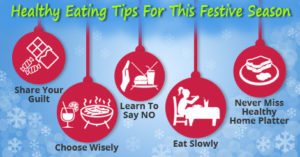 Also, Read- Tips to ensure safe Diwali with your kids here
Cleanse your system- While it is impossible to avoid the delicacies and the flavors of the season, so you could keep your body clean after indulging in sweets and fried foods. Have herbal tea thrice between meals to keep yourself free from toxins and wastes. Many herbal teas have been shown to boost metabolism and they can also helps in weight loss. Have lost of fruits and high fiber diet as it helps to cleanse the digestive system, increasing the elimination of wastes from your body.
Say no to fizz- It's ideal to stay away from aerated drinks. They might feel good going down your throat, however, the sugar content in that helps in only piling up the extra pounds. You can go for lemon water or any fresh juice instead.
Say yes to baked food- Howsoever tasty fried snacks, puris, chakli, and sev are all full of calories. Baking your snacks is a good idea instead. You can also go for steamed snacks which are healthy yet tasty too.
Low-calorie sweets- It's a great idea to make sweets with alternatives. Instead of using sugar, you can use jaggery as its healthy and less calorific too. You could make Ragi, Jowar, Bajra or suji ladoos which make for healthy eating options. Try and use soya milk instead of whole milk which is full of fats.
Also, Read- Ways to clean your house this Diwali here
In addition to all the dietary tips and suggestions, it's advisable to also move your body and do some physical exercise. The calories that you intake every day during the festivities can be kept in check if you exercise daily. 20 mins of walk in the morning and evening can help you shed the calories that you add on. Aside of this watching what you eat plays a major role in ensuring you control your calorie intake during the festive season.
The train is now ready to leave Pune and reach Delhi on yet another wonderful blog owned by a beautiful lady Amrit Kaur. Writer and Graphic Designer by profession she writes on beauty, food, fashion, and lifestyle. Hop on the train and stay tuned to read what Amrit has to share with us this festive season. Over to you!
I am onboard on #PhatakaBlogtrain in association with Moshank Relia, Bouteilles Up & Satthwa.
Indulge in your favorite food but in moderation this festive season! Wish you a very Happy Diwali in advance!