After having worked in the corporate sector for over 11 years I took a break recently to enjoy my life just as a mother and to pamper my daughter with all the love and care. Amidst the pampering and caring of my daughter, I missed some me time and self-pampering sessions due to the intermittent chaos motherhood throws at you. My trips to parlor got scarcer and almost on the need basis. The life that was once absolutely prim and proper had become mundane and badly lacked charm.
Motherhood is a beautiful part of a woman's life. However, it throws at us various hurdles because of which we forget to take care of how we look and dress. Hair that was once perfectly done and makeup that made you look like a stunner no longer matters as you are so busy in fulfilling the needs of your child. All because of the hectic schedule that does not give you time for yourself. This is when you need magic to help you pamper yourself. I recently found my magic in UrbanClap.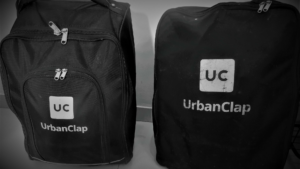 UrbanClap is a one-stop destination for all urban lifestyle services across the major cities in India — Delhi, Mumbai, Bengaluru, Pune, and Hyderabad. It offers a host of services from the salon at home, wedding & events, and health & wellness to home cleaning & repairs, lessons & hobbies and more.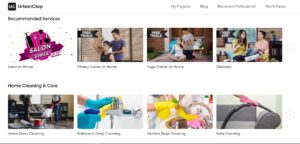 Being a full-time mother, a freelance professional working from home and a blogger as well keeps me very busy and leaves me with no time to pamper myself. This is when I thought of leaving myself in the able hands of UrbanClap and avail beauty services and get treated like a queen. I had a long list of services to avail, given the hectic schedule of the past few months so I placed an order with a laundry list of beauty services like Hair Spa, Waxing, Manicure-Pedicure, Nail Filing and polishing, Clean up and much more. And in today's post, I will share my experience of the Hair Spa and Clean-up services offered by UrbanClap.
Booking the appointment was quite easy and the process took me hardly 5 mins once I had decided the services to be availed. All I had to do was look up for the service, select the date and time as per my convenience and the appointment gets quickly confirmed via an SMS. That's it! Could you believe how quick it is? I am sure not, do try out the Android or iOS app and check for yourself. So, let's deep dive into my experience with UrbanClap.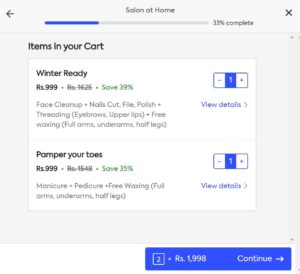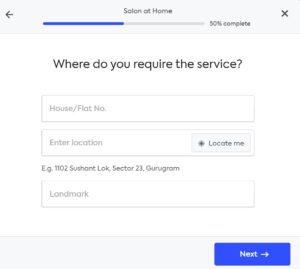 L'Oréal Hair Spa
Strengthens hair follicles, nourishes roots and revitalizes the scalp
Pune has very hard water which adversely affects hair the most. Dry, frizzy and dull hair made me choose hair spa as one of the services from UrbanClap. I was really happy to see that they use trusted and well-known brand like L'Oréal. At that moment itself I knew I was in safe hands. The beautician had all the accessories ready and placed on a table for quick use and access (Shown below). I was given a sealed and packed disposable gown and a neat disposable mat was laid on the bed before beginning the services. She then started with detangling the hair and simultaneously spraying water. Meticulously the hair was divided and clipped to ensure the spa cream gets applied to all the hair. Once the cream was applied to the entire hair and scalp then began the best part i.e. massage. I so needed a head massage and couldn't have asked for more.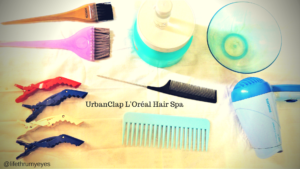 I almost fell asleep while the session was on and woke up to a light head and a rejuvenated mind. The cream was supposed to be kept for half an hour post giving the steam on the hair and then I was asked to wash it with plain water.  After a long wait, my half an hour got over and I took a head wash. I was pleasantly surprised as I had never felt my hair to be this soft and bouncy. They looked smooth and straight. I simply had an amazing experience with The L'Oréal Hair Spa. I am sure going to avail this service again as its economical and so quick at the ease of your own house.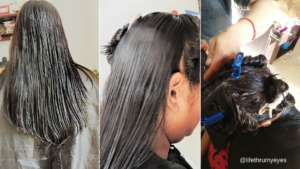 Time: 45-60 mins including hair wash post the session
Pricing– It is priced at INR 779 and is quite economical. UrbanClap has two packages, one for hair till shoulder length and one for hair till waist length. I have hair till shoulders and hence I availed this package. The other package of hair till waist length is priced at INR 1249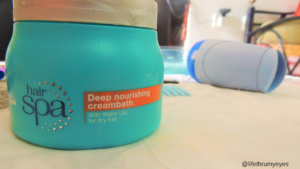 Rating- *****
Overall Experience- I was very pleased with the way the beautician was giving the services with finesse and hygiene. She wore a mask and used hand gloves while applying the cream to my hair. The best part was that she was not in any sort of hurry to finish the job and go. Along with Head massage, she gave me a shoulder massage which was kind of an add-on and very relaxing. She absolutely knew how to earn a brownie point from a customer. More than the spa session I loved the way I was treated and taken care of by the beautician. Though she was absolutely professional still she had a personal touch of her own. During the entire session, she kept on giving me beauty tips for self-care in the winter season. Last but not least one of the major concerns while taking beauty services is hygiene. I was elated to see that before beginning the services the beautician used hand sanitizer and ensured absolute hygiene. Even before beginning, she had won my trust in herself and the wonderful training provided by UrbanClap.
Face Clean up by Sara
Next in the line was face clean up. Recently in one of the parlor visits I was advised that I should get face clean up or facial done at least once in 2 months and hence I took the advice seriously and requested for a clean-up for myself. Yet again the beautician had laid all the products on the table and showed me what she will be doing for the next half an hr. to 45 mins. I really liked that they did not have cloth towels which we usually see in parlors. Instead, she came equipped with disposable face towels and cotton pads to wipe the face.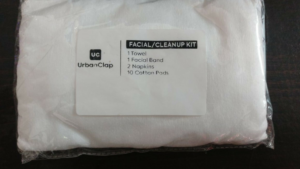 Due to the harsh winters, my skin has become very dry and hence the beautician suggested that I go for Orange Clean-up. From cleaning the face with a wet tissue, giving gel massage, scrubbing the face, giving steam on the face to applying the pack — the entire process took around 30 mins to 40 mins. As I said earlier, the one thing I really liked about the beautician was that she went out of the way to give me absolute comfort. Though it was just about the clean-up during the process she also gave me back and shoulder massage which was extremely relaxing and refreshing. I really liked the products used for the cleanup and the way it was done.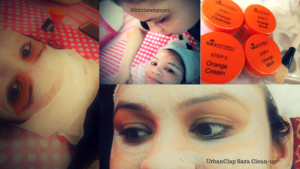 This clean-up was a part of the Winter package which had many other services that I availed. Will talk about these other services in my next post.
Rating- ****
Overall experience- I spent a wonderful time getting the clean-up services by UrbanClap. Very hygienic and absolutely professional.
This is how I had a great experience with the Hair Spa and Clean up session and I would love to explore other services offered by UrbanClap.
Things I loved the most
1)    Hygienic and trusted professional
2)    Hassle-free service from booking to delivery
3)    Separate bag for disposing of the items used while giving the services
4)    Use of disposable items from start to finish
5)    After service clean-up of the area
6)    Economic services offered by them that are not heavy on the pocket
7)    Last but not least UrbanClap has well-trained experts who know how to give best to its customers
With over 3 million customers served, 66 live services and 100,000 verified experts associated with UrbanClap they are indeed one of the best at home service provider. I simply loved my experience with the beauty services provided by UrbanClap. I especially liked the quality and standard maintained by them to give lovely experience to their customers. Hope you loved reading about this delightful experience that I had with UrbanClap beauty services. Hurry up and download the app to book your first service if you haven't tried them yet. I would highly recommend their services to all my friends and family members. They are absolutely worth every penny at the comfort of your own home at a convenient time.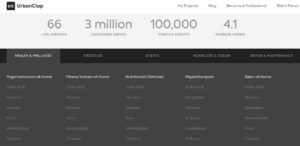 Overall, I would like to give 5 stars to the beautician for her expertise, patience, attitude, and efforts. UrbanClap certainly has amazing people associated with them.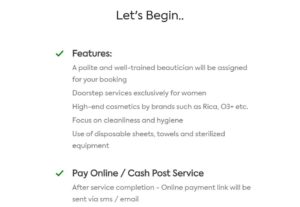 You can book an appointment with UrbanClap from their website or download their app on to your mobile by clicking here for Android and iOS.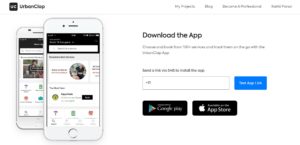 Stay tuned to read more on UrbanClap in my next post where I will be sharing my experience on other services availed with them.
You can read other reviews here
Looking to connect with us for collaboration and association? We can be reached at lifethrumyeyes11@gmail.com.