Jewellery, a piece of creation & innovation which has been used to decorate ourselves through the ages. Bones, animal teeth, stones, beads, feathers, and shells adorned the bodies of our ancestors. What we see today is coming all the way from our rich history. So, we know Jewellery has been a very strong part of our lives since the early beginning of human race. Things today are no different we see huge value in buying and wearing different types of Jewellery. From traditional to modern, all sort of designs and innovation can be seen around.
The homemaker who heads her household, to the young woman chasing her dream, every woman loves to look beautiful. Jewellery for them isn't just a piece of expensive stone or a metal, for them, it's an attachment, emotion & of sentimental value, it's a memory which they live and relive again and again over the period of time. India is a country of rich traditions and cultures Jewellery has immense importance. Having precious Jewellery to adorn the neck, and ears and hands are the pride of every woman. Over the years jewelry has gone to play a significant role in a woman's dressing regime in the day to day life. While there was a time a few years back when it was considered as a mere additive to the entire dressing, whereas now it is considered as an integrated part of style and fashion for a woman.

There was a time when gold pendants and gold earrings were predominant, but today the time has come when Jewellery market has seen a drastic change. Gold got replaced by diamonds which are apparently woman's best friend too. Introduction of inspirational jewelry got people to increasingly look forward to jewelry shopping.
Being a working professional, I never liked heavy jewelry and always preferred a small top in my ear, thin chain to sit on my neck and a ring or two to go with the style and trend. Recently I was looking to buy something for myself and wanted to try the options available in the market. With the festive season going around I knew it was the perfect time to get good offers and collection by various renowned Jewellery stores nearby. Off late I have been quite impressed with a wonderful television ad by Caratlane which showcases the new collection for the festivities. So, it was decided and we went on to utilize the weekend and take a look at the various options available at Caratlane. This is how my search for a diamond pendant began for daily use. 
Since I prefer designs and jewelry which are not very heavy and traditional so we happen to check out unconventional designs which are in trend and can go with any outfit. We were introduced to the two most beautiful collection (Butterfly and Jaipur) that I had ever seen so far. Let's deep dive and look closely.
Butterfly – The Spirit of You Collection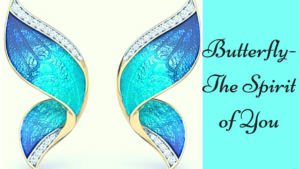 A collection worth being in awe with. It's an innovation packed with bright and vibrant colors that amplify the personality of the woman wearing it. She is one of the God's best creation and is known for her strength and poise. She is self-aware and has ambitions to reach places. The Butterfly collection by Caratlane seems to be inspired by this inner beauty of a woman that needs wings to fly. The collection is soft, sensual, yet very strong and raw. This collection draws on the journey of butterflies to celebrate a woman's transformation into her authentic self.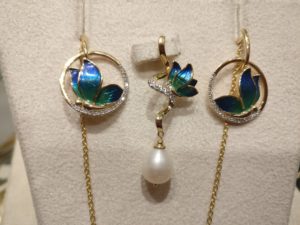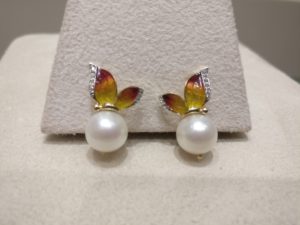 The entire collection is very vibrant and full of life with three different shades available across the category representing the unique identities of the modern woman. This vibrant collection signifies the woman who is an innovator, a trailblazer, bold and a torchbearer in her own right. She believes in taking the road less traveled and is strong, resilient and committed towards everyone around. A butterfly isn't born with beautiful wings, it goes through 4 stages of its lifecycle to see the beautiful metamorphosis into something so unique and admirable. It takes its own time from months to a year to go through this journey of radical transformation. Similarly, woman fight with many odds to reach a position and they also go through a journey, one that mirrors the transformation into her authentic self. Butterfly collection signifies this journey of a woman is made keeping this compassionate and bold woman in mind. Each piece is exquisite in how it uses wings as a visual to revel the starting point of a women's journey.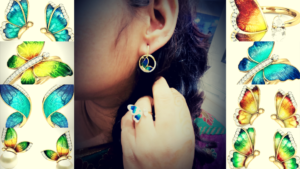 All the designs in the earring, pendant, and rings are available in three different colors, namely, Pinion green, Pinion Orange and Pinion blue. Each and every design of the butterfly collection is available in three shades and are made with complete finesse which is absolutely stunning. Do check out the collection online and you can get them at your doorstep for trial and buy as well. The collection of unique designs starts from INR 12,000 and goes up to INR 50,000 lacs making it an ideal pick for the season.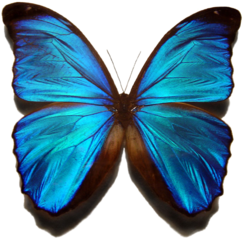 Pick a butterfly that matches your identity.
Jaipur Collection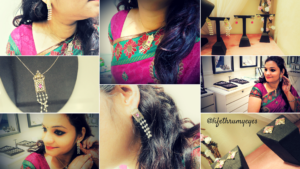 The historical background of Indian jewelry and that of our country go hand in hand as they are equally old. It is believed that around 5000 years ago the curiosity to beautify themselves by adorning unique jewelry pieces around in the people. This makes us believe that since the beginning of the time, the charm of jewelry and the beauty of Indian women never separated. In fact, it is rare to find any woman in Indian who has never fallen in love with a particular piece of the collection.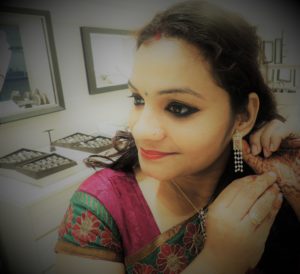 The jewelry designs that are famous in different parts of India contributes hugely to the variety of Indian jewelry in both traditional and contemporary styles. Jaipur collection by Caratlane is similarly inspired by the rich traditions of this beautiful city which is also the capital of one of the rich and traditional states of Rajasthan. Jaipur is known to be a home to families of jewelers who have been creating masterpieces of wearable art since the early 1700s.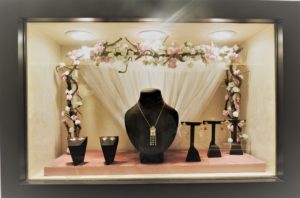 A closer look at each piece of jewelry by Caratlane Jaipur collection will tell you a unique story of historical places in Rajasthan. The entire collection is inspired by historical places like Amer Fort, Rambagh Palace, Sheesh Mahal, Samode Palace and Hawa Mahal. Keeping the beauty of historical places and traditions in mind, the jewelry is also named as Amer cascade pendant, Rambagh Dome ring, Sheesh Ornate Mural stud earring, Hawa Jharokha Drop Earrings, Amer Lawn Cutout Necklace and so on.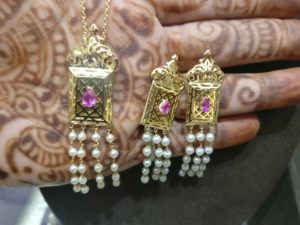 Every element of the jewelry by Caratlane reflects the eternal spirit of a woman today. She has fought many odds to reach where she is today. She is the giver, kind, generous, and selfless. One who radiates compassion and leaves a mark wherever she goes. Let's celebrate her beauty with this contemporary collection by Caratlane. The collection of unique designs starts from INR 11,000 and goes up to 1.5 lacs making it an ideal pick for the season.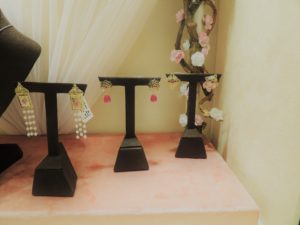 The world of jewelry never ceases to amaze me. With the constant development in the industry, the contemporary jewelry which is lighter in weight has gained a lot of popularity among the Indian women. There is always something new to learn and be totally wowed by. My experience with Caratlane was no different and the future is only looking bright for the brand and industry.
Caratlane also has interesting collection like Bombay Deco, Ikat, Peacock, Whimsical by Farah Khan, Fabels & tales, Dhokra, Starburst, Lovebirds, Gold Rush, Starfire, Aaranya, Chokapora, Ornati by Farah Khan, Uttarakshin and much more.
Key Features of Caratlane
Lifetime Exchange & Buy Back
30-Day Money Back
Cash On Delivery
Try @home
Stay tuned as there is lots more coming up from Caratlane…!!
Do you have a piece that means something to you? Any particular collection by Caratlane that you loved the most. Feel free to shower some love by commenting below on the pieces you liked the most.
Also, Read- Healthy eating for festive season
For more on motherhood, follow along with Rakhi on Facebook | Instagram | Twitter
Love Deeply. Give Freely. Laugh Often.